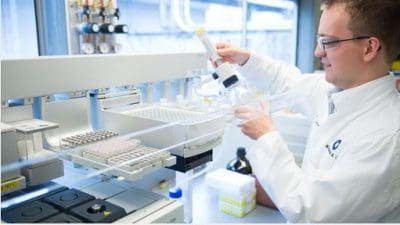 REFINEMENT in an organic chemistry test method, combined with smart IT, has turned a two-day-turnaround process into two hours.
Known as the Zwagerman method, it is now being adopted as an industry standard for identifying contaminants, mostly in vegetable oils, to improve food safety.
Global food group Bunge's oils subsidiary Bunge Loders Croklaan said the analytical innovation, a fully automated solution for 3-MCPD and Glycidyl ester analysis in oils, goes a step further by adding smart IT to the process and replaces time-consuming manual methods.
The European Scientific Committee on Food in 2001 adopted an opinion on the toxicity of esters in food and looked at heat-induced ester contaminants which can form during the oil-refining process.
In 2006 and 2007 it published maximum levels, and provisions for sampling and analysis.
Reports and statements followed between 2008 and 2014, when the commission published recommendations on monitoring certain esters in food (viz; glycidyl fatty esters and 2 and 3-monochloropropane-1,2-diol [2 and 3-MCPD] and 2-and3-MCPD fatty esters).
Call for methodology
EU Commission recommendation 2014/661/EU in September 2014 said that for most groups of foods no collaborative study-validated analysis method had been available.
It encouraged EU member states analysing foods, along with vegetable oils and fats, to apply American Oil Chemists' Society standard Gas-Chromatography Mass Spectrometry methods.
Bunger Loders Croklaan technical project lead for analytical development Ralph Zwagerman, working with colleagues Pierre Overman and lead for analytical development René Blok, are credited on developing the technology, along with partners in gas-analyser specialist instrumentation manufacture, Interscience in the Netherlands.
The method that reduces reporting time from two days to two hours has become industry standard.
ISO 18363-4:2021 test method
The International Organization for Standardization (ISO) test method) specifies a rapid procedure for the simultaneous determination of 2-MCPD esters (bound 2-MCPD), 3‐MCPD esters (bound 3‐MCPD) and glycidyl esters (bound glycidol) in a single assay, based on alkaline catalysed ester cleavage and derivatisation of cleaved (free) analytes with phenylboronic acid (PBA) prior to GC-MS/MS analysis.
Glycidyl ester overestimation is corrected by addition of an isotopic labelled ester bound 3-MCPD which allows the quantification of 3-MCPD induced glycidol during the procedure.
This method is applicable to solid and liquid fats and oils. This document also applies to animal fats and used frying oils and fats, but these matrices were not included in the validation.
For all three analytes the limit of quantification (LOQ) is 0,1 mg/kg and the limit of detection (LOD) is 0,03 mg/kg.
Milk and milk products, or fat coming from milk and milk products, infant formulas, emulsifiers, free fatty acids and other fats and oils-derived matrices are excluded from the scope of this document.
Sources: Bunge, ISO, EU Commission.
Grain Central: Get our free daily cropping news straight to your inbox – 
Click here