THE perilous state of Australia's fuel reserves could threaten supplies to the cropping sector as farmers head into the busy haymaking and grain harvest seasons.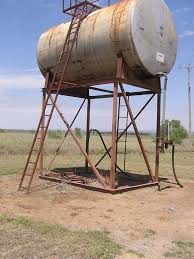 Australia is reportedly holding less than one-third of the fuel it is required to under international agreements that say it should have at least 90 days fuel on hand.
The situation has raised concerns about Australia's fuel security, particularly in light of the increasing tensions around shipping through the Middle East from where Australia derives about half its fuel needs.
It has prompted the Federal Government to take the drastic step this week of approaching the United States to potentially access the US's emergency fuel reserves.
Grain Producers Australia chair, Andrew Weidemann, said agriculture would be severely impacted by any reduction in the availability of diesel fuel.
"It is particularly concerning as we are heading towards a reasonable season and harvest in Victoria and South Australia. We need to ensure fuel is available for agriculture," he said.
"It is about trying to find other sources of available fuel and talking to major fuel companies and suppliers to ensure supply security."
Mr Weidemann said while it was important to avoid a run on fuel, it would be prudent for farmers to plan for a shortfall and build up on-farm reserves.
"We are in a different situation to a normal season where there isn't much freight happening at the moment because there is very little grain and hay moving around. So, there is no great immediate pressure. But as we head to hay-making season from the middle of September onwards the fuel pressure will come on," he said.
GrainGrowers chair, Brett Hosking, said the fuel industry needed to ensure there was enough fuel on hand to supply the farming sector as the peak haymaking and harvest seasons approached.
"We will start to see hay balers and mowers running around in a month's time. And in October/November headers will start to roll and work their way south. It is at peak times like that when we need to make sure we have the fuel on hand we need," he said.
"While government has a role to play, as much as anything it is about ensuring the fuel companies we deal with understand the needs of the growers they supply and have contingencies in place to make sure the supply can be maintained.
"We saw what happened in Victoria six years ago at harvest time when there were fuel shortages because of a problem at one of the terminals in Melbourne. It was the middle of harvest and there were stories of growers who were parking their trucks and dumping the grain in piles in the middle of paddocks just to keep the headers moving. We don't want to see that sort of thing repeated."
Grain Central: Get our free cropping news straight to your inbox. Simply fill in and submit the 'sign up' box at the bottom right-hand corner of this page.