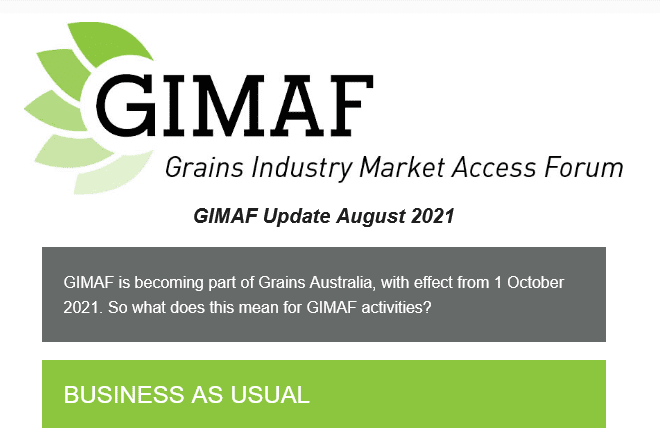 AUSTRALIA'S Grain Industry Market Access Forum (GIMAF) is to be absorbed into Grains Australia Limited (GAL) as of October 1.
The move will make it the second entity after Wheat Quality Australia to roll into GAL, which was formed last year as an industry-good organisation to streamline and simplify administration the industry's market-facing functions.
GIMAF executive manager and sole staffer is Tony Russell, who as of next month will be contracting his services to GAL instead of GIMAF.
Under the GAL banner, Mr Russell will continue to advise the Australian Department of Agriculture, Water and the Environment on issues such as weed-seed tolerances for Australian grains, seed and fodder in individual markets.
GIMAF has been holding three forums per year with participants which include: Australian Grain Exporters Council (AGEC) ; Australian Fodder Industry Association (AFIA); Australian Oilseeds Federation (AOF); Australian Seeds Federation (ASF); GrainGrowers Ltd; Grain Producers Australia (GPA); Grain Trade Australia; Pulse Australia (PA); Sunrice; Grains Research and Development Corporation (GRDC) ; Plant Health Australia; Australian Export Grains Innovation Centre, and traders and bulk handlers Cargill Australia, CBH, GrainCorp and Viterra.
The schedule will continue under GAL, with the next forum to be held on October 12.
GIMAF was formed in 2011 to fill the market-access void created when AWB and state-based grain-marketing boards disbanded.
GIMAF's board is still in place and represents GIMAF's five-member board represents its members: AGEC; AFIA; AOF; ASF; PA, and GPA.
The board will resign at the end of this month.
On its website, GIMAF said its funding will now come through GAL, rather than via a series of GRDC projects.
"The intention is to enhance the resources available for the market access work that is GIMAF's core function," GIMAF stated.
Either Barley Australia or Pulse Australia are expected to be the next to roll into GAL, but inaugural GAL  chief executive officer Jonathan Wilson said a timeframe had not been set.
"We're not discussing timeframes; we just want to make sure that we're collectively answering the right questions and doing the right thing as we move forward."
Mr Wilson said time needed to determine and execute the processes required for structural change, rather than a lack of willingness, was governing GAL's evolution.
"We've had really positive interactions with just about everyone in the industry."
GAL recently received initial funding for six projects, with one being the development of its own framework.
Grain Central: Get our free daily cropping news straight to your inbox – Click here