RECOVERY from drought and a record winter crop harvest have pushed grain grower confidence levels to the top of the latest quarterly Rabobank Rural Confidence Survey, released today.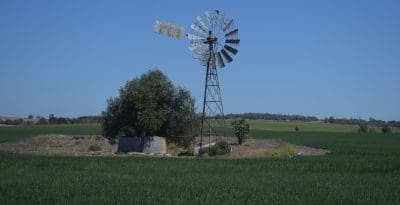 The survey found grain growers to be the most positive of all farmers this quarter, with 49 per cent expecting better business conditions than last year, and three quarters of those crediting good seasonal conditions as a key reason for their optimism.
It reveals ongoing optimism among Australian farmers overall with rural sentiment still at historically-high levels thanks to "perfect" summer conditions in much of the nation's east and exceptionally strong commodity prices.
The survey found while overall net confidence had eased slightly from December's stellar reading, Australian farmer sentiment was still at one of the top 10 levels in the survey's 20-year history.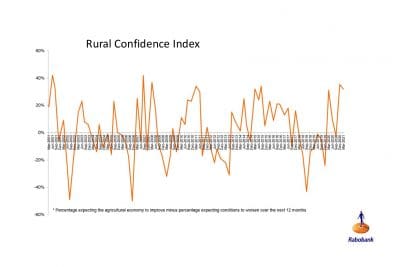 Rabobank Australia chief executive officer Peter Knoblanche said 2020 had delivered a major turnaround in fortunes for many Australian farmers and the prospect of another good year was underpinning solid, long-term confidence in the sector.
"Australian grain growers delivered a record wheat harvest and near-record total winter grain harvest last season and there are promising early signs as farmers start making plans to plant this year's crop," he said.
"Livestock prices are breaking all sorts of records because the demand for sheep and cattle is so strong and there just aren't the numbers to meet that demand. That is proving a challenge to those farmers trying to rebuild herd and flock numbers after the drought but providing good returns for farmers who held onto stock through the dry years.
"This year it seems all the fundamentals are lining up. We've had near-perfect seasonal conditions over summer for much of the country and commodity prices are very solid. Combined with low interest-rates and a number of government incentives, farmers are generally speaking in a good place right now."
Mr Knoblanche said the prospect of another solid production year was fuelling strong investment intentions among grain growers.
Of those grain farmers planning to increase investment this year, 65pc identified new plant and equipment as a priority, while property purchases were of interest to 45pc.
Cotton sector sentiment remained strong this quarter, overwhelmingly due to improved seasonal conditions – 43pc of cotton growers surveyed believed business conditions would improve this year, while 56pc expected similar conditions to last year.
State-by-state
The survey found that New South Wales rural sentiment remains the highest of any state, driven by solid confidence in seasonal conditions and the production opportunities this presents.
While slightly lower than last quarter's reading, the survey found 52pc of farmers surveyed in NSW expect improved business conditions over the coming year and a further 40pc expect conditions to remain stable.
In Victoria, strong commodity prices were also underpinning a positive outlook, with more than half the state's farmers expecting the very good conditions enjoyed at the end of last year to continue. This quarter almost one third of Victorian farmers surveyed expected their incomes to increase. This, in turn, was fuelling strong investment plans, especially among dairy farmers, and all sectors keen to modernise water infrastructure.
In Tasmania, strong confidence was also driving investment in the sector. More than one quarter of the state's farmers expected conditions to improve even further in coming months, while more than two thirds anticipated similar conditions to last year. This saw Tasmanian farmers reporting the strongest appetite for on-farm investment in the country.
For South Australia, sentiment was shown to be at still historically-strong levels, albeit down slightly on last quarter's results. Despite 'patchy' spring and summer seasonal conditions, last year's SA grain harvest delivered an above-average crop.
Rural confidence in Western Australia climbed to a five-year high as the state's farmers defied challenging seasonal conditions and looked to capitalise on the ongoing strength in commodity markets. Despite limited rainfall, WA managed to harvest a large crop.
And for Queensland, although seasonal conditions have not been as positive as for other states, farmers were still displaying strong levels of confidence, evidenced particularly in near-record levels of on-farm investment expected this year.
Source: Rabobank