EXTREME heat wave conditions forecast to hit the summer cropping regions of southern Queensland and north west New South Wales over the coming week are set to have a dramatic impact on early-growth-stage summer crops, particularly sorghum and maize.
The Bureau of Meteorology says a low-intensity heatwave currently stretches over central Australia through parts of northern Western Australia and the Northern Territory into coastal NSW and south east Queensland.
That is expected to develop into a large area of severe heatwave conditions over northern NSW and southern Queensland over coming days and lead to extreme heatwave conditions over a sizable area covering north east NSW and southern Queensland by the start of next week.
Temperature highs of over 40 degrees Celsius are forecast for three or four days in a row in some areas.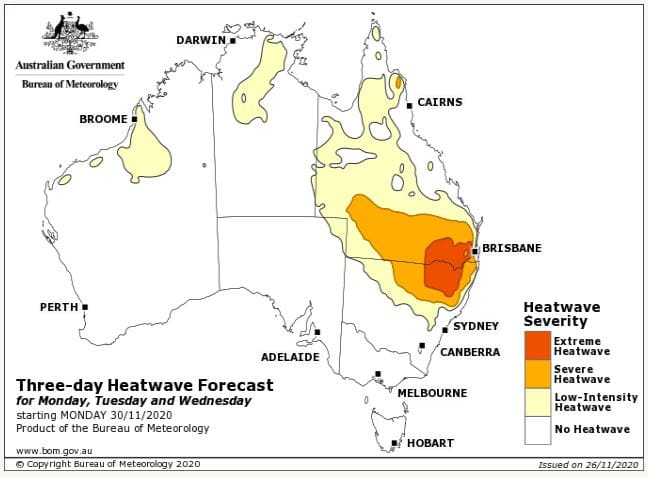 Northern region agricultural consultant, Paul McIntosh, said the heatwave would have a detrimental impact on all the crops that are in the ground at the moment.
"It is not just a heatwave, it will probably have very low humidity. Heatwaves with high humidity are one thing, but heatwaves with low humidity will be a bad news story. If there is no humidity in the air, it just sucks the moisture out of the ground through evaporation," he said.
Mr McIntosh said summer crops were "all over the place at the moment" at a great range of different stages.
"The corn crops are anywhere from very early tasseling. There is sorghum that is two inches high to sorghum that has flowers on it and going red," he said.
"It is already suffering. It was planted on rain three or four weeks ago and is really struggling now with the days of heat and constant wind we have had."
Grain Central: Get our free cropping news straight to your inbox – Click here