AS a new round of COVID-19 restrictions comes into force, Australians have been reassured there is no threat to food security, especially in relation to grain as the nation produces far more wheat than domestic demand could conceivably consume.
GrainGrowers chief executive officer David McKeon said Australia was in an enviable position compared to many other wheat-producing entities such as the United States, European Union, United Kingdom and New Zealand that barely produced enough wheat for their populations.
"On a per capita basis, in Australia we produce over one tonne of wheat per person (per year) whereas in our key competitor countries such as the EU and US, they are producing around 10 per cent of that per capita," he said.
"So, anyone who talks about food security in Australia, from a wheat perspective we are one of the most wheat-secure countries in the world.
"Wheat or flour consumption in Australia is about only 80 kilograms per person. When we produce more than one tonne per person we are in a good position."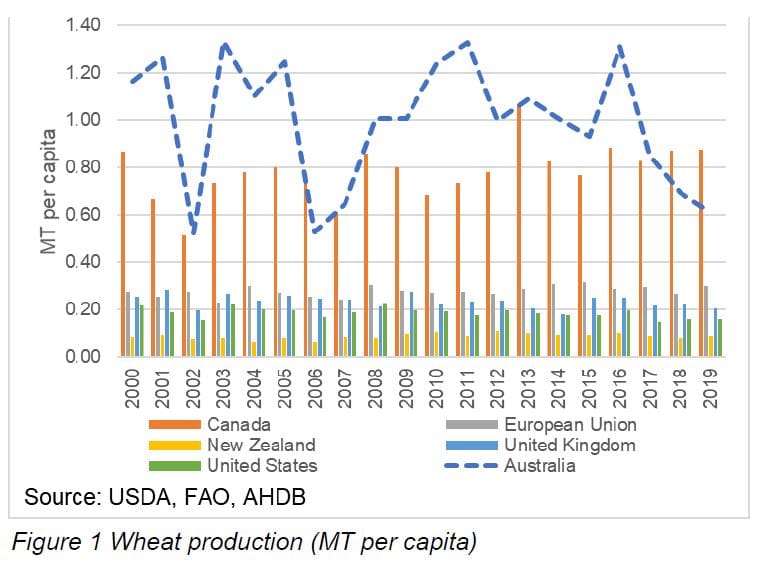 In its June quarter crop report, ABARES said Australian wheat supply in the past three years had been adversely affected by drought and production was below average, but it forecast production to increase by 76pc in 2020–21 to 26.7 million tonnes (Mt).
If realised, that would be the biggest wheat crop Australia has produced since the record high of 2016–17.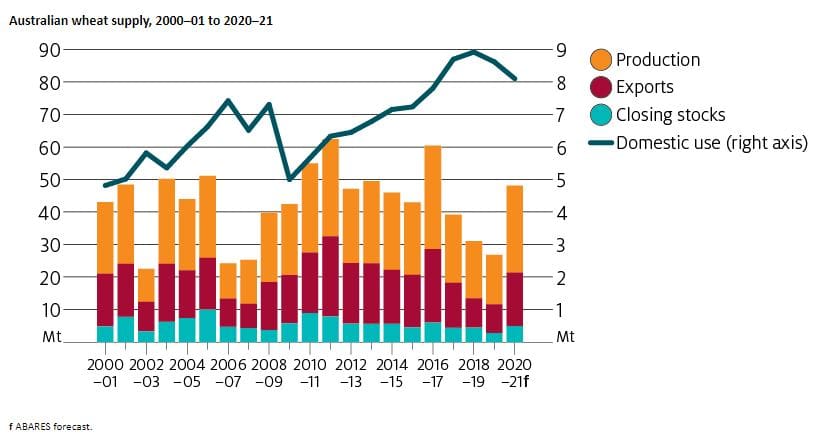 Domestic consumption of wheat, while relatively small in comparison to total exports, is about 8.4Mt per year.
Domestic wheat use comprises milling wheat for flour, livestock feed (direct to end users or stockfeed manufacturers), wheat for industrial use and for use as seed (seed retained to sow crops).
Milling wheat for flour usually accounts for around 35pc of total domestic use at an average of around 3Mt.
With the easing of the drought in eastern states, ABARES expects total domestic livestock feed use to fall by 10pc in 2020–21 to around 4.5Mt.
Feed use currently accounts for around 60pc of domestic use, peaking in 2018–19 at around 5.5Mt.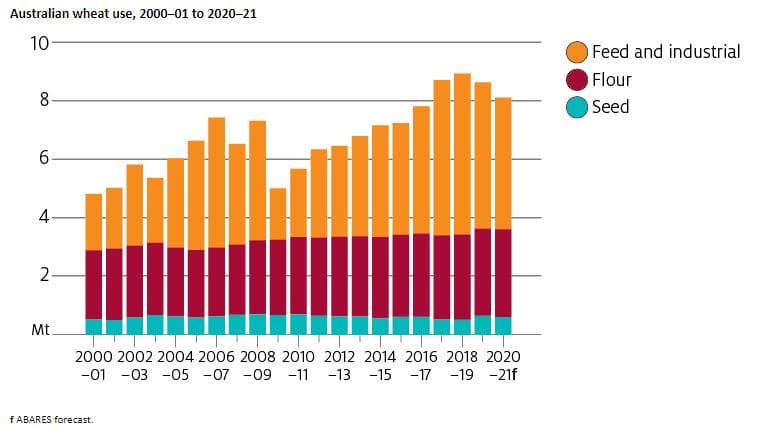 Grain Central: Get our free daily cropping news straight to your inbox – Click here