FARMER groups have welcomed last night's Federal Budget announcement providing a massive $8.4 billion in funding for the 1700-kilometre Melbourne-Brisbane Inland Rail project.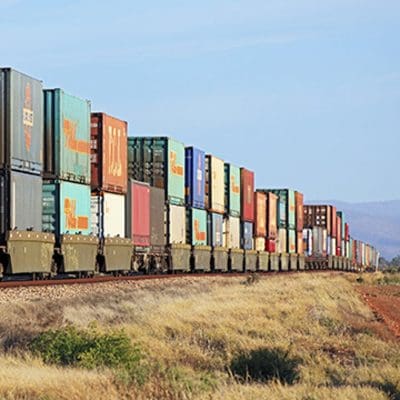 The new funding commitment is through an equity investment over seven years with the Australian Rail Track Corporation (ARTC) which will build the line in partnership with the private sector.
With the project likely to cost $10 billion and previous budgets having already allocated more than $1 billion, the $8.4 billion is expected to fully fund the project.
The dedicated freight line, running inland across a mix of upgraded existing lines and new track, is set to dramatically cut journey times between the two capitals by bypassing Sydney and the winding NSW North Coast line.
With construction to commence this year and due for completion in 2024/25, the project will provide new efficiencies by allowing for container double stacking and higher axle loadings, and providing improved supply chains, especially for farmers.
NSW Farmers' Association president, Derek Schoen, said the Inland Rail line would drive down transport costs for farmers by providing better access to alternative ports, and creating more competition between the ports.
"When a third of your costs are taken up in transport, this means better farm gate returns," he said.
"The project will also save lives and improve congestion by getting freight off roads and onto rail."
Queensland Farmers' Federation (QFF) president Stuart Armitage said the organisation welcomed the funding commitment to build the "once in a 100-year" project.
"QFF principally welcome the inland rail project as it will deliver sector wide benefits, but some concerns about the Queensland corridor, namely the impact on prime agricultural land and key flood plains, are yet to be resolved. It is essential with a project of such significance and importance that farmers and regional communities' concerns are heard and where possible accommodated. QFF will be resolute in representing interests of farmers affected by the inland rail project," he said.
Grain Central: Get our free daily cropping news straight to your inbox – Click here
GrainGrowers general manager, policy and innovation, David McKeon, welcomed the Budget announcement, saying the Inland Rail project would ultimately improve freight rates for the grains industry.
However, he called on the ARTC to consult closely in the months ahead with those farmers whose properties would be directly affected by the development.
Mr McKeon also called on the Government to recognise that while a landmark project, the Inland Rail Project was just one key element in an overall national freight and supply chain strategy.
Efficient freight paths for the entire Australian grains industry were crucial to support export growth and regional economies.
"While the Inland Rail Project is a major step forward, Australia needs a national freight and supply chain strategy which is comprehensive, long term and includes the requirements of the grains industry in moving a crop of more than 62 million tonnes harvested last season efficiently and cost effectively from farms to market," Mr McKeon said.
"There's been much talk over many years about the cost of agricultural supply chains and the urgent need for investment. Given the Federal Government's commitment to identifying the national freight and supply chain priorities, we want to make sure agriculture receives priority planning, investment and regulatory improvements which will underpin this vital export industry and indeed the Australian economy."