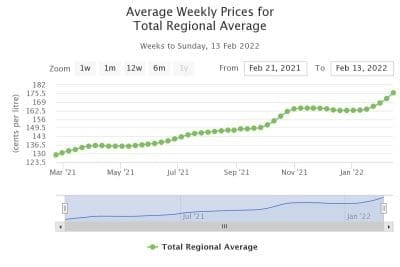 DIESEL has joined the list of input costs heading towards record prices, with the fuel reaching its highest point since 2008.
According to the Australian Institute of Petroleum, the national average terminal gate price is 167c/litre – the highest since July 2008 when it reached 182c/litre. That price has translated to 175c at the bowser.
Grain Producers Australian chief executive Colin Bettles said the high diesel prices were adding to an increasing input bill for growers – with fertiliser and herbicides also at record levels.
"There's a really big concern and focus from the industry about the rising input prices and that's not just diesel – it's also chemical and fertiliser," Mr Bettles said.
"While grain prices are at good levels, farmers really need to be managing their cropping plans with the high input costs in mind."
Mr Bettles said the main focus for GPA was fertiliser prices, but diesel was an emerging problem.
"GPA has for some time been urging the Federal Government to do what it can to help shore up domestic fuel supply for agriculture," he said.
"We're also calling for increased investment and support for local manufacturing of key inputs for grain producers, such as fertiliser and chemicals, to mitigate supply and price risks caused by external factors."
Oil producers fail to reach supply targets
As can be seen on the Thomas Elder Markets graph below, diesel prices directly correlate with the global oil price, which is currently seeing a substantial shortage of supply.
The shortage of fuel has been put down to the Organisation of Oil Producing Nations (OPEC), mostly Middle Eastern and African countries, and Russian-led OPEC+ not reaching a target to increase oil production in-line with increasing demand.
Many of them had cut production at the start of the pandemic as lockdowns decreased demand for fuel. But many that demand has recovered and stayed strong during the Omicron wave of COVID.
News company Reuters said many OPEC countries were struggling to ramp up output following years of under-investment.
With tensions rising between Russia and the Ukraine, many media companies including the New York Times and NBC, are predicting a Russian invasion to push oil prices.
Either way, the International Energy Agency is predicting the high oil prices to keep increasing in the coming months as the world waits for new projects to come online and take pressure off the supply.
Transporters have already warned of increased rates this year, as the price of diesel was combined with a national shortage of urea-based exhaust fluid AdBlue at the end of last year.
Martins Stock Haulage national operations manager Adam Ross said the sustained increase in diesel prices has triggered discussions about increasing rates across the transport industry.
"Our fuel costs have risen 38pc in the past six months, so we will have to pass that on," Mr Ross said.
"Along with the diesel prices, steel prices have increased about 60pc and the price of trucks has increased about 20pc, so the entire industry will need to increase rates."
Mr Ross said while domestic production of Adblue had ramped up, transporters were still paying record prices for the emissions reducing fluid.
"We're paying 200c/litre for Adblue now and that's increased from 90c in August. Adblue makes up about 5pc of fuel burn costs," he said,
"I really hope I'm wrong but it seems the like the price of Adblue at the moment is going to be the new normal."
Grain Central: Get our free news straight to your inbox – Click here