HIGH mouse numbers across the farming zones of South Australia and Victoria are causing substantial seeding losses as winter crop sowing moves into full swing.
Last year's bumper harvest has provided abundant food and shelter for the pests to breed up in big numbers, particularly in cereal stubbles.
While the outbreaks are patchy and far from plague proportions, heavy stubble covers have masked the signs of burrows and activity and caught many producers by surprise.
CSIRO research officer, Steve Henry, said there were reports of high mouse numbers in South Australia, particularly on the Yorke Peninsula.
"The guy who does the baiting station there has reported a significant increase in the amount of bait he has sold this year which indicates an increase in mouse numbers," he said.
"On the Eyre Peninsula they are patchy and there were reports earlier in the season of high numbers in the Mid North of South Australia.
"There are reports of quite high numbers in Western Victoria in the Horsham area and down to the south of Ararat, and large numbers between Ballarat and Bendigo, which is starting to get quite eastwards.
"We wouldn't call this a widespread, across-the-board increase in numbers that you would get in a plague. But there are pockets where mice are in numbers that would cause economic damage to freshly-sown crops."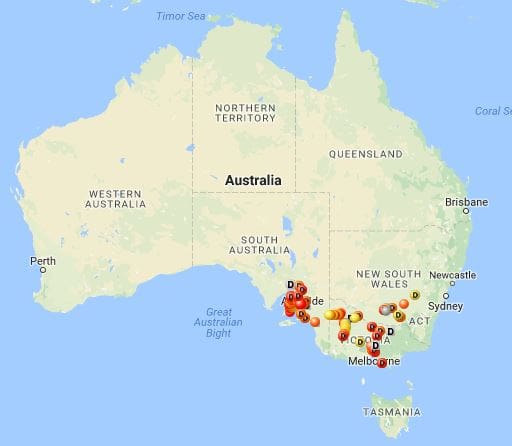 Mr Henry said the threshold where mice were likely to cause economic damage was about 200 mice per hectare. A plague is characterised by a general increase of over 1000 mice/ha.
He said the key message was that farmers needed to be aware of what was going on in their paddocks as they prepared to sow and while they were sowing.
"If they think they have a problem with mice, they probably have. They should be spreading bait as close to sowing as they possibly can, either a week ahead of sowing or straight off the back of the seeder because a lot of the damage that happens with mice occurs 24 to 48 hours after the crop is sown," he said.
"It is particularly if they are sowing with knives where there is a slightly higher level of soil disturbance. The mice get switched onto the scent of freshly turned over soil and will run straight along the furrows and pluck all the seeds out."
On South Australia's Eyre Peninsula, Australian Grain Growers Co-operative chair and local farmer, Andrew Polkinghorne, said it was a mixed picture with mice in serious numbers in some areas, and not an issue in others.
"For instance, on our farm we will perhaps bait 10 per cent of our cropping area," he said.
"Our local bait manufacturer has made a significant amount of bait which has been distributed across the state.
"It depends a lot on people's farming systems and whether or not they had weather damage at harvest time. It was a big harvest."
In northern Victoria, DMag consultant, Matt Witney, Swan Hill, said mouse numbers were "sporadic" with the highest incidence in paddocks with crops that had a lot of grain loss at last harvest, such as barley.
"Crops such as canola and chickpeas are at the greatest risk because mice like them the most," he said.
"Where the mice have a lot of grain stored down their holes they don't necessarily eat the baits, but the baits do have pheromones in them to attract them."
Mouse activity remains low in the grain growing regions of Western Australia, central and northern NSW, and Queensland.
……………………..
NSW DPI invasive species strategy manager, Quentin Hart, said monitoring was the key to ensuring the frequency and severity of mouse plagues was kept as low possible.
"Monitoring delivers an early warning system if mouse numbers are on the rise and early intervention, before mouse numbers reach plague proportions, is the best approach," Mr Hart said.
"Effective mouse management involves reducing the availability of food and shelter for mice, in combination with poison bait control if required.
"Regular inspections around buildings, crop perimeters and throughout the crop at all stages of sowing and growth is crucial in detecting a build-up of mouse numbers."
Farmers are advised to check paddocks, especially where stubble loads are high.
If mice are about farmers should apply bait straight off the back of the seeder or follow with a spreader to distribute bait.
Mr Hart said once mice are in plague numbers there is little farmers can do to control their population.
"Mouse numbers erupt when food, temperature and nesting conditions are in their favour – so we advise farmers to activate control options before a plague situation exists," he said.
"Mouse-proofing and barriers to prevent mice entering buildings, traps and baits can all be used."
……………………
For the latest update on mouse monitoring and activity, see MouseAlert: https://www.feralscan.org.au/mousealert/
MouseAlert monitoring work is funded by the GRDC and made available via the Invasive Animals CRC.
NSW DPI's new Reducing the frequency and severity of mouse plagues primefact is available on the DPI website, http://www.dpi.nsw.gov.au/__data/assets/pdf_file/0010/714970/PrimeFACT-Mice-and-their-management.pdf