MOUSE numbers remain moderate to high in many regions of southern Queensland; northern, central and southern NSW; north western Victoria; parts of South Australia; and around Ravensthorpe in Western Australia.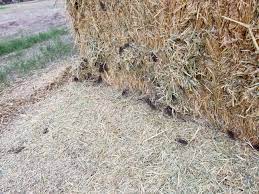 Such numbers at this time of year are of concern for growers, with mice causing damage to maturing summer crops in northern regions, and likely to cause damage at sowing of winter crops in all regions.
Mouse numbers are low in other areas but can be patchy (depending on paddock history) and are not likely to cause damage at sowing.
The latest update from CSIRO and GRDC released today says mice have continued to breed through summer/autumn and will reach a peak in late autumn 2021, coinciding with winter crop sowing.
While it has been very wet in many areas, it is unclear what impact flooding rains have on mouse populations.
CSIRO Health and Biosecurity's Peter Brown said growers should actively monitor mouse activity with mouse chew cards or active burrow counts and report and map mouse activity using MouseAlert (www.mousealert.org.au).
Management recommendations
Actively gauge numbers by walking into the paddock.
Remove as much residual food as possible.
Bait six weeks out from sowing if pressure is excessive (baiting six weeks prior to sowing allows enough time to overcome sub-lethal doses/aversion).
If mice are present at sowing, bait off the back of the planter to prevent damage to the freshly sown crop.
Baiting at sowing is most effective if no other food sources are available.
If you are going to bait, contact your bait supplier to ensure product is available when needed.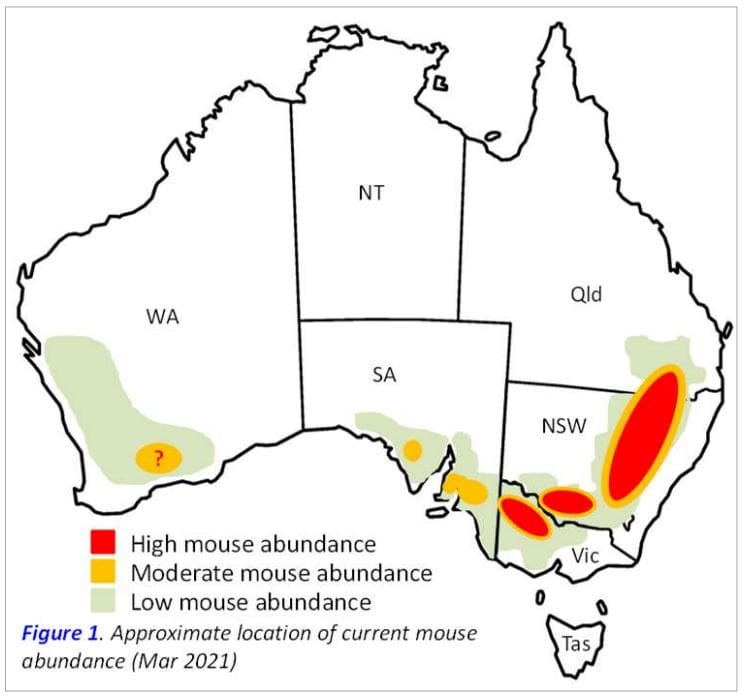 Current situation
Western Australia: Mouse activity is moderate to high around Ravensthorpe: 8/15 surveyed farmers have observed mouse activity with some likely to bait. Mouse activity is low in Geraldton.
South Australia: Mouse numbers are patchy with moderate mouse numbers in North Adelaide Plains, Yorke Peninsula and western Eyre Peninsula, but low elsewhere. Trap success at Mallala (north of Adelaide) was 30 per cent at two different sites in March (moderate). Mouse densities were 30-40 mice/ha (moderate).
Victoria: Mouse abundance is moderate to high (but patchy). Mouse activity is highly variable with moderate to high activity in the Wimmera and southern Mallee. Trap success was low (9pc) at Walpeup; with 30-100 mice/ha.
New South Wales (northern, central and southern): Mice are very high in parts of the Central West and northern NSW (Moree, Liverpool Plains), but moderate to high elsewhere. Mouse activity highly variable in Moree: chew card activity low on five sites and moderate on one site, high burrow activity on two sites. Trap success was high at Parkes (100pc overall, but ranged 26pc to 200pc in two different stubbles), with densities of 450 mice/ha, and variable activity from chewed cards: 3 high, 4 moderate, 3 low. In the Central West, mouse activity highly variable (moderate to high chew card activity from 3/8 sites; low elsewhere).
Queensland: Mouse abundance and activity was moderate to high on the benchmark and rapid assessment sites across the Darling Downs and Goondiwindi. Mice were causing damage to summer crops (sorghum, mungbeans, cotton) and are likely to be a problem at sowing of winter crops. Ongoing vigilance is important.
Sources: CSIRO, GRDC
GRDC Mouse Control website: https://grdc.com.au/resources-and-publications/resources/mouse-control
MouseAlert (hosted by FeralScan): https://www.feralscan.org.au/mousealert/