FARMERS in New South Wales will now be eligible for a 50 per cent rebate, of up to $10,000, for zinc phosphide bait under the NSW Government's extension of its mouse plague assistance package.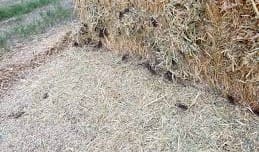 NSW Farmers vice president Xavier Martin said this was an important step in helping farmers manage the costs associated with this major plague.
"The practical support measure of rebates for zinc phosphide was an initiative from NSW Farmers and we thank our many members for sharing their stories of the widespread impact of this plague," Mr Martin said.
"The Agriculture Minister, Deputy Premier and the Premier have listened and acted. It's common sense to support the use of an immediately available chemical which carries fewer secondary poisoning and environmental risks than alternatives.
"The mouse plague has already caused heartache in farming and regional communities, damaging crops, fodder and machinery, and presenting human health risks.
"Warnings from CSIRO and responses to a NSW Farmers' survey on the plague indicate how dire this situation is. It's the worst mouse plague for some time, and it could easily get worse without adequate intervention. There's a need to make the rebates available immediately so farmers can control mouse numbers before spring."
The Department of Regional NSW and the Rural Assistance Authority will develop the zinc phosphide rebate framework, including how primary producers will be able to claim the rebate and the eligibility criteria.
"This funding is an important build on the $50 million already announced by the State government last month, which signified recognition of the problem but had some shortcomings in terms of practical benefits.
"NSW Farmers collaborated with the Country Women's Association of NSW to highlight the stark need to respond to this crisis. It is promising to see the NSW Government listening to the bodies representing farmers and regional NSW on this issue."
Mr Martin said the situation was ongoing and would require constant monitoring and flexibility in support measures for what could become the worst mouse plague NSW had seen.
"We look forward to working with government on behalf of our members and regional communities to hopefully ensure this plague is well under control before spring," he said.
Source: NSW Farmers