EVERY year NAB selects 12 leading agricultural businesses from its thousands of rural customers all over Australia to appear in its annual agribusiness calendar.
At a function held to launch the 2019 version in Toowoomba last night several of the agribusinesses featured in the calendar shared their stories and their strategies for success.
Lloyd Pastoral, Chinchilla, Qld
Katie and Scott Lloyd from Lloyd Pastoral at Chinchilla took over the family business from Scott's parents 10 years ago. Since that time the enterprise has undergone extensive development, with their feedlot doubling in capacity to 9500 head. But despite that growth their business remains firmly focused on quality of production over size, Katie said.
"Being the biggest is not what we're about," Katie told an audience of 100 NAB customers and staff at Toowoomba's Picnic Point.
"Our focus is on maximising opportunity and delivering a product that we know has been produced to best industry practice."
In line with the adage 'you can't manage what you can't measure' the operation has embraced technology to measure cattle performance from induction to processing.
Katie said a strong customer focus, prioritising animal welfare, and having a "great crew" behind them had been integral to Lloyd Pastoral's business development.
"We're constantly surrounding ourselves with people that motivate us to think outside the square, to do better, and to progress with our industry," she said.
OzGroup Co-op Blueberries, Coffs Coast, NSW
Farmer-owned cooperative OzGroup based on the Coffs Coast of NSW is the largest producer of blueberries in Australia.
CEO Brett Kelly said he sees strong opportunities for the business in coming years and believes scope exists for the company to double in size, as did dairy cooperative Norco during his nine years as CEO from 2008 to 2017.
"I think the key thing that I've learnt from in the industry is that you have got to have a strategy, a point of difference, a competitive edge, not based on price," Mr Kelly said.
'You have got to have a point of difference not based on price'
"The days of being a good farmer and that is it are gone. You have to understand the market, you have to understand the retailer, and ultimately the consumer.
"The strategy that we're working on putting in place is that we are a 100 percent farmer owned cooperative with a quality product, second and third generation farmers, and I have found that if you can communicate and market to the consumer they will support your product as well."
Fagan family, Mulyan, Cowra NSW
Mulyan at Cowra has been held and farmed by the Fagan family since 1886, and been in vegetable production since 1943.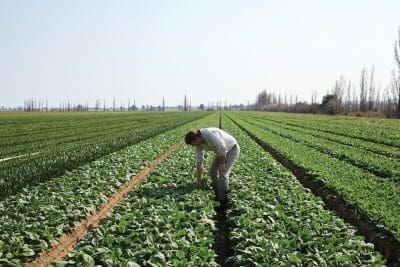 Today it is run by Ed Fagan and his brother and sister, and is a leading vegetable cropping and value-adding operation, with crops including baby leaf lettuce, baby leaf spinach, onions and beetroot.
Ed said the family businesses had adopted a strategy of identifying and concentrating on areas where it has a unique point of difference. "If we didn't have a point of difference we weren't going to compete because someone else would do it better," he said. "So we tried to find geographical differences where we were, what could we do better.
"Over the last 15 years the horticultural business took a really big detour to where it is today, we trialled different bits and pieces to see how they would go, some failed and some worked, and then we ended up knowing that we really had a good market in a few areas, and we really had some really good skillsets in a few areas as well."
Costi Family macadamias, Bundaberg, Qld
In the past 20 years the Bundaberg-based Costi family has expanded its macadamia business growing, processing and packing business to the point that it now represents about 47 percent of the Australian crop and 14 percent of the global market for macadamias.
The company supplies every Woolworths store in Australia and also supplies Costco stores in the US, Germany, Japan and China.
Mr Costi said macadamias currently make up only about 0.9pc of the total world nut market, but, with growth in demand from the African market in particular, he believes the industry has exponential growth opportunities ahead.
Garme Farm, Galston, NSW
Armenio Bento and his grandson Daniel Jalalaty represented their family business, NSW based game meat processor and distributor Game Farm, at the function.
In the 1970s Amenio came from Portugal as a cabinet market and joiner and established a successful cabinetry business in the Sydney CBD, supplying customers around the city.
That was until a devastating phone call informed him that his furniture warehouse had been burned down.
"He was under insured, and he spent the next year working his butt off to pay for what was lost," Daniel explained.
"In the meantime, with all that loss in that low time, he had the courage and innovation to go and turn what at that time was a hobby into what now is our business."
Today Game Farm is the largest multi-species game meat producer in the Southern Hemisphere, producing 55,000 quail a week from the family's three farms in NSW.
He said the business had proactively worked with other game meat processors around the world to establish a global benchmark, against which they could continually improve.
"Without that healthy competition as we know you can get a bit lazy or complacent, so we knew we had to push on, we needed to innovate, we needed to get better," Daniel said. "So with those international connections we are able to pull together the biggest quail producers around the world and benchmark ourselves with them and share knowledge."
Wimpak, Minyip, Victoria
James French is the general manager of Wimpak, a farmer-owned cooperative specialising in grain cleaning and packing services based at the small town of Minyip in north western Victoria (the 500 population town starred as Coopers Crossing in the 1980s television series the Flying Doctors).
The business started off 20 years ago with 10 farmers getting together to value add their product and now packs some 50,000 tonnes of lentils, chickpeas and beans a year.
"Once things started to get going they brought in more shareholders, today there are currently 24 farmer shareholders in the group," James said.
"We've seen a big expansion over the past five years with roughly four million dollars spent on a new seed plant which doubled our production, a brand new container forklift to speed up the packing side of things, new testing facilities, computer IT systems."
All of the agribusiness leaders who spoke referred to the importance of having a good relationship with their bank, and the critical role those relationships had played in helping to fund and drive the business growth they have each achieved.
Pardoo Beef, Pilbara, Western Australia
Other beef operations featured in 2019 calendar include Pardoo Beef in Western Australia's Pilbara region, a wagyu raising operation which has been developed with irrigation from artesian water over the past three years by Singaporean Owner-Chairman Bruce Cheung.
In 2018, Pardoo Station was operating 20 pivots, valued at $650,000 each, watering 900 hectares of land. The  business plans on doubling the number of pivots and pasture for grazing within five years, and by 2031 aims to deliver an annual turnover of 100,000 Wagyu and Wagyu-cross cattle for export to China.
Millah Murrah Angus, Duramana NSW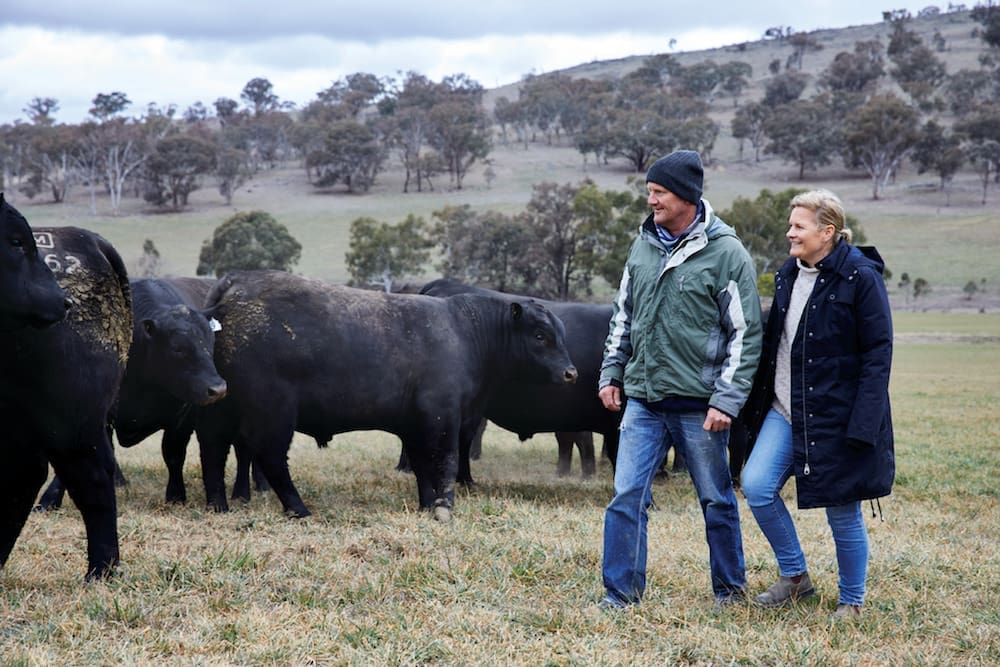 Ross and Dimity Thompson's (above) Millah Murrah Angus Stud on the NSW Central Tablelands has grown to become one of Australia's premier Angus studs with a series of record breaking sales in recent years. The operation produces 400 registered calves and 300 embryos each year, selling genetics not just around Australia but also globally from New Zealand to Europe and South America.
With 'front-pen-quality bulls in the back pen' as his mantra, Mr Thompson focuses on 'visioning and blending'  individual animals – setting eyes on animals personally to create the ideal phenotype, or overall physical appearance.
Also featured in this year's calendar is Stephen Creese, Creese North East, Tasmania; Matt Hand, Andrew Jackson and Nigel Rendell, United Wool; Sunpork Group, Kingaroy, Qld; North West Ag Services, Victoria and EP Seafoods, South Australia.
Scroll down for more pictures from last night's 2019 calendar launch function: