WESTERN Australian Cooperative Bulk Handling Ltd, CBH Group  (CBH) has warned drivers to be vigilant around rail crossings as a number of vehicles have come close to colliding with its trains.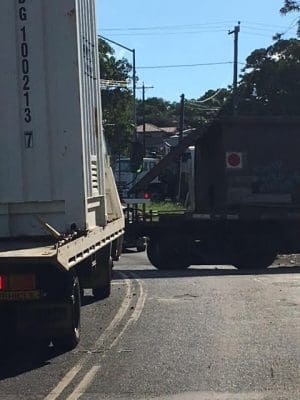 CBH has released video footage taken on board CBH trains showing a number of near-miss incidents.
In one example, the train was travelling near Mount Barker earlier this month. It clearly shows a truck failing to stop at a level crossing and coming extremely close to colliding with the train.
CBH general manager of operations, David Capper, said similar incidents had been occurring on a regular basis, which had prompted the co-operative to issue the safety warning to drivers.
"These near-miss events are happening as often as every fortnight, which raises the question of just how long it will be before there is a collision – national statistics show that there were 27 collisions at level crossings in the year to June 2016," Mr Capper said.
"There is clearly a very serious risk here to both drivers and rail operators and we're pleading with drivers to please be extra careful around level crossings."
"These incidents also have a very serious impact on our rail operators and train drivers, for the safety of everyone involved we need people to take extra care when crossing rail lines."
When approaching a level crossing drivers are advised to stop at stop signs, look and listen for trains and only cross the rail line when they are certain it is safe.
Once drivers are certain it's safe to cross the rail lines, they should do so without stopping and never drive vehicles into a position where they may become stranded.
CBH trains are operated by Watco, which undertakes a range of measures to ensure safe operation, particularly around level crossings. These include trains traversing level crossings at regulated speeds and sounding the train horn before and during crossing.
Video: view a personal message on rail safety from Mr Capper here, along with near-miss footage.
Source : CBH Group