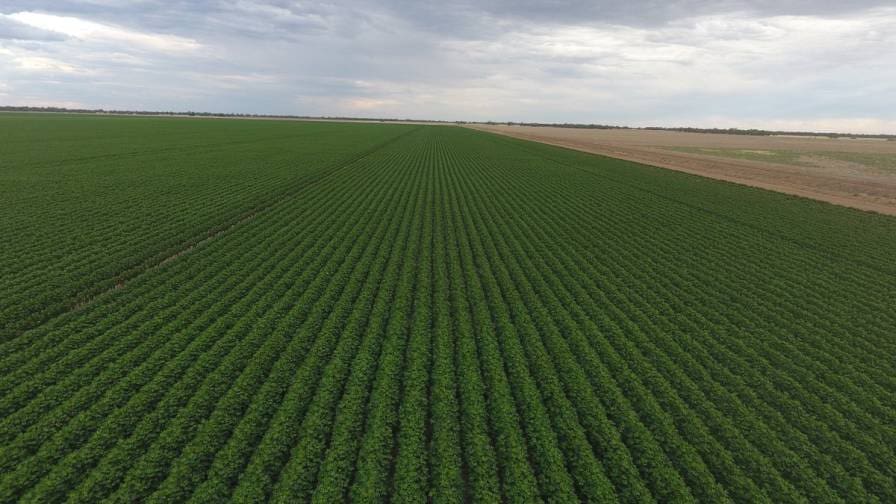 MILLIONS of dollars in investment will support the development of a northern Australian broadacre cropping industry, following a new funding agreement announced today in far north Queensland (FNQ).
The Cooperative Research Centre for Developing Northern Australia (CRCNA) and the Grains Research and Development Corporation (GRDC) will co-invest in on-the-ground research collaborations with pastoralists, grain growers, agronomists, researchers and the broader industry across northern Australia.
The projects will focus on developing commercial-scale site trials of oilseeds, pulses, grain cereals and forage crops and deliver evidence-base information to support future decision making and business planning for producers.
The first round of projects funded under this new arrangement were announced at a grower field day at the Queensland Department of Agriculture and Fisheries Walkamin research facility on the Atherton Tablelands.
These include:
A project led by agronomist Tony Matchett from Savannah Ag Consulting and two far north Queensland-based oilseed producers who will run crop trials at the Walkamin facility. They will determine which crops perform best in northern Australian conditions and take the best performing crops to commercial production within three years. "Our objective is to identify a range of oilseed crops, that can optimise new crop rotations, or enhance existing farming systems in the region like sugarcane," Mr Matchett said. "We are not just looking for a cash crop to grow in different seasons or environments, but options that may enhance the whole farming system. This may be by way of disease control or improving soils so that our farmers are profitable, productive and sustainable. With the diverse range of oilseed crops available to be researched, we are confident of finding these solutions."
A collaboration between the Queensland Alliance for Agriculture and Food Innovation – a research institute of the University of Queensland supported by the Queensland Government (UQ-QAAFI) – Radicle Seeds Australia (an Emerald-based and farmer-owned seed company), AgForce Queensland, Northern Gulf Resources Management Group, Elders and four grain growers in the Gilbert and Burdekin catchments will trial and identify sorghum and maize varieties which are best suited to these environments whilst meeting market requirements. "Across Northern Australia multiple constraints create complex problems requiring private-public partnerships to build farmers' skills and adapt profitable and low risk broad acre cropping practices," QAAFI's Professor Daniel Rodriguez said. "Our project will develop a participatory on-farm program. This is growers driving the RD&E activities, to identify best crop and management options that bridge gaps between present and potential yields."
A project with the Queensland Department of Agriculture and Fisheries (QDAF) and Georgetown grower Brendan Fry focused on establishing a replicated irrigated on-farm research site on the soil type most representative of the 20,000ha of potential irrigable soils in the region. "Our experienced research and extension team led by Dr Lance Pendergast will work with broadacre crop producers to evaluate potential grains crops and farming systems suitable to the region, providing opportunities for them and their workforces to develop their cropping knowledge and skills," QDAF's Graham Harris said.
CRCNA chair Sheriden Morris said although each team would focus on different aspects of the cropping sector, project participants had committed to share their learnings, knowledge and research findings.
"This new model will avoid duplication and maximise the impact of the research for all involved," she said.
"Today we've taken a serious step towards developing a broadacre cropping industry for northern Australia – to support and complement the cattle industry and develop a new income stream for pastoralists or producers keen to diversify."
GRDC chair John Woods said this was the first significant investment in developing a commercial-scale broadacre cropping industry across northern Australia.
"Producers need the best information and the confidence to invest in the opportunity. That's why these investments in grains R&D will be key to informing them on the crops and management practices required in the region," he said.
"The strength in these investments is that they are collaborative – every project is underpinned by private and public partnerships."
It is expected the FNQ model will be replicated in the Northern Territory and northern Western Australia, with projects currently in development in these jurisdictions.
CRCNA's Sheriden Morris said the direct beneficiaries from this work would be growers across the north looking to expand or diversify existing operations.
"Regional communities and towns will also benefit from the additional investment and complementary industries which result from economic diversification," Ms Morris said.
Source: CRCNA
Grain Central: Get our free cropping news straight to your inbox. Simply fill in and submit the 'sign up' box at the bottom right-hand corner of this page.