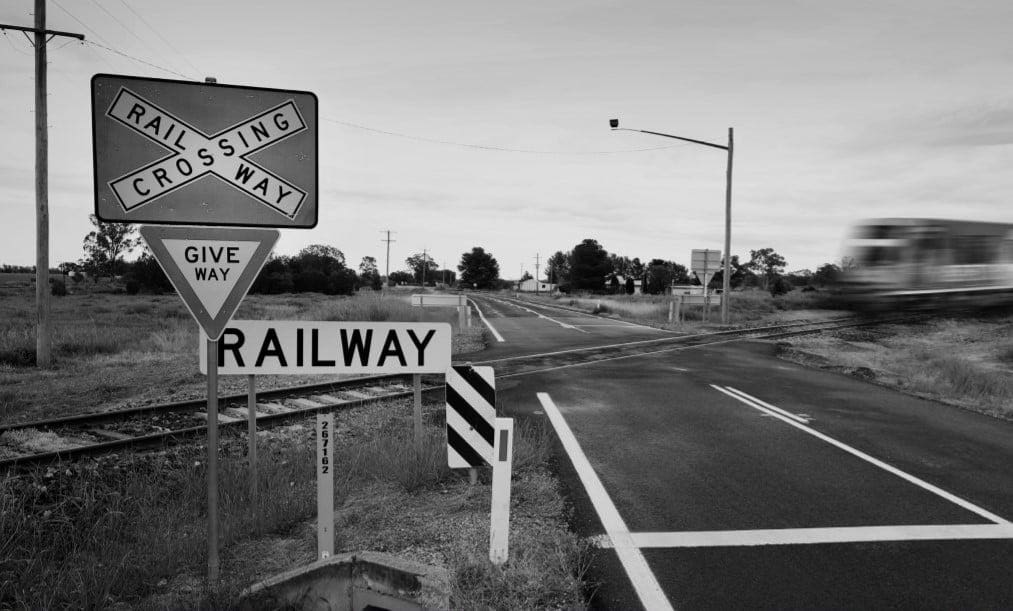 THE New South Wales Government will trial new technology to reduce the risk of level-crossing collisions between trains and vehicles in the bush.
Minister for Customer Service and Digital Government Victor Dominello said the NSW Government will fund trials of innovative signs with LED flashing lights at level crossings in Narromine and Bribbaree to improve awareness and safety.
"There are more than 2700 road level crossings on the NSW rail network and we want to improve safety in country areas where there is less visibility," Mr Dominello said. 
"Contracts have been signed with ARCGS at Bribbaree and Sage Automation at Narromine to install new level-crossing signs and the detailed design work is under way.
"Level-crossing crashes devastate families and communities which is why we want to use innovation and technology to help save lives."
Minister for Regional Transport and Roads Sam Farraway said the government had listened to concerns raised through the community petition led by Maddie Bott, whose fiancé Ethan Hunter and his colleague Mark Fenton died in a level-crossing accident near Bribbaree last year.
"Sixty-eight per cent of public road crossings use only stop and give way signs to warn about the presence of a level crossing and the need to stop to look for trains," Mr Farraway said.
"Transport for NSW has developed a new strategic direction to help fast track improvements at level crossings which will involve trialling the use of new technology.
"On top of this we have reduced speed limits to 80km per hour at more than 50 level crossings across regional NSW as part of the Level Crossing Speed Zone Reduction Program.
"We know a lot of crashes at level crossings occur where the road speed limit is 100km an hour or greater, so reducing the speed limit gives drivers more time to see the level crossing ahead and stop for oncoming trains."
TrackSAFE Foundation's executive director Heather Neil said TrackSAFE welcomed Tuesday's announcement from the NSW Government.
"NSW has thousands of level crossings and new technology will play an important part in improving safety," Ms Neil said.
"This week is Rail Safety Week, and we remind travellers, pedestrians, commuters and rail workers that they can all play an active role in rail safety. And we urge the Australian community to Stay Rail Safe."
ARCS commercial director Phil Lock said the company was excited to be partnering with the NSW Government and delivering innovative technology to improve safety for regional communities. 
"I'm looking forward to working with government to develop technology that could potentially save more lives in country communities," Mr Lock said.
SAGE Automation smart cities lead Ashby Martin echoed these sentiments.
"SAGE is passionate about developing new systems to improve road safety in partnership with Transport for NSW and the NSW Government," Mr Martin said.
The trial is funded through the Digital Restart Fund and will commence later this year and the data collected will be used to determine the effectiveness of the new technology.
The trial will commence later this year and the data collected will be used to determine the effectiveness of the new technology.
The trial in Narromine will evaluate the effectiveness of a stop sign with LED warning lighting.
The Bribbaree trial will also monitor the effectiveness of stop signs with LED warning lights and LED streetlights.
ARTC releases trial results
The Australian Rail Track Corporation (ARTC) this week released the findings of a study which monitored level crossings without boom gates at Culcairn, Forbes and Scone, all in regional NSW, and found around 50pc of motorists failing to fully heed the stop signs.
The results were released to coincide with Rail Safety Week, and data came from road-camera technology developer Acusensus, which was commissioned by ARTC to assess driver behaviour at the three crossings.
Length of trial ranged from four weeks to three months, and ARTC has commissioned further trials at other sites around the state to bolster the veracity of the findings.
"We manage the delivery of hundreds of freight and passenger trains across the network each day and with this comes the responsibility of making sure that these services…are operating as safely and efficiently as possible," ARTC group executive for safety and environment Peter Clements said.
"A fully loaded freight train can take up to two kilometres to stop after the emergency brakes are applied."
The theme of this year's Rail Safety Week is: Stand Back. Look Up. Stay Rail Safe.
"Raising awareness of level-crossing and trespass dangers is a particular focus this year.
"This includes the trauma that is caused to so many people from the fatalities and near-hits that occur on Australia's rail network.
"Over the past six years, on average there have been 83 fatalities across all Australian rail networks."
Each year there are around 1880 level-crossing and trespass near-hits.
ARTC manages 8500km of track across mainland Australia, and its NSW network carries much of the state's bulk grain freight.
Source: NSW Government, ARTC