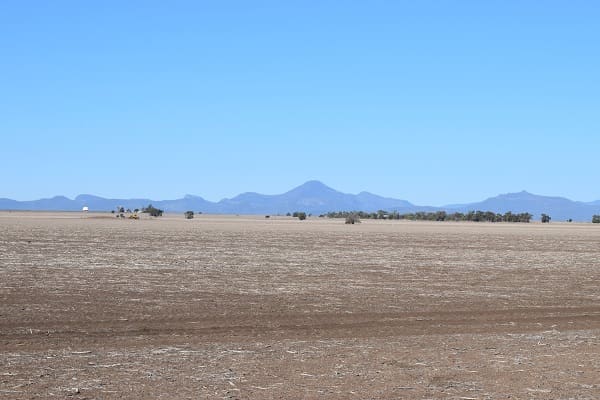 THOUSANDS of hectares of the eastern Australia cropping belt lie fallow as drought takes hold and the winter sowing window begins to close.
The long, dry spell has hit the northern half of New South Wales, and the southern and central regions of Queensland particularly hard with only a fraction of this winter's intended plantings in the ground.
Of those crops that are in, many have had to be deep sown to reach the limited moisture reserves.
Rain forecast for parts of the region in the middle of next week could present growers with their last chance to get some late crops into the ground, but soil profiles are so parched in many areas it will take exceptional falls to make sowing a viable option.
Some growers are already considering cutting their losses with winter crop and looking ahead to capitalise on promising prices for summer crops.
North west NSW
B&W Rural agronomist, Ben Dawson, Moree, said the winter crop situation in north west NSW was "pretty grim".
"There is very little crop that has been planted into moisture and has got up. A lot were deep sown. There have been chickpeas sown as deep as nine inches (23cm) and wheat that has gone in almost that deep. It looks okay, but will obviously need rain," he said.
"There is a fair bit of country dry sown in anticipation of rain so they will be a couple of weeks ahead when the rain does come. It is not uncommon to deep sow east of the Newell Highway, but it is uncommon to do as much as has been done this year west of the highway out to Walgett.
"The rest is fallow with varying moisture profiles. Anything that held cereal stubble from previous years has moisture a lot closer to the surface, but anything that is bare ground is highly unlikely to have a crop put in now."
Mr Dawson said "the million-dollar question" was how long growers had left to get a winter crop in.
"In the wet year of 2016 we were planting up until the end of July and we got away with it that year. But with the forecasts this year, we are thinking the cut off for sowing will be around the end of June," he said.
"With the good prices for sorghum and cotton, if nothing happens in the next few weeks I think people will forget about winter crop and look at a summer crop or long fallow."
Mr Dawson said the rain predicted for next week could be useful if it was substantial, but would do more harm than good if the falls were only light.
"The tricky thing will be if we get only a small amount of rain of 10-20 millimetres. That would be a disaster because it would germinate the dry-sown crops, but with nothing else on the horizon that wouldn't be a good thing," he said.
"It would just trigger a flush of weeds on the fallow country, which would be another cost, and not really put anything back into the moisture bank to get us any closer to planting crop.
"We are almost at the point of no return where growers won't plant any more winter crop. If they don't plant any winter crop, we don't really want to see any rain. We'd prefer the rain to come later in September/October when the summer cropping opportunities open up."

Darling Downs
On the Darling Downs in southern Queensland, crop consultant, Matthew Holding, said the lowest percentage of winter crop had been planted that he had ever seen.
"There is only a small amount of crop sown in some irrigated blocks. At this point in time, as a consultant I don't have a single chickpea crop to look at and only a little bit of irrigated wheat and barley," he said.
Mr Holding said time was running short for winter plantings with growers on the Downs left with about a month to get crop in.
"They will still plant chickpeas, wheat and barley until the middle of July on the Downs. The crops still benefit the farming systems for the next crop, even if their individual gross margin potential is down," he said.
"In the background, it will be a shame if we can't get winter crop in but it is not overly dire for growers because sorghum and cotton prices are so good that, if they miss the winter sowing opportunity, they will just move on to the next one."
Central Queensland
In Central Queensland (CQ), Spackman Iker Ag Consulting director and Crop Consultants Australia president, Jamie Iker, said the winter crop was "fairly dismal".
"There are a few chickpeas in – a small percentage in comparison to other years. All have been deep planted, anywhere up to eight to 10 inches (20-25cm) in some cases," he said.
"It has taken a lot of time to come out of the ground. For the most part establishment has been pretty good. Some of the deep-planted crops are hit and miss, but generally it isn't too bad. It all needs rain."
Mr Iker said only a small percentage of the intended cereal plantings had gone in in CQ.
"Some wheat and barley both went in early on some moisture, but it was marginal moisture. It desperately needs rain now. There are some wheat crops in the area that are already out in head and are struggling. It is a sad state of affairs at the moment, but if we can jag some rain we can hopefully still pull off some decent yields," he said.
"If we don't get rain in the next couple of weeks the sowing window is all but closed. There are people who have planted at the end of June/early July in the past, but that limits crop potential significantly.
"If there is rain after that it builds moisture profiles for a potential spring crop, but more likely a summer crop. All the options of mung beans, sorghum and dryland cotton will be considered by a lot of people the way the current prices are for those crops."
Grain Central: Get our free daily cropping news straight to your inbox – Click here