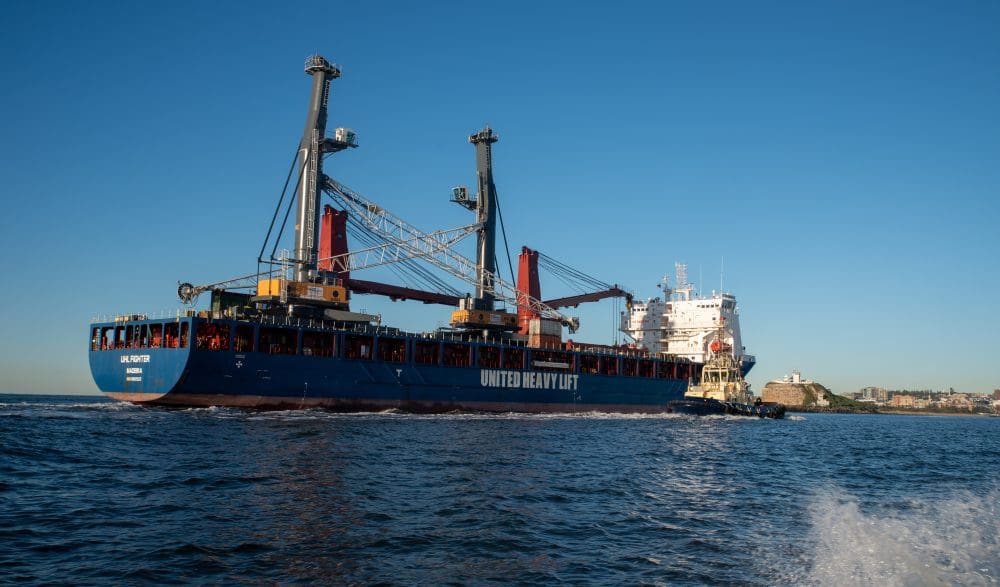 THE PORT of Newcastle (PON) has continued its push into the container trade with the arrival of two Liebherr mobile harbour cranes last week.
This is despite financial requirements for PON to compensate Port Kembla and Port Botany operators, NSW Ports, if container movements exceed a specified level.
The announcement has been described as a critical step forward for PON, which has been pushing to develop a deepwater container terminal for several years.
PON chief executive officer Craig Carmody said the $28.4 million investment marks a significant increase in container-handling capabilities at the Port's versatile Mayfield 4 berth.
He sad it was hoped the new infrastructure will make PON a viable alternative to Port Botany, Port of Brisbane or Port Kembla for exporters.
"Industry has been very clear – they don't want to have to pay more to send their container exports to Port Botany or Port of Brisbane when they could be taking advantage of Port of Newcastle's enviable road and rail network and potentially save millions of dollars a year," Mr Carmody said.
"These two new mobile harbour cranes will allow us to move cargo and containers within the limits that the Port Commitment Deeds (PCD) bind us, so that we can give our customers a viable alternative.
"As a global trade gateway and the world's largest coal export port, diversification isn't an option, it's a must, so we are taking what action we can while continuing to advocate for the removal of the PCD."
The PCD were entered into as part of the privatisation of Port Botany and Port Kembla by the NSW Government in 2013 for a term of 50 years.
This arrangement requires the State of NSW to compensate NSW Ports, the operators of Port Botany and Port Kembla, if PON container traffic exceeds a specified cap at a rate equivalent to the wharfage fee the port operators would receive if they handled the containers.
Another 50-year deed, signed in 2014 requires PON to reimburse the State of NSW for any compensation paid to NSW Ports under the Botany and Kembla PCD.
The Australian Competition & Consumer Commission (ACCC) in 2018 instituted proceedings against NSW Ports, arguing that the PCD arrangement was anti-competitive.
In June 2021 the Federal Court dismissed these proceedings.
This arrangement effectively halted PON plans to construct a dedicated deepwater container terminal.
Mr Carmody said it was hoped that this new infrastructure would make it an economic necessity for the PCD system to be removed.
"The future of the Hunter region, of local industry and of local jobs is far too important for us to sit idly by.
"As the saying goes, 'if you build it, they will come', which is essentially what we are doing.
"By proving that there is demand for containers out of Newcastle, we hope the NSW Government will finally see the irrefutable benefits and remove the PCD.
"Independent analysis has shown a Newcastle deepwater container terminal would contribute $2.5 billion to the national economy and generate more than 19,000 direct and indirect jobs, while reducing road and rail congestion and providing cheaper freight costs for regional importers and exporters, which in the end means more money back into the pockets of local farmers and businesses."
The 550-tonne Liebherr mobile harbour cranes feature the latest lift assistance systems for safer lifts and can handle a diverse mix of project cargo, including wind turbines, timber, steel coils, transformers and mining equipment.
They also have the capability to work in tandem for heavy lifts and lift two 20-foot or one 40ft container in a single move.
PON's mobile harbour cranes will undergo testing over the coming month and are expected to begin operations in September.
Growers back terminal
Peak industry organisation, NSW Farmers, has welcomed the investment at the PON and reiterated calls for the NSW Government to intervene in the PCD arrangements.
Grain grower and NSW Farmers president Xavier Martin said keeping PON out of the container trade would add to the increasing challenges of the NSW supply chain.
"We're really pleased to see the Port of Newcastle invest in mobile harbour cranes and move into the container trade – this is a common sense move in the right direction," Mr Martin said in a statement.
"The State Government needs to embrace every opportunity to improve freight efficiency so we can take the handbrake off agriculture and grow our economy."
Mr Martin said a new container terminal at Newcastle and railway-to-port connections could save farmers $16-$22 per tonne on rail freight, or up to $2.8B over the next 30 years.
"There are some other challenges that also need to be addressed but allowing the Port of Newcastle to increase its export potential would make a big difference for farmers.
"Newcastle's close proximity to major NSW export and import hubs provides a shorter journey by road or rail, making it the efficient option for container imports and exports to central, north, north-western and far-western NSW.
"However, as a related infrastructure challenge, currently grain travels by rail past Newcastle to Sydney before returning to Newcastle, which is an inefficiency for grain producers."
Moree region grain grower and NSW Farmers vice president Rebecca Reardon also backed the terminal, saying that north-west producers would reap the cost benefits of the project.
"Container trade is one of the strongest growth areas for grain exports and, more generally, is expected to increase dramatically," Ms Reardon said in a statement.
"Port Botany is already congested, and a lot of the freight is coming from or is destined for northern NSW anyway.
"Having additional capacity closer to home will encourage growth, provide significant savings, and benefit regional communities."
PON plans cross party lines
Despite there being no end in sight to the PCD arrangements, parliamentary support is not lacking for the container terminal project.
NSW and Federal members of parliament from both sides have backed the proposal.
The calls to remove the PCD and progress the plan has been led by state Labor Member for Newcastle Tim Crakanthorp and Nationals Member for Northern Tablelands Adam Marshall.
Breaking away from NSW Liberal Party policy, the NSW Nationals – with support from Federal National Party Leader David Littleproud – believe the container terminal would bring huge benefits for the grains industry.
"Our grain growers have a gateway to world markets on their doorstep, but unfair bureaucracy and now redundant rules are keeping the door to Port of Newcastle locked and bolted," Mr Marshall said in a statement earlier this year.
"[PCD] provisions have made establishing a container terminal and increasing capacity at the Port of Newcastle financially unviable for the owners – and our grain growers are paying the price.
"It is my view that legislators must re-look at the PCDs and create an environment which, at least, removes the reimbursement provisions so the Port of Newcastle can operate in a freer market."
In a speech to parliament this year, Mr Crakanthorpe called the "determination by the NSW Government to prevent the PON from moving forward with the container terminal "relentless".
"'Relentless' is one word to describe the government's determination to stop the Port of Newcastle from diversifying its trade," Mr Crakanthorpe said.
"Here are some more words: disgraceful, malicious, spiteful, pernicious, malevolent and pig‑headed.
"The Federal Government, the Labor Party, The Nationals, Business Hunter, the Committee for the Hunter and the people of the Hunter region all back this project.
"The New South Wales Government is the only thing standing in the way."
Several months after the Member for Newcastle comments, the Newcastle Herald on May 28 reported that the previous Federal Government had committed $250M towards the proposed Newcastle terminal, but that the funding was pulled within hours of the announcement.
 Newcastle Herald also reported that Mr Littleproud said the then government should have pushed forward with the announcement and backed the container terminal project.
Port Botany sufficient
Hitting back at statements from NSW Farmers and Labor and National Party members, NSW Ports CEO Marika Calfas contends that Port Botany can handle all of the state's container export requirements.
"Port Botany provides the most efficient outcomes for NSW container port supply chains, which is why there has been ongoing, significant investment in the port and its rail and road connections over many years," Ms Calfas said.
"Development of a container terminal at Newcastle is a matter for the Port of Newcastle, which is allowed to build container handling capability (subject to any regulatory approvals) and operate up to 57,000 TEUs.
"Beyond this volume, the port needs to meet its contractual obligations to the NSW Government and NSW taxpayers.  We welcome the opportunity to discuss container supply chains with farmers."
Containerised grain exports from NSW represented 10 per cent of grain exports or 1.2 million tonnes in 2020-21, according to the ACCC: Bulk grain port monitoring report- 2020-21.
Grain Central: Get our free news straight to your inbox –
Click here