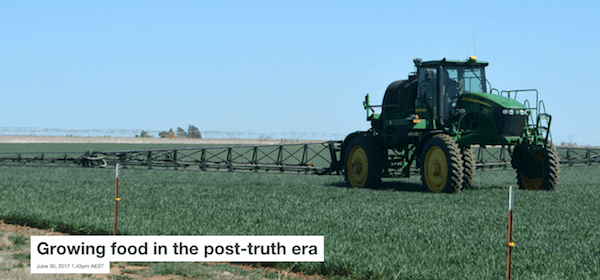 A recent article on The Conversation said the global food system "has been operating in post-truth mode for decades".
POST TRUTH. An increasingly used term to describe modern politics, and one which will also be unavoidable in discussion of agriculture.
In a recent article in The Conversation, Alana Mann from the University of Sydney discusses "Growing Food in the Post Truth Era".
The premise of Alana's article is that 'Big Agriculture' is using post-truth tactics to justify unsustainable farming practices in order to continue to grow their businesses.
To counter the 'big ag' post-truth narrative, articles are cited which highlight the "myth of food scarcity" and debunk the claim that food production will need to double by 2050.
It is perhaps instructive at this point to define exactly what 'post truth' is. The Oxford dictionary defines it as: 'Relating to or denoting circumstances in which objective facts are less influential in shaping public opinion than appeals to emotion and personal belief', in this era of post-truth politics, it's easy to cherry-pick data and come to whatever conclusion you desire.
So, Alana is tagging 'big ag' as post-truth because they cherry pick data and ignore evidence that counters their narrative.
However, there is a big problem with this approach. You can't credibly counter what you claim to be a post-truth argument with another post-truth argument. To use the popular catch phrase, by doing this you are essentially saying "I reject your reality and I substitute it with my own".
There is a great deal of credible commentary that supports the position that there will need to be a significant increase in food production to support a growing population over the next twenty to thirty years, and that at current rates of yield improvement this is going to be a difficult task.
Even more recent studies which have recalibrated predictions based on improvements in yield potential as well as incorporating environmental objectives have determined that food production needs to continue increasing at historical rates (which includes all the gains made by 'big ag'). The FAO, UN and World Bank also all support the position that there needs to be sustainable intensification of agriculture to support the anticipated population growth by 2050.
Other arguments that could be put forward to counter Alana's narrative include that global trade results in rich people in poor countries eating the food produced by 'big ag' leaving less expensive food produced locally available for people that otherwise would not have had access. Or that new technology always has 'big ag' as its first market because they can afford it. It then flows over to poorer farmers as the technology becomes cheaper and more widely used. If big ag did not pay for the initial R&D and the early adoption of new technology, then it would never be available for farmers in poor countries.
The environmental and societal issues highlighted in Alana's article are real and wicked problems. They will need sustained focus from all of agriculture. To demonise 'big ag', an undefinable term designed to appeal to emotion and personal belief, and effectively attempt to exclude them from the solution is post-truth. The truth is that agriculture is made up of multiple players, from biodynamic no-growth subsistence farms to multinational billion dollar companies. All have a place and all have an important role to play in ensuring that agriculture is sustainable, resilient and capable of feeding the world.
This article was first published on the Australian Farm Institute website. To view original article click here