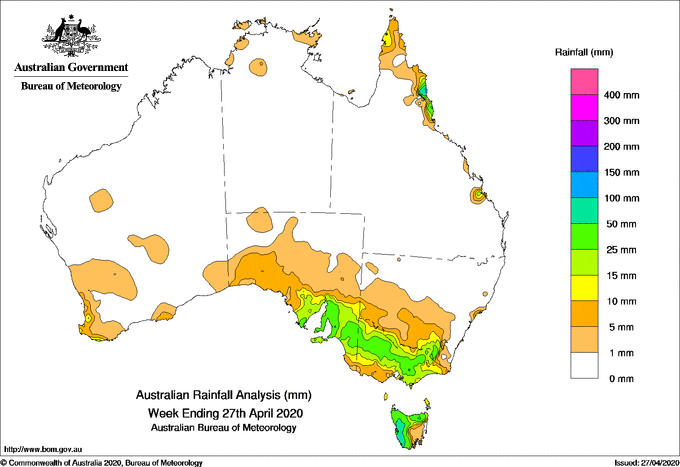 ANZAC weekend rain across the southern cropping region from South Australia's Eyre Peninsula to the eastern areas of Victoria and north west Tasmania has come at an ideal time to kick start this season's main winter crop sowing.
Widespread falls of 20 to 40 millimetres, on top of earlier falls in some regions, have triggered a planting spree as farmers take advantage of the rare chance to hit the optimal Anzac Day start to the sowing window.
Adding to the opportunity, the Bureau of Meteorology is forecasting further rain to fall across the south later in the week.
Victoria
Victorian Farmers Federation grains group president, Ashley Fraser, said most of the weekend rain went through the central part of the Victorian wheat belt, with centres such as Warracknabeal, Charlton and Horsham receiving 35 to 40mm.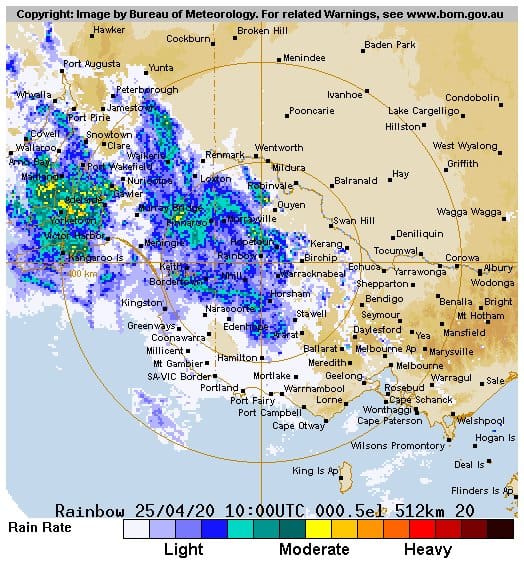 Further north, Manangatang had 15mm which was typical of many falls in that region.
"A lot of people have their canola and beans in already, so the rain on those is just perfect. That will get them all up and away," Mr Fraser said.
"The main winter crop will go in now. There will be a solid wheat and barley plant. I thought there might have been some slackening with barley, but everyone seems to still have a fair bit of confidence in it. With canola, they will be going with what they would normally sow."
On his own farm at Rutherglen in Victoria's north east, Mr Fraser said falls were lighter at around 10mm, but still ideal.
"That is just perfect for us. We have done well with earlier rains where others may have missed out. Most of our grazing cereals, mainly triticale and some pasture, are in," he said.
South Australia
Substantial falls were recording across much of South Australia's cropping belt, with 30mm at Keith in the South East, 28mm at Clare in the Lower North, 32mm at Maitland on the Yorke Peninsula and 21mm at Cummins on the Eyre Peninsula.
GrainGrowers' South Australian regional co-ordinator, David Evans, said on his farm at Strathalbyn 60 kilometres south east of Adelaide, 23mm fell between sundown on Saturday and Sunday morning.
"It is just perfect. Couldn't have ordered it better," he said.
"There is not a huge amount of crop in here. There are some cereals for feed and canola. But sowing will certainly crank up from today onwards, particularly in the earlier districts.
"They are talking about more rain here for Wednesday, Thursday and Friday. There's the possibility of the same amount again which would just be magic. Perfect timing."
Grain Central: Get our free daily cropping news straight to your inbox – Click here