WIDESPREAD rain across New South Wales and Victorian cropping regions last week has kicked along early-sown dual-purpose crops and set up ideal conditions for the main winter crop planting in coming weeks.
Falls of 20 to 80 millimetres have been particularly beneficial for the increased plantings of dual-purpose grazing/grain crops that have already gone in, bulking them up to provide valuable winter stock feed before being shut up for grain.
And they have gone a long way to shoring up subsoil moisture profiles for the main winter crop sowing that will get underway from late April.
Indicative rainfall registrations for NSW for the past week include: Inverell 35mm; Narrabri 44mm; Coonamble 59mm; Tamworth 45mm; Merriwa 57mm; Mudgee 68mm; Temora 56mm; Wagga Wagga 40mm; and Hillston 64mm.
In Victoria, typical falls for the week were: Mildura 27mm; Horsham 15mm; Birchip 39mm; Donald 52mm; Kerang 41mm; and Kyabram 36mm.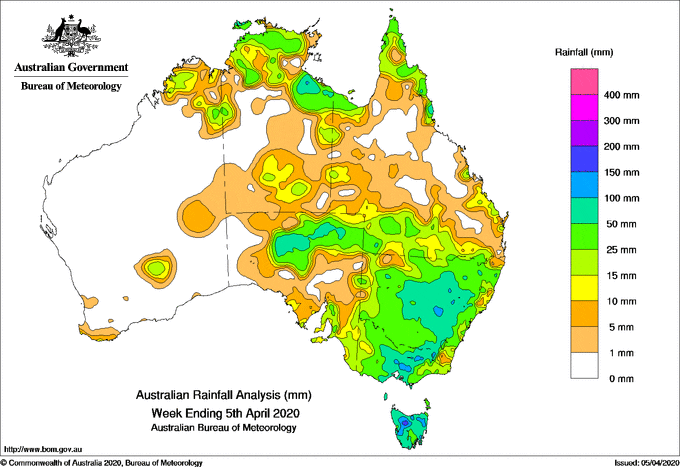 New South Wales
North West NSW and Central West NSW, which bore the brunt of the drought over the past two years, received substantial falls in a welcome follow up to rain a few weeks ago.
Grain Orana Alliance chief executive officer, Maurie Street, Dubbo, said last week's falls had come on top of earlier rain that had turned things around in the region.
At his home farm east of Dubbo last week's rain brought the total for the year to date to 375mm.
"It is certainly a big change from where we were last year. This recent rain has caught up some lost ground," he said.
"It really cements an autumn for the dual-purpose crops that have gone in. It means those crops will do very well, bulking up before the winter.
"For the rest who haven't planted dual purpose crops, the rain will give them the opportunity to do that. It is still early for a main season sowing of wheat, but towards the end of this week we will see a fair bit of canola go in."
"If we could score another rain around the Anzac Day period it will be a textbook season for the region's croppers."
Mr Street said with subsoil moisture levels now bolstered, growers would be comfortable sowing an increased area of canola in coming days.
"The sentiment towards canola has changed. Until now people have been stand-offish about it as it's not a crop to grow on marginal subsoil moisture, but now there is good subsoil moisture and a timely planting opportunity we will see the canola acreage increase as it has given growers the confidence to go forward," he said.
"For the main season crops, sowing will be closer to the end of the month. But there are some long season varieties, and the opportunities have started to open up for them.
"It puts us in good stead. We have good subsoil moisture and there is the opportunity to control weeds, so the outlook is looking a lot better.
"If we could score another rain around the Anzac Day period it will be a textbook season for the region's croppers."
On the South West Slopes of NSW where some crops were beginning to struggle, the rain has come at an opportune time to reinvigorate them.
The break will build up soil moisture levels which will be retained as the days are getting shorter and cooler, but more rain will be needed to fill the profile in many areas before the main sowing gets into swing from the end of the month.
Victoria
Victorian Farmers Federation Grains Group president, Ashley Fraser, said while some pockets of the state had only received around 10mm, quite a few areas received 25-35mm, and in the north east recordings were up around 55mm.
"It is a great start. It will mean people will have a chance to get a double knock on weeds this year. It means we can sow on time to a date," he said.
"People will start to plant canola and early grazing cereals now. Anzac Day will be the typical kickoff date for the main crop, but there are a lot of early season crops that can go in now to reduce the pressure over the Anzac Day period."
In the Victorian Mallee, Dodgsun Medlin agronomist, Brett Barker, said 60mm had fallen on his farm at Nullawil in the past three days, and throughout the Mallee there had been falls of 20mm to 80mm, "so everyone is pretty happy".
"At this stage only stock feed has gone in. Some hay crops will go in over the next week or so. Then it will be canola and then cereals around Anzac Day," he said.
"There are areas in the southern Mallee that would have a full profile of moisture now, but other areas need more."
Grain Central: Get our free daily cropping news straight to your inbox – Click here