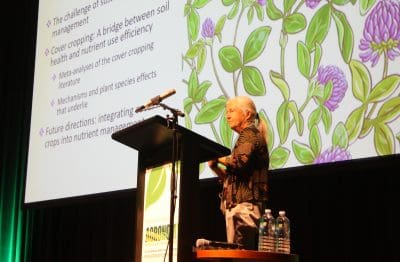 CLOSE to 400 delegates have gathered in Toowoomba this week for the 20th Australian Agronomy Conference to share ideas, network, and strengthen collaborations with industry at the first such meeting in three years.
Hosted by the Australian Society of Agronomy, the event's theme is System Solutions for Complex Problems.
It is also the venue for the announcement of some of Australian agriculture's most prestigious research awards.
Australian Society of Agronomy president Daniel Rodriguez said it has been "a long journey" between the last conference in 2019 and this normally biennial event.
He said COVID-19 uncertainty and the desire to host a fully face-to-face event resulted in the conference being held a year later than first thought.
Grain Central: Get our free news straight to your inbox –
Click here
Professor Rodriguez said delaying the event has allowed leading speakers from across the world and Australia to attend and present their research in person.
Topics covered include soil biology, the role of soils in carbon sequestration, and the need for new chemistries to manage herbicide resistance.
"It is a really exciting panel that we have put together," Professor Rodriguez said.
"There is no doubt that agriculture faces very complex problems, risks and uncertainties as well as opportunities, such as changes in the availability of resources driven by climate variability and climate change, lack of skilled labour and biotic and biosecurity threats."
He said changes in markets and value chains resulting from the global pandemic and conflict, demands for improved environmental, social and government outcomes and for safe and healthy food, and the need to decarbonise Australian agricultural systems were also part of the equation.
"Be sure that for any of these challenges there is a role for an agronomist or a systems agronomist to contribute."
Professor Rodriguez said disruptive technology had potential to improve efficiencies and make use of limited resources.
Awards and fellowship presentations
As part of the first day of the conference, the Australian Society of Agronomy presented awards to young and upcoming agronomists and to the new fellows to the society.
Victor Sadras, Derrick Moot and Shu Fukai were awarded Fellowships for their ongoing contribution to the sector.
Dr Sadras leads the crop ecophysiology team at South Australian Research and Development Institute (SARDI) and has conducted research adaptation of crops to environmental stresses.
Professor Moot received the honour for his work on improving permanent dryland pastures.
Based at the University of Queensland (UQ), Professor Fukai was recognised for his contribution to agricultural sciences in Australia, Japan and South-east Asia.
CSIRO research scientist Bonnie Flohr  and University of Melbourne agronomy research fellow Corinne Celestina were named the Young Agronomist Award recipients for 2022.
Both researchers were praised for their high level of technical abilities combined with excellent communication skills.
University of Sydney PhD candidate Mikaela Tilse won the High Impact research award in recognition of her work on a paper titled Spatial assessment of the interactions between subsoil constraints, soil available water capacity, and potential crop yields.
Keating receives Donald Medal
The 2022 C. M. Donald Medal for Agronomy was awarded to Brian Keating who has a 40-year career of excellence in agronomy and agricultural research.
In delivering the Donald Oration, Dr Keating described how valuable his early career time working in Kenya had been in setting out on his path of research.
Dr Keating worked in leadship roles with CSIRO from 1981 to 2016, and is an adjunct professor with the Queensland Alliance for Food and Fibre Innovation (QAAFI), a UQ research arm supported by the Queensland Government.
Cropping benefits
Monday morning's keynote address sponsored by Queensland's Departments of Agriculture and Fisheries and of Environment and Science was about how cover crops can save nutrients and restore soil health.
It was inspirationally delivered by Cornell University professor, biochemist, agroecosystems specialist and teacher, Laurie Drinkwater.
A key message of her address was that some agricultural production units can be moderated by including cover crops which can improve outcomes for diverse factors including energy use.
Award recipients
Picture gallery
Grain Central: Get our free news straight to your inbox – Click here