WORLD cereal production is poised to reach a new record level of 2790 million tonnes (Mt) in 2020 – up 9.3Mt from the May forecast – surpassing the record-high registered in 2019 by as much as 3 per cent, according to the World Food and Agriculture Organization's (FAO) 'Cereal Supply and Demand Brief'.
The FAO's wheat production forecasts have been raised for India and the Russian Federation, more than offsetting a cutback to the European Union and the United Kingdom expected outputs.
Global wheat production is pegged at 761.5Mt, up 3.2Mt from the previous month and now on par with last year's above-average out-turn.
The bulk of the monthly increase reflects an upward revision to Australia's wheat production forecast, mostly resting on improved yield prospects underpinned by earlier widespread rainfall and favourable weather forecasts for the remainder of the season.
This, combined with a larger than initially foreseen wheat acreage, is expected to lead to a more pronounced production rebound in 2020, which would mark a significant turnaround compared to the previous two years of drought-reduced harvests.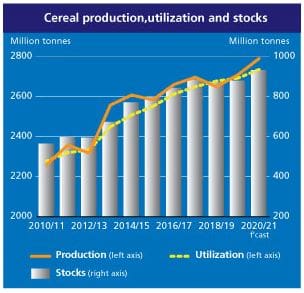 Coarse grains
The forecast of world coarse grains production in 2020 has also been revised up to 1519Mt, up 5.7Mt from the previous month, reflecting expectations of larger outputs of barley in Australia, the European Union and Turkey.
Larger outputs of barley in Australia, the EU and Turkey are mainly behind the monthly upturn.
By a lesser extent, the forecast of world maize production has also been lifted since the previous month, reflecting modest increases in the EU, where recent rains following several weeks of dry weather benefited crops especially in southern France and northern Italy.
Likewise, Brazil's maize output has been increased, now slightly exceeding the previous year's outturn and marking an all-time high.
FAO's global rice production forecast for 2020 is now pegged at 509.2Mt, 400 000t above June's figure, primarily reflecting improved prospects for South American countries, where conducive weather raised yield expectations to all time-highs.
The slight upward revision primarily reflects improved prospects for South American countries, where conducive weather raised yield expectations to all time-highs, promoting a partial output recovery from last year's reduced harvest.
Consumption
World cereal utilisation in the year ahead is forecast to rise to 2735Mt – 1.6pc up from the previous month's forecast, mostly driven by an upturn in feed and industrial uses of coarse grains compared to earlier expectations.
World rice utilisation is also predicted to reach a fresh peak of 510.4Mtin 2020/21, 1.6pc up from June, based on expanding food use.
Reflecting new production and consumption forecasts, FAO now expects world cereal stocks by the end of seasons in 2021 to reach 929Mt, representing a robust year-on-year expansion of 6pc.
This would drive the global cereal stock-to-use ratio in 2020/21 to a 20-year high of 33pc, highlighting the comfortable global supply prospects in the new season.
Source: FAO