A UNIQUE approach to high school education is helping to fill an agricultural training void left by the closure of specialist rural colleges.
The Australian Industry Trade College (AITC) is a not-for-profit high school focused on helping year 10, 11 and 12 students undertake extensive workplace training while completing their senior certificates.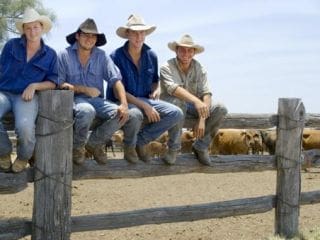 As a spokesperson recently explained, the model provides 'a win-win', giving students wishing to pursue a career in agriculture a head start while still completing their senior schooling, and giving employers access to 'ready-to-work' trainees and new employees well advanced in their understanding and knowledge of their industry.
While school-based career training exists in other forms, the AITC model is unique in the extensive amount of time students spend in workplace training, while still studying for their senior high school certificate.
Each AITC term is split into two blocks.
Students spend the first half of each term, around five weeks, completing an 'education block' at an AITC campus, in which they study subjects including literacy, numeracy and science.
They spend the second half of each term, five to seven weeks, in an 'industry block', which comprises industry training and work-based experience with an industry employer.
The AITC has five campuses in south east Queensland, and in 2019 opened a new campus in Toowoomba which, along with other vocations, is providing pathways for students interested in pursuing one of the many career options in agriculture.
The new model comes at a critical time for agricultural career training in Australia, with the industry looking for new pathways following the collapse of specialist agricultural colleges, such as those in Queensland.
Queensland farm group AgForce recently lashed out at the Queensland Government's handling of the closure of the State's long running agricultural colleges without a vision or plan for replacing the services they provided.
(See also Neil Lyon's November 2019 special report 'Is there a future for traditional agricultural colleges?')
The AITC has a number of entry points into its program:
Year 10 intake: Starting in Year 10 gives the full breadth of the three-year program. This year contributes credits towards the Queensland Certificate of Education whilst working on basic literacy and numeracy skills. With a strong focus on work and life skills, a Trade Taster program and supported work experience, this program is ideally suited to young people unsure about their trade pathway.
Year 11 intake: The entry point for a two-year program, with core subjects in English, maths, business and IT, and pre-apprenticeship training and work placements. The focus is on employability skills and character development.
Year 12 intake: The final intake point is for young people who have completed Year 11 elsewhere and have decided that the industry pathway is best for them. In this 10-month program called "Transition to Work", the focus is on completing the Queensland Certificate of Education and moving from work experience to an Apprenticeship or Traineeship as soon as possible.
Further information is available on the AITC website.