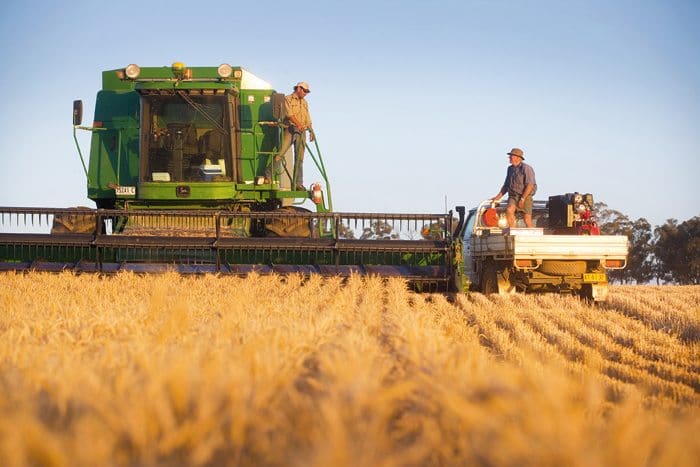 GRAIN Producers Australia (GPA) is celebrating this year's #AgDayAU by highlighting some of the exciting and diverse opportunities to work in the Australian grains industry, and a great #AgVenture.
"Australians of all ages and backgrounds have great opportunity to pursue a career and work in so many exciting and innovative areas of our industry, across the entire supply chain," GPA chair and Western Australian farmer Barry Large said.
"These jobs with a modern, innovative edge include farm management, plant science, grain trading, or operating heavy machinery at harvest or seeding – and there's so much more."
To support #AgDayAU 2021, GPA has released a short video highlighting the contribution to this year's harvest made by former ADF members, working with GPA's State Members who collectively represent grain producers such as WAFarmers, AgForce Grains and NSW Farmers.
This strategic national effort is helping to overcome workforce shortages on grain farms, caused by the second year of COVID-19.
The video features a glimpse into the #AgVenture journey of Andrew Condon and Fergus 'Gus' McLachlan, in travelling from Sydney to Lightning Ridge in NSW, to use their transferrable skills and work alongside farmers and other former ADF members, as part of Operation Grain Harvest Assist.
Their contribution is helping to inspire others, while optimising the value of this year's harvest; one of the biggest on record forecast at about 55 million tonnes with a return of up to $20 billion.
"Our key message is that it's not too late to join the harvest," Mr Condon said.
"The farmers are very appreciative of those who have been able to answer the call. If you are a veteran get onto the Operation Grain Harvest Assist webpage."
GPA chief executive, Colin Bettles, said having a skilled and professional workforce was critical to building a more sustainable and profitable Australian grains industry.
"The Australian grains industry offers exciting and diverse career choices in so many fields where you also get to work with great people and communities," he said.
GPA's submission to the National Agricultural Workforce Strategy supported initiatives that help build the skills and knowledge needed for a modern and flexible farm-ready workforce, such as training programs for jobs operating heavy machinery on-farm.
GPA also supports a safe workforce which is why the GPA Training online safety program offers different safety training courses, specifically targeted at farmers and their businesses.
Fostering next ag generation
The National Farmers Federation (NFF) is also leading a program to foster Australian agriculture's next generation, AgCAREERSTART.
AgCAREERSTART is a pilot, 24-month program for school leavers to try a job in agriculture and experience the unique opportunities the sector has to offer.
An agriculture gap year has been a central component of the NFF's 2030 Roadmap.
"We're pleased to be announcing this new opportunity for young Australians, providing them with a new avenue for a career in our sector," NFF chief executive officer Tony Mahar said.
"Demonstrating the diverse, exciting roles on offer in agriculture is a priority for the NFF and AgCAREERSTART is doing exactly that.
"Through the leadership of Minister for Agriculture, David Littleproud, AgCAREERSTART will offer new opportunities for school leavers and young Australians across the country.
"The NFF is delighted to lead this program with the Department of Agriculture, Water, and the Environment and consortium partners AgriFutures, Primary Industries Education Foundation Australia (PIEFA) and NFF Members across Australia."
Through AgCAREERSTART, participants will be employed under award wages on qualified farms for up to 12 months. Participants will receive safety training and relocation assistance.
The program will also provide an opportunity to build skills and qualifications that young people can use in high-skill roles in Australian agriculture.
"Australian agriculture is a modern industry with diverse and rewarding opportunities. AgCAREERSTART will showcase these opportunities through hands-on experience to people who might otherwise not consider the industry," Mr Mahar said.
"AgCAREERSTART not only provides school leavers a chance to get out in the bush and try their hand at farm work but also an opportunity to gain important skills that they can use in other agriculture careers.
"By fostering opportunities between agriculture and young people, the NFF is building long-term connections and careers that will ultimately benefit the industry long after the gap year.
"The NFF-led goal for agriculture to be a $100 billion by 2030 industry depends on a skilled workforce of the future. AgCAREERSTART will be a key component of building this workforce and delivering on NFF's target to increase agriculture's available workforce by 25% by 2030."
Through a delivery partnership with Cotton Australia, Dairy Australia, GrainGrowers Limited, NSW Farmers, NT Farmers, Primary Producers SA and the Victorian Farmers' Federation, the NFF will deliver a diverse and deeply embedded program in regional networks.
"Through this support, AgCAREERSTART will be a program that is truly representative of Australian agriculture that provides the best experiences for participants."
At the end of the gap year, participants will have access to ongoing support through an alumni network, career advice, and the potential of continuing employment and seasonal work opportunities.
Sources: GPA, NFF