Latest listings on Jobs Central recruitment page:
Pen Rider/Stockperson, Jindalee Feedlot – Teys
Farm Manager, Legune Station NT – AAM Investment Group
Maintenance Manager, Kerwee Feedlot – Stockyard
Property Manager, Abingdon Downs – Cunningham Cattle Co
Experienced Stationhand Couple – Cobb Cattle Co
Livestock Positions – Elders
Pen riders (2), Kerwee Feedlot – Stockyard
Livestock hands (2), Kerwee Feedlot – Stockyard
Non-Executive Director, LiveCorp – via Rimfire Resources
Branch Manager, Casino for Riverina Aust – via Rimfire Resources
Chief Executive Officer – Kimberley Pilbara Cattlemen's Association
To access these and other challenging red meat and livestock industry positions listed on Jobs Central, click here.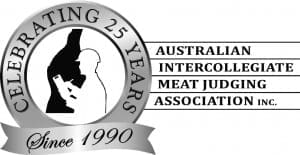 In the countdown to the 2021 Inter-Collegiate Meat Judging Association Conference at Wagga in July, Beef Central is publishing a weekly series of case studies on former ICMJ participants, now forging their careers in the meat and livestock industry. Now in its 30th year, ICMJ has a long and successful reputation of attracting graduates to careers in the meat industry – and as the profiles below shows, sometimes from non-traditional backgrounds….   
It is no coincidence that all three of the Australian Agricultural Co's 2020 graduate intake members were recruited via the Intercollegiate Meat Judging Association.
It's a pathway that has launched at least a dozen careers at AA Co, where the broad mix of skills gained through ICMJ is a highly valued commodity.
Two of those currently undertaking the AA Co program, Claire Marriott and Johanna Tulloch, put their recruitment down to the knowledge gained through ICMJ, as well as the opportunity to network directly with staff from Australia's longest running pastoral company.
"ICMJ opens your eyes to how vast the opportunities are in the red meat industry. It's not just meat processing; the supply chain is so large there really is a job for everyone," Claire said.
Both Claire and Jo met AA Co Goonoo feedlot manager Simon Kensit – also an ICMJ alumnus – at an ICMJ careers expo in Wagga. He encouraged them to apply for the AA Co graduate program, which takes in three people a year for a two-year placement working across all facets of the business.
"You can network all you want over LinkedIn but being able to talk to people face to face and ask questions and have a good discussion is invaluable both for recruiters and for students looking for jobs," Simon said.
"You can reach so many good students in one small area at ICMJ – it's a quite efficient way to be recruiting. I can see 80 students in Rocky and another 120 in Wagga Wagga – that's a lot of people you can sell your company's story to about why they should come and work for you."
Claire and Jo both agreed that they wouldn't be in the position they are today if they hadn't attended ICMJ.
"It was absolutely incredible. There's so much work that goes into putting those events on. You're exposed to so many great companies, it's hard not to be excited by the careers available in the meat industry," Jo said.
After her second visit to ICMJ Jo secured a 10-week internship with Fletcher's International Exports in Dubbo at the end of her third year of university, providing a taste of life on the abattoir floor, in the export office, the grain depot, HR and with the logistics teams.
Since joining AA Co, she has spent time in locations like Delamere Station, south-west of Katherine in the NT, the Aronui feedlot outside Dalby Wagyu breeding operations at Glentana Station in Queensland, and in the head office in Brisbane.
Providing a head-start
Claire meanwhile is currently working with the processing team and utilising some of the meat judging skills gained at ICMJ. She has also spent time on properties like Brunette Downs on the Barkly Tableland, AA Co's Central Queensland backgrounding property Rewan and the Goonoo feedlot at Comet. She will spend her final six months on the program working with the genetics team.
"ICMJ gave me a head start before I entered the industry by being familiar with the supply chain and what happens within the processing sector, from both the big picture right down to small scale details including things like cut identification," Claire said.
"I'm really enjoying the processing side of the business. There's so much data and information available to analyse and use to improve efficiencies and decision-making processes."
The scale of the operation is a long way from growing up on a beef cattle and prime lamb property at Benalla in Victoria. Claire also studied a Bachelor of Rural Science at the University of New England, graduating in 2019 after an Honours year studying meat science.
Those skills served her well when competing for UNE at the 2019 ICMJ Wagga conference, where she was selected as part of the ICMJ Australian team to tour and compete in the United States.
Similarly, Jo also grew up in Victoria but on a hobby farm running a handful of horses and beef cattle in the Gippsland area. She undertook a double degree of Bachelors of Agricultural Science and Commerce through La Trobe University graduating at the end of 2019.
In her second year of university she joined the La Trobe meat judging team and performed well enough at Wagga Wagga to be selected in the 'Coaches XI' to receive additional training at an ICMJ development week in South East Queensland, which showed first-hand the connection between lotfeeding, meat processing and retailers. These additional skills were put to use in her third and fourth years as coach of the La Trobe teams competing in Wagga.
"I wasn't really sure what ICMJ involved but I thought it would be a good opportunity to learn something new and I had heard there were some good career opportunities that came with the program, so I decided to have a crack," she said. "I learnt a hell of a lot through the training process and in competing, and I still use that knowledge today, like cut identification and yield and quality measures."
The move into coaching was a "challenging experience", she said, but one which expanded her skills by teaching the importance of resilience, organisation and effective communication.
"Through coaching, I was able to continually refresh my knowledge by getting back into the abattoir for training sessions at JBS Brooklyn. The general knowledge I learned about grading carcases and meat quality and yield has followed me all the way through my career here at AA Co."
Operations, or head-office?
As for the future, both Claire and Jo are uncertain which path to follow torn between opportunities in the Brisbane office and out in the field.
"I would love a job working in the operations side of the business and which allowed me to be based out on station again," Jo said. For Claire, this diversity of opportunity available in the red meat industry is one of the most valuable aspects of the ICMJ program.
"If you come to ICMJ not certain of a future in the red meat industry, you certainly come home convinced that it's the way to go," she said.
"The ICMJ program cemented my passion for the red meat industry. I would highly recommend attending ICMJ events to any university student with an interest in agriculture or the red meat supply chain."
Both Claire and Jo are now both committed to giving back to the program, so more graduates can benefit from the opportunities they were afforded. Along with Simon Kensit, they both worked on the AA Co stand at the careers expo at the ICMJ Northern Beef Expo in Rockhampton in April.
Source: ICMJ