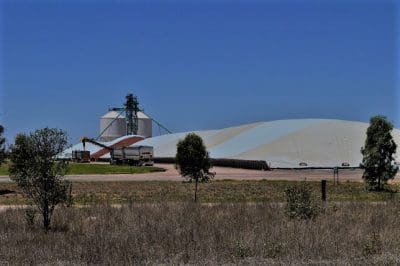 GRAIN grower representative bodies are ramping up pressure on the Federal Government to take more decisive steps to implement Wheat Industry Advisory Taskforce recommendations for an open, transparent grain stocks reporting system in Australia.
In 2013, the taskforce recommended commercial storage providers in each port zone report monthly to an independent third party the total volume of wheat stocks held in storage.
A pilot program was subsequently set up under the auspices of the Australian Export Grains Innovation Centre (AEGIC) to facilitate reporting under a voluntary scheme.
However, grower groups, frustrated by the refusal of bulk handlers to supply grain stocks information to the pilot scheme, are now calling on the Federal Agriculture Minister, Barnaby Joyce, to take more decisive action.
Time for regulation
Grain Producers Australia chairman, Andrew Weidemann, said while self-regulation would have been the preferred option, the time had come to move down the path of regulation.
"In a perfect world it would be provided without regulation. But what has come from the pilot program is that it appears the only way we will get the information is to make it mandatory," he said.
"Three of the five major bulk handlers didn't agree to provide a level of information, whereas there was agreement from Cargill and Emerald to provide the information. But everyone wants everyone in. It is not much value if you haven't got everybody providing it.
"The Minister has asked us to provide him with our views. He is asking us for our position and we are working through that with the Minister at the moment.
"The grain industry wants this completed because it is four years ago the task force was formed. In that period we have had years of very little export grain, but this year (a record harvest) has reinforced the need for a higher level of transparency."
Grain Central: Get our free daily cropping news straight to your inbox – Click here
Mr Weidemann said the information being sought would be combined to provide totals that would be made public, not the figures of individual companies.
"To be clearly definitive about it, we are talking about aggregated port zone grain information, not grower or individual company information. It is not asking individual companies, per se, to disclose their data," he said.
"If you look at America or any of the other free-trading nations, they provide this level of information on a regular basis."
Mr Weidemann said the industry was also looking to expand the reporting requirements beyond just wheat to include all grains.
"Realistically we are trying to make sure we follow through with what has already been agreed to by the wheat industry task force," he said.
"But we are also looking to move it to all grains, not just wheat, which has come through since the initial discussions. The wheat industry task force was set up to primarily look at wheat, but everybody realises we grow more than wheat."
Level playing field
GrainGrowers general manager, David McKeon, said the right stocks reporting scheme could help make a more level playing field in the grains market, but it would require all bulk handlers and traders to participate to get real value from such a scheme.
"Grains stocks information is valuable to grain farming businesses if it is comprehensive in nature and delivered in a timely fashion and is likely to create a more contestable and transparent marketplace," he said.
"What's important is that any grain stocks reporting scheme delivers real value and benefit to growers – which means timely, frequent and comprehensive information. It would need to cover all major grains.
"We also need to look closely at the costs involved as growers will ultimately bear the cost burden as well as some forgone gains from current commercial activity by major bulk handlers."
Mr McKeon said grain stocks information was just one of the many good industry activities that required consideration and certainty through sustainable funding models.
"GrainGrowers' efforts are currently focussed on the development of the Australian grains industry strategy, and it's important we as an industry get this right," he said.
"The strategy will determine what industry good services and information are required to grow the industry and once that's in place, we can talk with the trade about the details of a stocks information scheme."