RESEARCH into the impact of a changing climate on Australian crop production suggests wheat yield gains resulting from higher carbon dioxide levels may offset some of the losses caused by rising temperatures and reduced rainfall.
Speaking at the 2020 Grains Research and Development Corporation (GRDC) Grains Research Update in Goondiwindi in southern Queensland, Agriculture Victoria senior research scientist, Dr Glenn Fitzgerald, said rising carbon dioxide levels had the potential to increase the biomass and yields of crops.
That was one of the key findings of trials conducted under the Australian Grains Free Air CO² Enrichment (AGFACE) project which ran for 11 years from 2007 to 2017 at Horsham in western Victoria, and for two years at Walpeup in the Mallee.
The research assessed a range of crops grown under carbon dioxide levels artificially increased from the present-day 400 parts per million to 550ppm – the levels carbon dioxide is projected to rise to within 30 years.
Under the rainfed conditions of the trials, wheat, field pea and lentil yields increased by 21 per cent, 29pc and 58pc respectively on average across the years of the different experiments.
"What CO² does to crops is generally increase biomass and yield. It can be seen as a positive," Dr Fitzgerald said.
"That doesn't mean other (climate change) factors are the same. In general, increasing CO² by itself increases crop growth and water use efficiency, and decreases plant nitrogen concentration, while higher temperatures and heat waves tend to do the opposite. There is a lot of complexity there."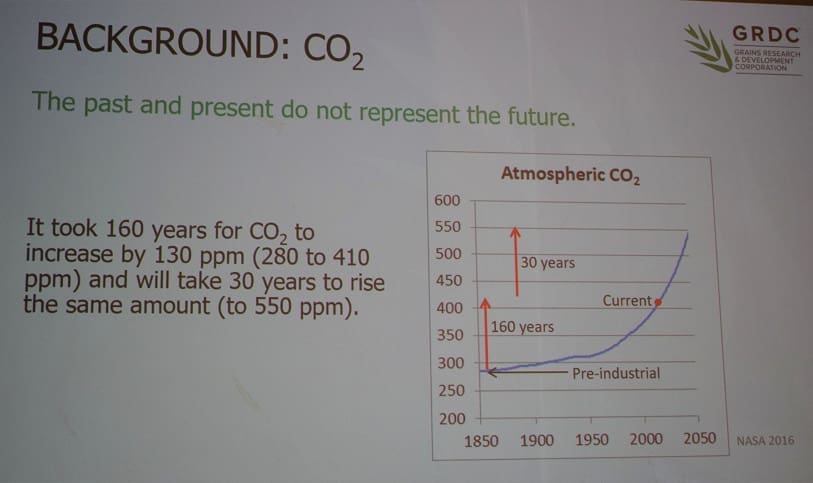 Rising temperatures
Dr Fitzgerald said it was clear that CO² concentration and mean temperatures were increasing, and extreme temperatures were becoming more frequent.
"With CO², in pre-industrial times going back 160 years or so it was about 280ppm in the atmosphere. Currently it is sitting at about 410ppm. There has been an increase of 130ppm over the last 160 years. We expect that same increase over the next 30 years. The pace of change is increasing. By 2050 CO² concentration will reach 550ppm," he said.
"Temperatures have been tracked in Australia since 1910. Since about the 1950s we have seen the mean temperature steadily increasing all over Australia.
"Mean temperatures across Australia are currently about 1 degree Celsius above those at the beginning of the last century. One degree doesn't sound like a lot, but a shift in the mean is really a shift in the distribution of temperatures around the mean which increases the chance of extreme days. So, it can result in a lot bigger impact than you might expect.
"The frequency of extremely hot days has increased. Over the last couple of decades we have seen a lot more days over 35 degrees."
"Annual extremes are waves in the ocean while climate change is the slowly rising tide"

– Dr Glenn Fitzgerald
Protein reduction
Dr Fitzgerald said the downsides of higher carbon dioxide levels included a reduction in grain protein levels and an increase in the incidence of certain pests and diseases.
"Elevated CO² lowered grain protein concentration by about 7 per cent across all treatments in the AGFACE experiments. Adding nitrogen fertiliser did not reverse the loss in grain protein under elevated CO²," he said.
"The impact of this was to reduce bread quality across all conditions and cultivars tested.
"Reversing the reduction in grain protein will likely require a genetic solution."
Dr Fitzgerald said climate change was also likely to see pests and diseases increase in virulence and have negative impacts on yield, requiring new or better resistance.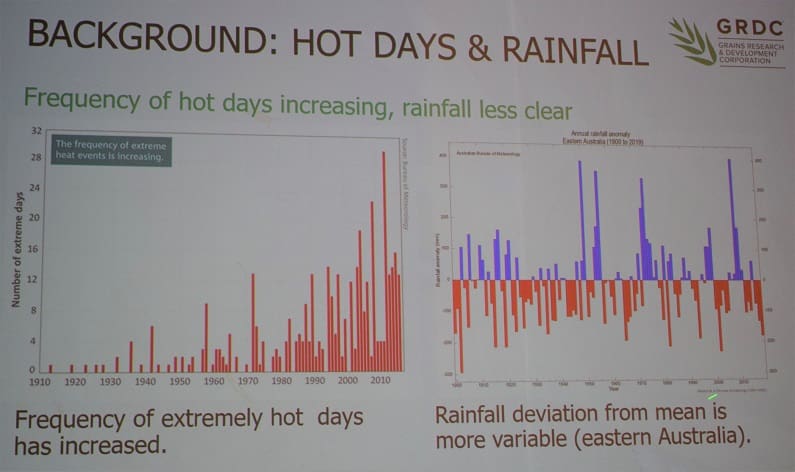 Rainfall decline
Also speaking about increasing climate variability, Australian National University Climate Change Institute climate applications scientist, Dr Steven Crimp, said changes in rainfall patterns due to climate change were less certain to predict, but the forecast was for a decline.
This, coupled with projected warmer temperatures, was likely to increase evaporation.
"Combining, these factors with increasing climate variability will place a significant drag on crop yield despite some offset resulting from more efficient photosynthesis as a result of increased carbon dioxide levels," he said.
Dr Crimp said climate change would pose a significant challenge for Australian agriculture, particularly in relation to water availability and a change in the frequency of climate extremes such as heatwaves, droughts and floods.
"Many of the actions required for adapting to climate change are extensions of those currently used for managing climate variability," he said.
"For this reason, efforts to improve current levels of adaptation to climate variability will have positive benefits in addressing likely climate change impacts."
Farm-level adaptation options include:
Enhance zero till and minimum disturbance techniques
More opportunistic planting decisions
Select varieties to suit changing conditions
Expand record keeping
Incorporate seasonal forecasts and climate change into farm plans
Grain Central: Get our free daily cropping news straight to your inbox – Click here