A STRIKING set of silo murals depicting the natural beauty of the district around Thallon, west of Goondiwindi in southern Queensland, has been officially launched today at the small town.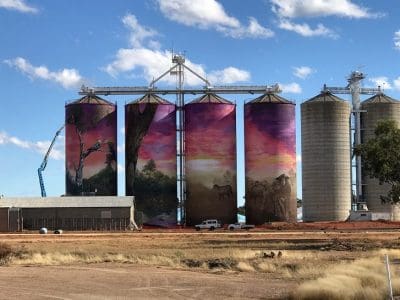 Artists have emblazoned four of the operating GrainCorp silos with eye-catching murals that can be seen for kilometres around the flat, cropping country of the district.
GrainGrowers northern region co-ordinator, Susan McDonnell, said the murals portrayed the landscape around the Moonie River at Thallon.
"The striking thing about it is the beautiful colours of the sunset and sunrise. Really, you don't understand the relevance of the colours unless you have seen a Thallon sunrise or sunset," she said.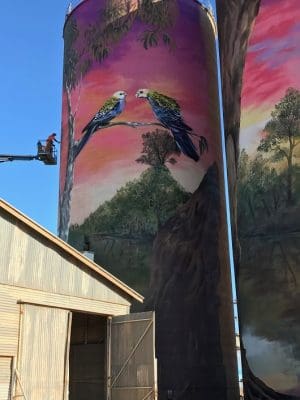 "It has only taken the artists a couple of weeks. They have also painted two murals at the school and another one near the hotel. It is all about promoting Thallon, getting people to stop a while in Thallon."
The Thallon silo complex, which is on the rail line to Dirranbandi, is one of the largest delivery sites in Queensland.
They are the first silos to be painted in Queensland and one of only a few nationally that have been done on an operating silo.