REDUCED throughput in its eastern-states bulk-handling system has walloped the FY18 results for GrainCorp Ltd, which today announced an underlying net profit after tax (NPAT) for the year to 30 September of $71 million, half the FY17 result.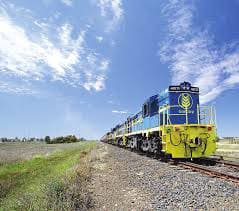 In announcing the result, GrainCorp managing director and chief executive officer, Mark Palmquist, said the effect of reduced intake and export out-turn through its system had been compounded by a $20-million cost tied to rail take-or-pay contracts.
"The environment for our grains business during FY18 was extremely challenging, and these conditions in eastern Australia have worsened in FY19," Mr Palmquist said.
Supply-chain reversal
GrainCorp's revenue from grains in FY2018 was $2.242 billion, down from $2.622b in FY17, caused largely by estimated FY18 east-coast grain production at 16.6 million tonnes (Mt) falling sharply from 28.2Mt in FY17.
"We've had to reverse our supply chain from export to import. We've already brought in half a million tonnes from South Australia and Western Australia to Queensland and primarily northern parts of New South Wales.
"The big impact for us is in grain production and supply-chain costs."
Mr Palmquist said east-coast domestic demand of around 10.5Mt accounted for much of the crop harvested in 2017.
"Reduced crop means less exportable surplus.
"Overall, FY19 will certainly be challenging for us."
Mr Palmquist said its Fisherman Islands facility in Brisbane was loading up to 250 trucks a day with transhipped grain for use in Queensland and northern NSW.
He confirmed GrainCorp was also bringing grain into Port Kembla and Newcastle, and Victorian ports may join the list of those receiving shipped grain from WA and SA.
"If Victoria goes deficit in certain areas, we'll look at taking it in there too."
Overseas origins
 Mr Palmquist said GrainCorp was looking to its offshore operations to help supply GrainCorp's export customers.
"We will have a higher reliance on grain coming out of Canada and Ukraine, and that will certainly be necessary to supply our customers on an international base."
GrainCorp this year opened an office in Kiev, Ukraine, which Mr Palmquist said was proving valuable.
"Our international growth strategy is progressing well. Ukraine had its first shipment in October.
"We're looking to the Black Sea, because we need to be a very reliable supplier to our customers."
He said GrainCorp shut off exports from eastern Australia when the extent of its drought was realised earlier this year.
Coming crop
Mr Palmquist said GrainCorp was bearish on the size of the eastern states' winter crop, which earlier estimates had pegged at up to 9.4Mt, and the company now expected it to be under 6Mt.
"The summer crop is estimated at 1.6Mt; acreage is getting planted.
"We certainly will have a very minimal export surplus in the east coast, and that creates demand for importation, and it will work its way down from north to south.
"We're using facilities in Queensland, it's now moved into NSW, and we could be importing through the Victorian facility.
"We will continue to import grain, but we can't predict what the volume will be.
"It's highly dependent on what that sorghum crop will be in Queensland and northern NSW."
Malt shines
The brightest spot in GrainCorp's FY18 result has been increased earnings from its malt division at $1.152b, up from $1.106b in FY17, primarily due to a $12m gain from its US plant at Pocatello, Idaho.
Mr Palmquist said the expanded Pocatello plant came on line in January, and demand for its malt came primarily from the growing craft beer, or brewpub, market, and for Mexican-style beer.
He said the market segment itself was growing, and it was also taking market share from existing brewers.
"US craft beer growth we see continuing as we go forward."
Mr Palmquist said growth in boutique distilleries was also positive for GrainCorp's malt division.
In Australia, GrainCorp has decommissioned and sold its Burnley malthouse in Victoria, which has reduced the company's production capacity by 23,000 tonnes.
"In North America, there have a thousand brewpubs go up, and we expect another thousand over the next two years."
Mr Palmquist said while Australia's jump into craft beer started after North America's, its acceleration into the market has been faster, and GrainCorp's acquisition of Cryer Malts fitted in with brewing as well as distillery growth.
In FY18, GrainCorp announced upgrades and developments to its Baird's Malt investment in the United Kingdom.
Quiet on Joe White
Mr Palmquist would not be drawn when asked if GrainCorp might be interested in acquiring Cargill's Joe White Maltings assets.
"We're always interested in what's going on in the malt industry.
"There are components of Cargill that would be interesting to us.
"We're not going to comment in terms of future investments."
GrainCorp has once again highlighted the impact high energy costs had on its Australian malting and oils division.
"Energy costs in Australia continue to be problematic for us."
GrainCorp said its energy costs in Australian increased by around $4m and $4.5m respectively in its malt and oils divisions.
Oils improve
Revenue from GrainCorp's oils division at $969m was up from the FY17 result of $946m.
In September, the company completed a 40pc increase in crush capacity at its Victorian oilseed plant at Numurkah, which can now process around 1000t per day.
Mr Palmquist said the Numurkah plant was located in a good canola-producing area, and was close to dairy demand for meal, part of its strong feed division.
He said a 2018 Australian canola crop reduced by drought in eastern states could see the company bringing seed in from WA, and that pressure on oilseed crush margins was likely to continue due to Australia's low canola supply as a result of the drought in eastern states.
Limited receival points
"In NSW, we are operating with a handful of facilities, and pretty good odds they won't be open for very long, really only for the harvest surge.
"When that grain is needed for domestic feed demand, we'll open up to discharge it."
Dividend down
The company has declared a total FY18 dividend of 16 cents per share, compared with 30 cents per share in FY17.
"Our malt business continues to benefit from strong demand for malt and other brewing ingredients from distilleries and both conventional and craft brewers," Mr Palmquist said.
GrainCorp chief financial officer, Alistair Bell, could not point to any major capital programs in Australia in FY19.
"With the reduction in FY19 in cash flow from small crops, we'll remain mindful, and expect the level of growth capital will continue to decline."
Domestically, a bright spot for GrainCorp in FY19 is the scheduled expiry of its take-or-pay rail contracts.
The company said new rail contracts coming into effect in FY20 would provide greater flexibility to manage transport costs through the crop cycle.
Source: GrainCorp
Grain Central: Get our free daily cropping news straight to your inbox – Click here