AS WE PREPARE for a long, dry summer, hay is in hot demand, being loaded, carted, unloaded and stacked in sheds and paddocks across the country.
It is timely to recognise this year's National Hay Safe Day and reflect on safe practices when working and living around hay bales and silage.
"The Australian Fodder Industry Association celebrates National Hay Safe Day on 25 October every year to raise awareness of the unique dangers working with hay presents on our farms and as it is carted across the country," AFIA chief executive officer Paula Fitzgerald said.
This National Hay Safe Day we are focusing on safety around machinery during fodder production and the movement of hay bales.
"Fifty-five people died from accidents on farms in 2022, and 158 people suffered non-fatal injuries according to FarmSafe Australia.
"These incidents take a massive toll on families, communities and workplaces."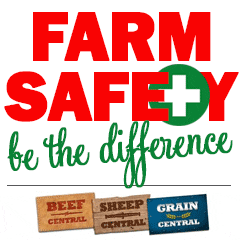 Tractors and quads have been involved in more than 30 percent of on-farm accident fatalities since 2001.
"As a result, this National Hay Safe Day, working with our safety partner Safe Ag Systems, we have released two new fact sheets focusing on quad bike and tractor safety for fodder producers."
"While legislation has attempted to boost safety features, human error, fatigue, poor mental health and complacency around routine tasks especially during busy or stressful times are factors to be considered in staying safe day-to-day on your farm."
"As well as the obvious machinery and livestock safety risks on farms, the fodder industry has additional hazards, like stacking, unstacking, storing and transporting hay and silage.
"Large square hay bales can weigh up to 650 kilograms, so it's vital to be informed about safely moving, transporting and storing them to prevent falling, rolling and crushing incidences around you, your workers and your family."
Ms Fitzgerald said workplace health and safety need not be onerous.
"Safe Ag Systems, our safety partner offers software which covers everything from training and inductions and identifying major hazards and safe practices to mental health and fatigue management resources."
AFIA has released Fodder Safety Briefs on telehandler safety, traffic management plans and worker training, as well as safety signage as part of recent hay safe initiatives.
National Hay Safe Day is an initiative which arose from a tragic on-farm accident more than a decade ago.
After losing her father, WA hay producer and AFIA member and former director Suzanne Woods started the National Hay Safe Day awareness campaign.
Source: AFIA