IN A LAND of endless sunshine, should solar farms be permitted on finite areas of high-value cropping land?
Past State Governments have moved to protect what they define as high-value or prime agricultural areas from coal and coal-seam gas (CSG) developments to safeguard strategically important land for future food security – an issue that is only set to grow in importance as global populations rapidly expand.
But whether the same policy should apply to energy production from renewable sources is fuelling debate as solar panels begin cropping up across some of the best farming land that has been previously off-limits to mining.
At the Country Women's Association (CWA) of NSW annual conference in Bega last year, members voted to adopt a policy objecting to solar farms being built on prime agricultural land.
CEO Danica Leys emphasises that the organisation is not against renewables and points out it has a separate policy supporting the rapid adoption of renewable energy.
"But it is just a question of placing them in the most appropriate areas," she told Grain Central this week.
While it was understood that proponents of solar projects are constrained by a need to be close enough to infrastructure to supply the energy they produce into electricity grids, the impacts on agricultural land should still take precedence, the CWA NSW believes.
"There are impacts during construction, the use of the solar farm itself, and there are impacts of decommissioning as well, with concerns around what that land looks like after those solar farms are decommissioned," she said.
"Some of them can be quite good and quite appropriate and built in areas where they should be, but in other areas they are either being built or being proposed on good farming areas with good soils, good rainfall, plus for some areas there is also the visual amenity issue."
Solar panels can be removed in future, so does it matter?
Solar panels might displace agricultural production on farming land for years or decades to come, but, unlike an open cut coal mine, the underlying resource remains intact, so does it matter, given a solar farm can be dismantled at a future point in time?
It is a fair point, Ms Leys says, but with so much land out there that would be appropriate for solar farms, why allow solar farms to overtake the most productive agricultural land?
"Why do we have to look at sacrificing agricultural land for these projects when there are just vast areas of Australia that would just be absolutely suitable to these projects?
"Yes, the impacts may not be as much as on underground water in particular, but there are still impacts and some of the impacts are long term.
"When we talk about decommissioning, my understanding is that there are some developments where is it not required to have every piece of infrastructure removed, they will only pull ground infrastructure out down to a certain depth and the rest is left there for someone else to deal with later, so there are issues with longer-term impacts."
Call to NSW Government
Ms Leys said the CWA NSW is asking the NSW Government to introduce clear and stringent protections like those developed in the coal and CSG space. While the latter were still vastly inadequate, they have provided some guidance over development limits, and there was still nothing like that in relation to solar farms in NSW.
"We think it warrants a broader look at planning policy in NSW.
"There is a whole host of planning issues that threaten to have an impact on agricultural land that aren't well covered in current planning policies in NSW.
"We need to look at how we have a more holistic policy in place that recognises strategic agricultural land for what it is, as being a very valuable resource, and some really clear-cut principles around what you can and can't do with it."
She said that, to its credit, the NSW Government is currently looking at gaining a better understanding of what strategic agricultural land exists in NSW.
"The DPI is leading work on developing mapping which is great, they really understand the regions, but what is not clear to us yet is what happens with that set of maps when it is developed."
A NSW Farmers spokesperson told Grain Central the organisation was also working with the NSW Government to improve regional planning.
"There is a finite amount of agricultural land to support our supply chain of food and fibre, increasingly now understood as vital to our state's overall economic and social health, and NSW Farmers is strongly invested in working with government to ensure that regional planning is leaving open the options for both increasing production and to support the transition to renewable energy supply."
Land-use tensions in the Sunshine State
The development of solar farms has also generated land-use tensions in the aptly named Sunshine State.
Queensland's guidelines for land planning divide agricultural land into four classifications: Class A – Crop Land; Class B – Limited crop land; Class C – Pasture Land; and Class D – non-agricultural land.
The State's solar farm guidelines stipulate that where possible, solar developments should be avoided on important agricultural land, typically defined as Agricultural Land Classification class A and B.
The Queensland Farmers' Federation, which provides a voice for intensive, semi-intensive and irrigated agriculture in Queensland, says there has been a disconnect between the rhetoric and actions when it comes to protecting high quality agricultural land in regional planning schemes, which has led to the continued permanent and unsustainable loss of the best farmland to a variety of non-agricultural uses ranging from urban sprawl, manufacturing and industrial uses.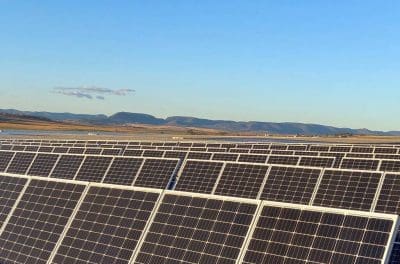 While it says it is broadly supportive of solar as an important part of Queensland's energy mix, the QFF says a more consistent approach to agricultural land classifications is needed to ensure successful coexistence between high quality farmland and solar developments.
"The issue of incompatible neighbouring land uses on agricultural productivity has come to the fore through planning associated with large-scale solar photovoltaic facilities," a spokesperson said.
"These solar farms are currently assessed by local government under planning schemes, and do not trigger an assessment under the Regional Planning Interests Act 2014, even if in an area of regional interest such as a Priority Agricultural Area or Strategic Cropping Area.
"QFF worked with the Queensland Government to develop the Queensland Solar Farm Planning Guidelines, but these are merely a first step in properly managing solar expansion and should be progressed to a state planning code."
The QFF also adds that the impact of solar farms on the productivity of the underlying agricultural land is not well understood.
"However, the long-term nature of solar farm infrastructure – typically 30 years – means the land is converted to a non-agricultural use for the life of the project.
"There has also been little consideration of the impacts to neighbouring agricultural land including sediment run-off, impacts from the ongoing removal of vegetation and the heat island effect."
In some agricultural sectors, such as grazing or the production of shade-loving crops, the field of "agrovoltaics" – a term coined to capture the integration of agriculture and solar photovoltaics – is seen as providing potential co-benefits as technology advances, through providing shade to livestock and crops and cooling panels which in turn can boost productivity.
Others point out that advances are also being made in the area of recycling photovoltaics which will be important at the end of a solar farm's life. Companies such as Australian owned and operated business Reclaim PV are aiming to achieve 100 percent collection and recycling of end-of-life solar developments.
Land values
The spread of new solar panels on high value agricultural land raises further questions about impacts on land values, and whether rules restricting the use of solar projects on some areas of land unfairly impinge on the rights of landholders to sell or lease their land to whomever they choose in a free market.
On the issue of impacts on values, Phillip Kelly of Colliers Agribusiness said that question is yet to be tested in the open market.
"However if the solar farm is integrated in broader traditional grazing and the under storage of the solar panels are utilised for grazing there may be an intrinsic value placed on that land," he added.
"A solar farm facility without grazing capacity appears to be a commercial non-rural activity so any land value would be based purely on yield over the lifetime of the facility.
"This land may also have non-rural rating applied resulting in much higher local government rates. "
Grain Central: Get our free tri-weekly cropping news straight to your inbox – 
Click here