BURGER King founder Jack Cowin says the introduction of the chain's first plant-based Rebel Whopper burger in September last year had introduced new customers to the chain, rather than taking business away from conventional beef options.
At the same time as his Hungry Jack's business is one of the largest domestic users of beef in Australia with an annual requirement of 30,000 tonnes, he has also invested heavily in alternative plant-based 'meat' products.
Made from a combination of soy protein, vegetable oils, thickeners, flavourings and colourings, the Rebel Whopper is Hungry Jack's first venture into the plant-based burger field.
Plant-based protein and its potential to disrupt traditional meat protein demand and supply was a frequently visited topic during the two-day EvokeAg conference in Melbourne.
Speaking at the conference, Mr Cowin said under a collaboration with CSIRO, his company had developed its v2food product, called the Rebel Whopper in his Hungry Jack's restaurant chain, in just 12 months. Similar plant-based products in the United States had taken five or six years to come to market.
Asked about the experience of partnering with CSIRO in the development of the v2food product, Mr Cowin said his own company did not perceive itself as an innovator, but was more about "finding ideas that worked somewhere else, and try to plug them in".
"We didn't possess the expertise or science to develop a plant-based meat product ourselves, but had the good fortune to meet with CSIRO people at a lunch, and we started talking. They told me CSIRO had 2500 PhD's at its disposal – I don't know of any organisation anywhere in the world with that depth of technical skill working on scientific projects, under one roof," he said.
"We developed a product that we thought was competitive with the products coming out of the US.
"We had the good fortune of having 450 'test labs' at our disposal in the form of Hungry Jack's burger outlets across Australia, that we could put this product in, and learn from – which we have done."
He said the addition of the Rebel plant-based Whopper had allowed the chain to attract new customers that it was not formerly getting.
"Among the millennials of this age, anything that is planet-friendly they respond to. They may not have been fast-food customers previously, and that was a big plus. It did not impact on conventional burger sales, but brought in new business," he said.
His company and institutional investors are building a $20 million production facility in Wodonga in north east Victoria to make the plant-based products in larger volume.
"We believe we're now on our way – we're supplying New Zealand, and Asia is next on our list as we have the capacity to increase production."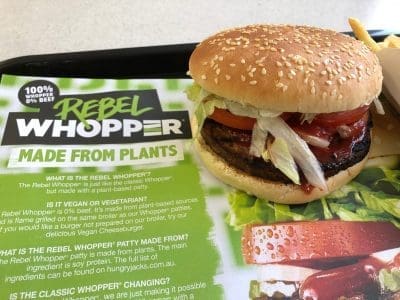 Mr Cowin said the company was now working hard on developing a pork-like plant protein product, which had grown in importance since the arrival of African Swine Fever in Asia, which had decimated pig numbers in China.
"We see this evolving from a single product into suite of products we hope to supply internationally."
He saw a big opportunity in a plant-based meat product whose taste and texture was identical to traditional beef, but could be produced with less environmental impact.
"We've had a vegetarian patty on the Hungry Jack's menu for a few years, and that appeals to the 10 percent of the population who identify as vegan or vegetarian," Mr Cowin said.
"But the other 90 percent are flexitarians – they like plants but they also want meat, so how do we meet their taste requirements, and also appeal to their environmental sensibilities?"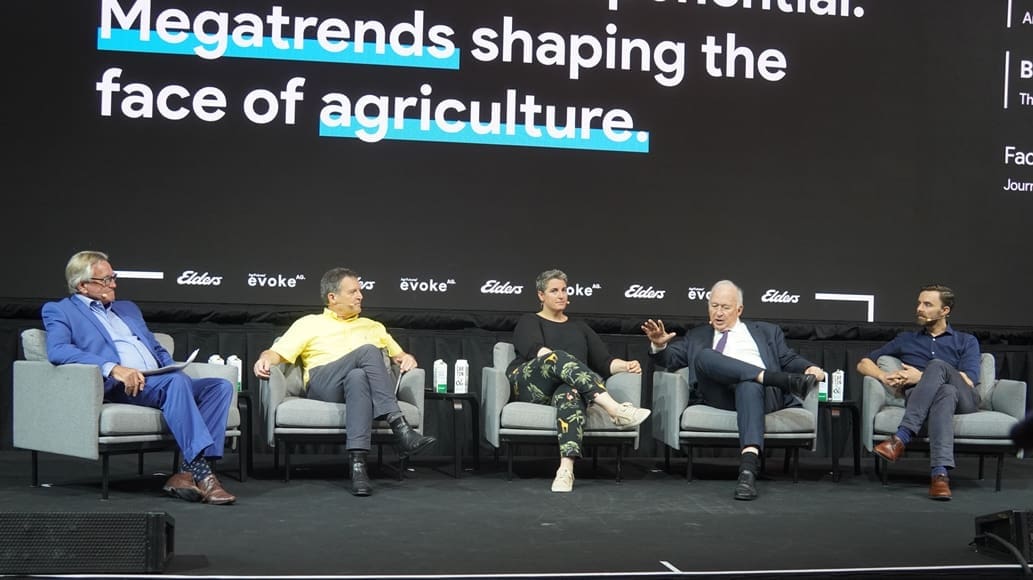 Taste is key
Asked whether plant-based products 'had to taste like beef', Mr Cowin said he had probably eaten more hamburgers than 'any human in Australia,' over the past 50 years.
"I was tricked by our employees during a taste test as to which one was real beef and which one was our new plant-based product. I failed the test."
Mr Cowin said taste was probably number one in terms of priorities for plant-based proteins, followed by the "benefits of sustainability, environmental impact and things like that".
"In price, we charge the same as for beef. One of the big benefits we see in plant-based options is the capacity to be an efficient product. The cow is a very inefficient producer of protein, and we think plant-based has the potential to be a lower-cost supplier of protein than beef.
"That is going to be a big advantage, going ahead over the next 10 years."
Another panellist involved in the session, natural resources consultant Bill Hurditch from the Fifth Estate, jumped to the defence of the beef industry over some of his comments.
"I think you are ruling out a very important element here," he told Mr Cowin.
"Grazing animals are a critically important part of the environment.. The whole landscape over the past 50,000 years has relied on the movement of biomass by grazing animals. Ecologically, it's been very clearly shown that grazing animals play an incredibly important role in landscape management," Mr Hurditch said.
Mr Cowin said he did not mean to suggest that animals for meat production were 'bad'.
"I'm a businessman, and we sell a lot more beef than we do plant-based product. We sell 30,000 tonnes of beef a year, so I have a vested interest in maintaining that. I don't believe the beef business is going to go away. The consumption levels of beef in Asia will continue to grow, as the standard of living improves.
"We see this (move into plant-based protein production and sale) as just a balance with conventional meat. With growth in world population, beef can't do it on its own."
Nutritional value
Questions from conference delegates also focused on nutritional value of plant-based protein – especially salt levels and saturated fats, which were typically worse than beef.
"Nutrition is very important in plant-based proteins," Mr Cowin said.
"In an overall comparison, currently the product has a higher level of sodium and salt than beef. But there are other compensations, such as no cholesterol. I don't think we can sell the product today as nutritionally superior, but there are benefits.
"One of the big advantages of the plant-based process is that a cow controls what you are going to get (nutritionally) in a kilo of beef. But in plant-based products, we can control content ourselves. One of the benefits of being able to mix and match the product nutritionally is that we can add things like vitamins or omega 3, to enrich it."
Longer-term, it was the company's objective to have a product which was nutritionally superior to beef, because it could control its ingredients.
"With the cow, you have no control," he said.
Panel discussion also focused on raising capital to drive innovation in the agtech space.
Panelist Rachael Neumann from Amazon Web Services said in Australia, so-called 'angel' investment was about $3 per head of population per year, while in the US and Israel, the figure was around $25/head.
"This is a very exciting time with incredible entrepreneurs in Australia solving really big problems with tech. We need to continue to put that lifeblood into those early stages to drive development," she said.
Mr Cowin said there was no shortage of entrepreneurial companies and individuals in Australia.
"To me, that's not the issue. As a nation we are early adopters, and develop things very quickly. My concern is the big stuff: how do we get the money to fund major projects, such as shifting water from areas of surplus to regions that need it.
"When I came to Australia in 1969, I was amazed to see a 500-kilometre pipeline from Munduring Weir near Perth all the way to Kalgoorlie. It was built in 1903. Here we are 117 years later, and why can we not transport water which is currently flowing out to sea, underutilised, back into the agricultural areas. That's the big stuff that needs to be addressed, and how we get the money to do that."