Australian Victoria Cross (VC) recipient and Special Air Service Regiment (SAS) Corporal Mark Donaldson will discuss some of the building blocks for success in life and business, during his keynote address at GrainGrowers' Innovation Generation Conference in July.
Registrations are now open for the popular event for 18-35 year old farmers and agribusiness professionals which will be held in Wagga Wagga from 9-11 July.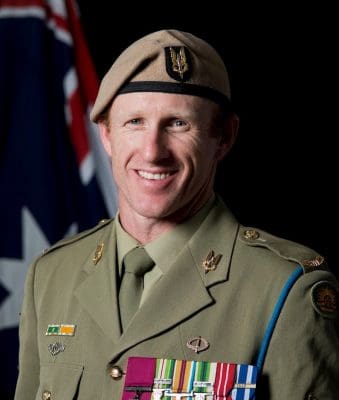 Mark Donaldson's inspiring life story is expected to show participants how necessary it is to be agile in decision making and how important resilience is in both the planning and implementation phases of an operation – whether in the military or in a successful farming operation.
After a challenging adolescence growing up in Dorrigo, New South Wales, Mark Donaldson enlisted in the Australian Army in 2002 at the age of 23. He received the VC, the highest award in the Australian honours system, in 2009 for protecting injured troops and rescuing an interpreter under enemy fire during the War in Afghanistan. His life's lessons have taught him what it is to take responsibility for personal and team success, which he will share with participants at the conference.
Innovation Generation will also present an opportunity for young farmers and agribusiness people to hear from the new Deputy Prime Minister and Nationals Leader, Michael McCormack, who will officially open the conference this year. Mr McCormack was born in Wagga Wagga and grew up on family dryland farms in Marrar and Brucedale. He entered politics in 2010 representing the seat of Riverina and became Deputy Prime Minister in February this year.
Other speakers on the program will include:
Stuart Whytcross, who with Brad Woolner owns Voyager Craft Malt – Stuart Whytcross and BradWoolner are grains farmers in the Barellan area. In 2012 they began to produce a series of experimental malts for their own beers from selected grains sourced from their own and other growers in the region.  They will share how they pursued their dream of establishing a malting facility on farm to supply malts for craft brewers and distillers.
General Manager, Southern Cotton, Kate O'Callaghan – Ms O'Callaghan has played a leading role in the development of the cotton industry in the Murrumbidgee Irrigation Area (MIA), by strategically building the capacity of local growers through collaboration, education and innovation. She will share the cross-industry lessons with participants at the conference.
Will Rayner, CFO of Rural Bank – Will Rayner will discuss the need for farmers to understand fully their strategic position, their financial status and the opportunities to improve profitability and productivity. He will talk about how banks make decisions based on what a farmer presents to them and what will swing the deal.
Alan Woodward, Director of Research at Lifeline – Alan will talk about how a healthy mind is the key to a successful business. He will also discuss the symptoms of mental illness and how to help people when you spot it.
"This year for the first time, GrainGrowers is offering a pre-conference tour," said GrainGrowers CEO, Dr Michael Southan, conference organiser.
"This will enable participants to tour a diversified farming operation near Griffith.
"Now in its 12th year, Innovation Generation has always been popular with young farmers and agribusiness people for its educative program and the opportunity to socialise and build networks. And with tickets from as low as $180.00 the two day conference represents exceptional value."
Source: GrainGrowers. To register visit: www.innovationgeneration.com. au