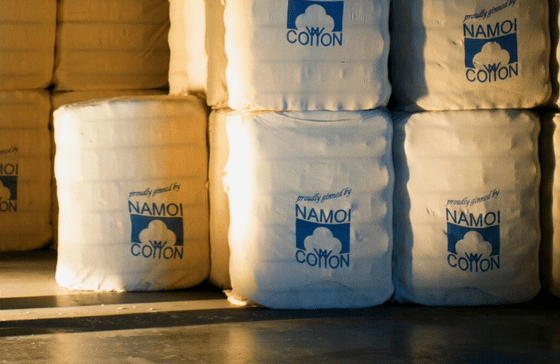 FOR the first time since 2019, Namoi Cotton has reported a positive earnings before interest, taxes, depreciation, and amortisation (EBITDA) figure at its 2021-22 (Mar-Feb) report presentation webinar.
However, the positive EBITDA has not translated into an overall profit for Namoi, which reported a net loss after tax of $4.4 million, up from a $14.4M loss in FY21.
Namoi Cotton chief executive officer John Stevenson credited the increased volume of cotton received during the FY22 year, compared to recent drought seasons, for the EBITDA result of $1.6M, up from a negative $12.7M in FY21.
"We turned a corner in terms of earnings…and that was on ginning volume of 493,000 bales," Mr Stevenson said.
Although this volume is up from the 2020 season's total of 124,000 bales, he said it was still 40 per cent below the 10-year average.
"Despite that significantly lower-than-average result, we still produced a positive EBITDA."
The restructuring of the Namoi Cotton Alliance joint-venture arrangement with Louis Dreyfus Company also served to increase earnings.
Maintenance catch-up
The FY22 results were marred by outlays in preparation for a bumper crop which is now being picked in New South Wales and southern Queensland.
The Namoi ginning volume is predicted to rise to 1.1-1.2M bales this year.
"Included in our EBITDA is quite a lot of catch-up spend as we come out of drought," Mr Stevenson said.
"As we spent a few years in drought, we had quite a lot of catch-up expense in maintenance and rebuilding labour force in preparation for the next couple of seasons at least, which will be one million or more bales."
Namoi Cotton executive general manager of strategy and business development, Neil Johns, said the company has recorded an additional $8.5M in expenditure to prepare for the season, including $2M on maintenance and $1.4M for additional support staff.
"We are in a good position at the moment…you don't often see high prices and high volumes at the same time," Mr Johns said.
"We are seeing near-record production, and that crop is starting to come in and the yields at this stage are looking pretty good.
"We are looking at a good forecast for FY23 and that should continue into FY24 and potentially FY25.
"Overall, the volume puts us in a very strong position, but we need to manage this year's challenges in an optimal way.
"The business has been focused for the last six or nine months on preparing for this season in the face of labour issues, in the face of supply-chain issues, and in the importing materials and parts."
He said Namoi had to look outside Australia to recruit enough skilled staff for the upcoming ginning period.
He said 13 contract ginners from Africa will be coming into the country under a pilot program to improve the labour force.
"There is a shortage of trained ginners in Australia.
"The team has worked really hard over the last six months to access ginners from Africa.
"This is so we can supplement our staff and operate our gins 24 hours per day,and that is the way we are going to meet our target of 95pc of all cotton ginned by the end of August."
Long-term plans
Mr Johns said Namoi has implemented a four-year program of capital works and innovations with the goal of increasing EBITDA to $5M.
This program will also focus on broadening Namoi's revenue base with further investments in markets for cottonseed and other by-products, as well in northern Australia opportunities.
"It will involve a capital works project program of around $21M.
"The projects we are doing are real, they are tangible and will deliver material benefits."
Mr Johns said projects included a $2.1M upgrade to the Merah North Gin in NSW which was commissioned this year, and the $2.5M Boggabri cottonseed shed.
Grain Central: Get our free news straight to your inbox – Click here