AUSTRALIAN winter crop production is forecast to reach 34.9 million tonnes (Mt) in 2017-18, 41 per cent lower than the record production in 2016–17, according to ABARES' 'Agricultural commodities, December quarter 2017' report released today.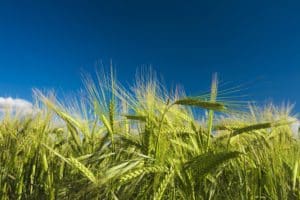 Spring rainfall came too late to help winter crops in northern New South Wales and Queensland, resulting in lower yields. However, it did assist the recovery of delayed crops in parts of South Australia and moisture-stressed crops in the northern grains belt of Western Australia.
Looking ahead, ABARES says the 2017–18 outlook for summer crops has improved slightly since the September quarter report.
Late spring rainfall has resulted in an improvement in soil moisture profiles, and a failure of winter crops is expected to increase the area available for planting by 13pc to 1.5 million hectares compared with 2016–17.
As a result, sorghum production is expected to be around 2Mt, which is around the 10-year median.
World outlook
On the global front, low grain prices have seen growers switch production to more profitable alternatives.
As a result, global oilseed production is expected to remain at record levels in 2017–18 and cotton plantings are forecast to increase.
However, low grain prices are providing a buffer against poor seasonal conditions for pasture-based livestock production in countries like Australia.
They are also adding impetus to a resurgent feed-based US cattle market, resulting in increased competition in Australia's beef export markets.
Mixed seasonal conditions globally during 2017 have been causing some grain prices that normally move together, such as maize and barley, to diverge and this is expected to continue into 2017–18.
While record production is keeping maize prices low, barley prices are rising as supply is constrained by successive years of low production and declining stocks.
Additionally, unfavourable seasonal conditions in the United States during the 2017 northern growing season reduced production of high-quality milling wheat and led to an increase in prices relative to other wheat grades.
At a glance: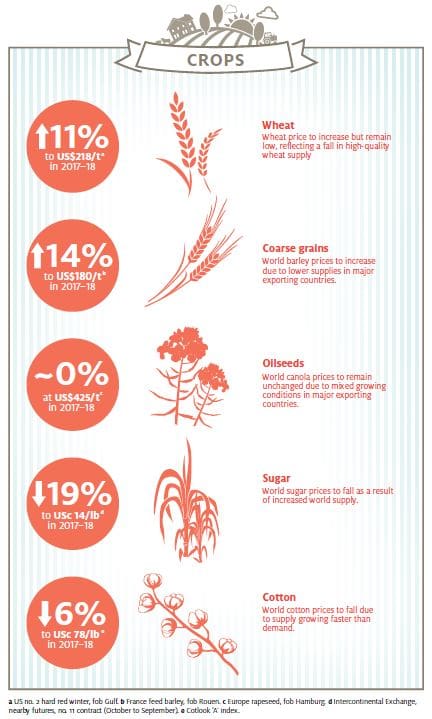 Summary:
Wheat
The world wheat indicator price is forecast to increase by 11pc, reflecting reduced high-quality milling wheat supplies.
Wheat production contracted for all major exporters except the European Union and the Russian Federation.
Spring weather was unfavourable for Australian eastern state wheat crops. Australian production is forecast to be 20Mt in 2017–18.
Coarse grains
In 2017–18 world corn prices are forecast to remain historically low, reflecting plentiful world stocks. World consumption is forecast to reach a new record in response to low prices.
World barley prices are forecast to increase, reflecting decreased supply.
World coarse grain production is forecast to fall by 3pc.
Australian production and exports to fall in 2017–18.
Oilseeds
Canola prices to stabilise at current levels and soybean prices to fall.
World oilseed production to remain at record highs driven by increased plantings.
Reduced Australian production to constrain growth in global canola exports.
Cotton
World cotton prices are forecast to decline by 6pc as supply increases more quickly than demand.
World cotton stocks are expected to increase for the first time in three years.
Australian cotton production is forecast to rise by 4pc despite a fall in cotton plantings.
Returns to Australian cotton growers are forecast to fall due to falling world prices.
Drop in Australian ag values
Across the Australian agricultural sector, poor climate conditions in grain-growing regions have contributed to the gross value of farm production being forecast to reach $59 billion in 2017-18, down 7pc from a record of $63 billion in 2016-17.
ABARES executive director, Dr Steve Hatfield-Dodds, said the forecast reduction was mainly due to lower crop production and prices.
"This follows an estimated 12pc increase in 2016–17 when our winter crops delivered exceptional yields and prices for livestock and wool were quite favourable," Dr Hatfield-Dodds said.
"Despite the decline, gross value of farm production would still be higher than the average of $55 billion over the past five years."
Dr Hatfield-Dodds said the forecast reduction was likely to lead to a decline of around 3pc in export earnings, to $47 billion in 2017-18.
"This is driven by forecast declines in the value of exports of wheat (down 18pc), canola (52pc), barley (41pc), chickpeas (32pc) and sugar (13pc).
"Export earnings are forecast to increase for livestock and livestock products and also cotton and wine.
"While grain prices are expected to remain low in 2017-18, prices for livestock and livestock products are expected to increase.
"The report shows prices of livestock products are expected to be more favourable in 2017-18, in line with rising demand for sheep meat, wool and dairy.
"Beef and veal production is expected to increase by 12pc, wool by 3pc and lamb by 2pc in 2017-18, while milk is tipped to increase by almost 3pc, following a decline in 2016-17."
Source: ABARES
The full report can be viewed at agriculture.gov.au/ag-commodities-report-december-2017