Who is on the move in the Australian grain and cropping industry? Catch up with our latest update on industry appointments, rewards and achievements.
Simonaitis to head Grains Australia
Rice Breeding Australia launches
Lachstock team expands
AGT makes WA, SA appointments
GRDC names two new panel chairs
GIWA calls for nominations
CQ gets CottonInfo officer
CGX appoints Smoker
SFMCA recognises James, M'Gee
John Deere awards top technician
Muscat launches E2E Global Solutions
Burkett joins FAR
Moves for traders
Grains Australia CEO named
The Board of Grains Australia Limited has appointed Richard Simonaitis as its chief executive officer of Grains Australia.
Mr Simonaitis has worked in senior management roles in the grain industry and in export-focused commodity industries, most recently leading the Australian Export Grains Innovation Centre (AEGIC).
"Richard's experience in market insight and analysis, innovation and education align with the core functions of Grains Australia, in addition to his significant accomplishments in the broader grain industry," Grains Australia chair Terry Enright said.
"Grains Australia's vision is to be the leader in delivering industry-good services that add value to the Australian grains industry, and we are confident Richard will make significant progress in helping achieve this goal."
Mr Simonaitis will officially take on the role of CEO from 1 November 2022, to allow interim CEO Andrew Young to return to his role as a director on the Grains Australia board.
"I am looking forward to the opportunity to work closely with the Grains Australia team and Board to build on its achievements to date and improve connectivity across the value chain and industry influence amongst key domestic and global stakeholders," Mr Simonaitis said.
Mr Enright thanked Mr Young for assuming the role of interim CEO in January 2022, and said he had made made significant contributions.
These include building the Grains Australia executive team, securing long-term funding, managing the integration of Wheat Quality Australia and the merger of Barley Australia, establishing the Grains Australia Wheat Council and developing the organisation's Strategic Plan to 2024/25.
"These are important milestones that Andrew has helped achieve and he has created momentum that Richard can build on to ensure Grains Australia delivers on its objectives."
Rice Breeding Australia launches
Steve Jefferies has been announced as the inaugural chairman and independent director of the new Rice Breeding Australia (RBA) entity.
Dr Jefferies in 2020 finished a four-year term as managing director of GRDC, and was the inaugural CEO of plant-breeding company Australian Grain Technologies.
In the role of CEO is Georgina Pengilley, who will be responsible for the overall strategy and management of the company.
Dr Pengilley has a passion for community, agriculture, and education, with her most recent role as NSW Department of Primary Industries as Leader of Pulses and Oilseed – North.
Other RBA directors are David Keldie from the ASX-listed SunRice Group, Graeme Kruger from Ricegrowers' Association of Australia, and Roseanne Healy from AgriFutures Australia.
As a joint venture between AgriFutures Australia, the SunRice Group and the Ricegrowers', RBA aims to drive development of new varieties for the Australian rice industry.
Dr Jefferies hopes to build on the long and successful history of rice breeding in Australia and develop new, more water-productive varieties to secure a strong future for the industry.
"The aim of Rice Breeding Australia is to provide new energy and a commercial focus to rice breeding so that it can be a key part in achieving the major transformation in water productivity and ultimately be an important contributor to the long-term viability of the Australian rice industry," Dr Jefferies said.
The company will operate out of the Riverina region of New South Wales, where more than 98 per cent of Australia's rice production occurs.
"The company will continue to develop new rice varieties for all Australian rice production areas and will do this from this base."
Lachstock hires talent
Sydney University trained agricultural economist Amelia Brown joins Lachstock Consulting as head of research.
In a previous role Ms Brown was crops team lead at the Australian Bureau of Agricultural and Resource Economics and Sciences (ABARES), the wheat and coarse grains analyst contributing to its crops and commodities publications.
Also joining Lachstock are programmers, research analyst and research assistant respectively, Anton Nguyen and James Barber.
Mr Nguyen, a software engineer whose previous roles were to develop analytical tools, is a graduate of the University of Adelaide Faculty of Computer Science. Also from the University of Adelaide current student of computer science and economics Mr Barber brings skills in coding, algorithms and data analytics.
Changes at AGT
Floyd Sullivan has been appointed to the role of variety support manager, Southern Western Australia, to work alongside Alana Hartley who will continue to support Northern WA. 
Mr Sullivan has worked in both animal health and broadacre supply chains for over 30 years. 
"I believe my biggest asset is having a new perspective on the issues that face the modern grower and being able to communicate that through my extensive network of contacts on behalf of a market leader such as AGT is really exciting," Mr Sullivan said.
AGT head of variety support, marketing and communications Dan Vater said the company was fortunate to get someone of Mr Sullivan's calibre. 
"Floyd knows Western Australian farming better than almost anyone, gained over 30 years of experience working across varied roles within the ag sector," Mr Vater said.
"We look forward to working with Floyd and welcome him to the AGT team." 
In South Australia, AGT has appointed Brad Koster as its variety support manager for the state.
Based at AGT's Roseworthy Field Crop Breeding Centre, Mr Koster will be the company's primary contact for SA growers and agronomists seeking information on AGT's wheat, barley, durum, canola and lupin varieties.
"This year we are bringing some exciting new varieties and crop types to market, and I'm looking forward to getting out to field days and chatting to growers, listening to their feedback and using the opportunity to put my experience to use."
Mr Koster was born and raised in SA's Mid North, and joined AGT last year.
New chairs for two GRDC panels
Grain grower and company director from Rutherglen in Victoria, Andrew Russell, has been appointed the new chair of the Grains Research and Development Corporation's (GRDC) Southern Region Panel. 
Mr Russell will start in the role on September 1 this year, assuming the position that has been occupied by John Bennett , a grower from Victoria's West Wimmera, since 2018. 
GRDC Board Chair John Woods congratulated Mr Russell on his appointment and paid tribute to Mr Bennett, who recently stepped down from panel duties. 
"Since his appointment as a member of the Southern Region Panel, Andrew has established himself as an important contributor, ensuring GRDC investments reflect the priorities of southern growers and deliver real impact on-farm," Mr Woods said. 
Mr Russell said he felt privileged to be afforded the panel chair opportunity. 
"I'm experiencing a healthy amount of anticipation about taking on the role, for two reasons: I'll be embarking on a steep learning curve, which I will enjoy; and I'm taking over from John Bennett who has been an exceptional chair," Mr Russell said. 
Mr Russell is the managing director and a shareholder of cropping enterprise, Lilliput AG, and a director and shareholder of the affiliated Baker Seed Co, a family-owned farming and seed-cleaning business. 
Fifth-generation grower Arthur Gearon from Chinchilla in Queensland has been appointed as the new chair of the GRDC's Northern Region Panel. 
Mr Gearon has been on the Northern Region Panel since 2015, most recently as the deputy chair. 
He will take over the role on September 1 from John Minogue, who has been a part of GRDC's Regional Panels for a decade, starting on the Southern Region Panel and moving to the Northern Panel when GRDC's regional boundaries changed.
GRDC Board chair John Woods congratulated Mr Gearon on his appointment and paid tribute to outgoing chair John Minogue. 
"Arthur's passion for the industry, his connections across the agricultural sector, his considered approach to decision-making and leadership experience will position him well to lead the Northern Region Panel," Mr Woods said.
Before joining the GRDC regional panel, Mr Gearon was the vice-president of AgForce Grains, a peak organisation representing Queensland's rural producers. 
GIWA Council nominations
Grain Industry Association of Western Australia (GIWA) has announced that nominations are now open for individuals from all sectors of the grains supply chain to become a member of one of  GIWA's five commodity councils.
GIWA's role is to facilitate communication, information exchange, capacity building and grain supply chain solutions and GIWA does this through its' staff, its' Board and its' five commodity Councils:
Barley Council
Oat Council
Oilseeds Council
Pulse Council
Wheat Council
Membership of GIWA's commodity councils includes growers, researchers, plant breeders, seed producers, agronomists, farm business advisors, input service providers, domestic feed and food grain processors, bulk and container logistics service providers, and the trade.
Each Council typically meets two-three times per year to address grain industry issues.
Nominations close on September 12 and details can be found here.
CottonInfo officer in CQ
CottonInfo has appointed Kim Stevens as its regional extension officer (REO) based in Central Queensland.

This role joins REOs already in place in six other regions of the industry, in positions funded by Cotton Seed Distributors as part of the CottonInfo partnership.  
CottonInfo program manager, Warwick Waters, welcomed Ms Stevens to CottonInfo.  
"Kim is already known in the industry, as she lives on a farm at Biloela and is a current participant in the Cotton Future Leaders Program," Mr Waters said.
"It has been several years since we have had an REO in Central Queensland, so it is exciting to have Kim in the team."  
The role of the CottonInfo REOs is to work with growers and consultants to develop trusted relationships, and to support regional demonstrations and trials and industry R&D with regional engagement.  
CGX appoints Smoker
Clear Grain Exchange (CGX) has appointed  Trent Smoker as its first general manager, with the role commencing in May.

Mr Smoker has worked primarily in the grain industry, for Cargill/AWB in both Western Australia and Victoria, where he became the manager of the grain accumulation team.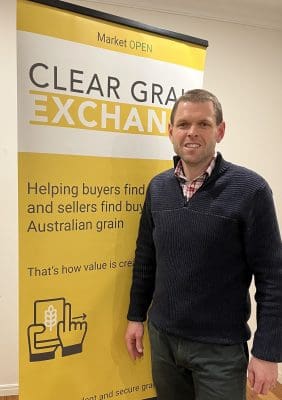 In this role, he was responsible for grain origination and grower-facing activities nationally, in particular across the Grainflow network throughout South Australia, Victoria, New South Wales and Queensland. 
Mr Smoker has also worked with pasture seed R&D company Barenbrug, managing its domestic and international sales team.
"I like that CGX is independent and complimentary to all market participants," Mr Smoker said.
"This purity in purpose and market position means we naturally have a humble culture looking to support the broader grains industry."
Managing director Nathan Cattle said Mr Smoker's skills were a good fit for CGX, and felt it was time to create the general manager role to assist in the growth of the business. 
"As our team grows in conjunction with our business, it was time to bolster our capabilities and create a role charged with understanding the direction of the business, how our teams contribute to that, and help create an environment that enables us to execute on that,"  Mr Cattle said.

Mr Smoker grew up on a cropping and sheep farm between Corrigin and Kondinin in Western Australia before moving into a career in the grains industry. 
"My brother continues to run the farm in conjunction with my parents and I have an active engagement in the operation," Trent said. 
SFMCA recognition for James, M'Gee
The Stock Feed Manufacturers' Council of Australia (SFMCA) last month awarded industry stalwart Rex James with life membership of the organisation.
Mr James is the principal of Rex James Stockfeed, which is celebrating its 40th year in business this year.
The company is based at Nathalia in Victoria,  and also has a branch at Wynyard in Tasmania.
Mr James was presented with his award at a SFMCA Victorian branch dinner in conjunction with the Grains Industry Association of Victoria.
SFMCA last week posthumously awarded a life membership to Denis M'Gee.
Mr M'Gee  had a long and fruitful career in the animal nutrition and petfood industries, and was highly respected across the board.
On top of his own business commitments, Mr M'Gee was the NSW, Queensland and South Australian  development officer for SFMCA.
John Deere awards top technician
Emmetts Roseworthy harvester specialist Jaymee Ireland has been named Australian Agriculture Service Technician of the Year from a field of more than 100 nominees from across Australia and New Zealand.
Ms Ireland, 22, was announced as the winner at the second annual John Deere Technician Awards held in Brisbane on August 5.
Her interest in heavy machinery was piqued when growing up near cane farms at Mossman, Far North Queensland, where her grandfather Charlie Brischetto showed her the ropes of John Deere harvesters. 
"All technicians work incredibly hard so it's special to see that effort being recognised.
"I have  always had a huge love for John Deere, when I was a kid I had John Deere merchandise all throughout my bedroom, so I feel the younger version of myself is very proud." 
Ms Ireland said she was keen to see more young women seize the opportunities of completing mechanical trades within the farm sector. 
"Whenever I am attending career days, I am always trying to catch the attention of the girls and bring them over to explain the job," she said. 
Trade, logistics facilitator commences
Familiar to many in the grain trade, logistics specialist Damian Muscat recently commenced operating a new business servicing mainly sea freight and airfreight, warehousing and documentary requirements.
The business, E2E Global Solutions based at Tullamarine, solves import export logistics for clients from origin to customer.
It has warehousing arrangements in all states.
New FAR trial officer
Field Applied Research (FAR) Australia has appointed Jayme Burkett as a senior agricultural trials officer in the Western region. 
Ms Burkett started this month, and from her base in Esperance, is working primarily across FAR Australia's Esperance and Albany Port Zone Crop Technology Centres where she is responsible for conducting field-based research programs.
FAR Australia's managing director Nick Poole said this appointment will enhance the organisation's research capabilities in the west.
"The team and I are thrilled to welcome Jayme aboard and look forward to working closely with her in delivering quality field applied research for Australian growers," Mr Poole said.  
Ms Burkett completed a Double Major in Agriculture and Science Communication in 2020 and has held roles at UWA Institute of Agriculture and as a machinery operator.
Trader moves
Olam Agri has appointed Mostyn Gregg as its vice president of pulses to head up its global pulse book.
Mr Gregg was previously head of pulses with Agrocorp International, which saw him relocate to Singapore from Australia.
Prior to his appointment with Agrocorp, Mr Gregg was Glencore Australia's pulse trader.
Agrocorp last month welcomed back Patrick O'Hara as part of its trading team based in the company's Dalby office in southern Queensland.
Mr O'Hara left Agrocorp for a period to work with Wellcamp-based Adams Australia, which recently employed former Norco grain accumlator Craig Belford.
Got some "People on the Move" news to share? Send submissions to
Grain Central: Get our free news straight to your inbox – Click here