Who is on the move in the Australian grain and cropping industry? Catch up with our latest update on industry appointments, rewards and achievements.
GPSA appoints new

CEO

Rob Brealey retires

Steve Henry wins Northern Seed of Light

Dale Grey

wins Southern Seed of Light

Vogel appointed

RaboResearch

GM ANZ


VFF elects councillors

 

Green gets AOF life membership

GAL appoints Sheehy, Ackerman

Panozzo wins Guthrie Medal

GRDC awards for Hollaway, Whish

 

M

ick Daw named COO

at CBH

 

New NAIF Board members
GPSA appoints new
CEO
The Board of Grain Producers SA has appointed policy and communications expert Brad Perry as the organisation's new chief executive officer. 
Mr Perry brings experience in politics and journalism, recently working as senior adviser to South Australia's past two ministers for Primary Industries and Regional Development, as well as a newspaper editor and journalist in regional South Australia.
Mr Perry said he was looking forward to working with the GPSA Board to develop policy and initiatives.
"My immediate focus will be to finalise and implement GPSA's strategy and priorities for the 2022 state and federal elections," Mr Perry said.
"Competing in a global marketplace, grain growers are always looking at ways to become more efficient and that's where the adoption of technology on-farm can assist."
Rob Brealey retires
Respected grain trader Rob Brealey retired last month after a career which started in Toowoomba in the 1980s at the joining of Elders and the Queensland Graingrowers.

In subsequent roles he was a broker, Grainco trading manager and a senior trader at ABB/Jossco.
His gift for understanding people and an eye for arbitrage helped Mr Brealey build strong international client relationships, initially in Japan.

He co-founded PentAG in 2005 and led a domestic and export trading team dealing in pulses, cereals and sorghum.  
Mr Brealey worked closely with Steve Burt after PentAG entered into a joint venture with Nidera. 
"Rob was the energy that enabled that business to start from scratch, and he's got plenty to be very, very proud of," Mr Burt said. 
"A lot of people in the industry now owe their success in part to the time Rob dedicated to them early in their career."  
In 2019, Mr Brealey joined ADM as its pulse trader when it decided to increase its presence in the pulse space.
"To market and trade pulses successfully requires a specialised skill base to navigate the vagaries, risk and volatility that can exist in pulses," ADM Trading Australia trading manager Darryl Borlase said.
"ADM found the right person in Rob."
"Rob will be sorely missed at ADM and by the pulse industry in Australia, as he has made a major contribution to progressing the industry and taking Australian pulses to international markets."
As part of ADM's succession plan, Adelaide-based Joseph Panuccio now leads the company's pulse business in Australia.

Henry wins Northern Seed of Light
CSIRO researcher and mouse expert, Steve Henry, has been honoured for his dedication to assisting grain growers through devastating mouse plagues by being awarded the Grains Research and Development Corporation (GRDC) northern region 2022 Seed of Light Award. 
GRDC northern panel chair, John Minogue, said Mr Henry's research has had a positive impact on the grains industry for years.  
"Not only has he worked tirelessly to continue developing high-class research outcomes aimed at reducing the negative impacts mice have on our industry, but he goes out of his way to ensure key stakeholders have access to the information that can help them," he said. 
Mr Henry said receiving the Seed of Light Award was a huge honour. 

"This is such wonderful recognition; I was truly blown away and feel so motivated to continue doing this work for rural communities," he said.  
Grey
wins Southern Seed of Light
Seasonal risk agronomist and communicator with Agriculture Victoria, Dale Grey, has been presented with the Grains Research and Development Corporation (GRDC) 2022 Southern Seed of Light Award. 
 
Voted upon by the GRDC southern region panel, the Seed of Light award acknowledges outstanding effort in the extension of outcomes from GRDC investments. 
 
Based in Bendigo, Victoria, Mr Grey has worked for Agriculture Victoria for 27 years.  
 
GRDC southern region panel member Michael Treloar, said Mr Grey used a variety of approaches to make his information both entertaining and informative. 
 
"Seasonal climate forecasting can be a very dry topic, but Dale's engaging presentation style – usually involving a Hawaiian shirt and a ukulele – brings colour and energy to what he delivers," he said.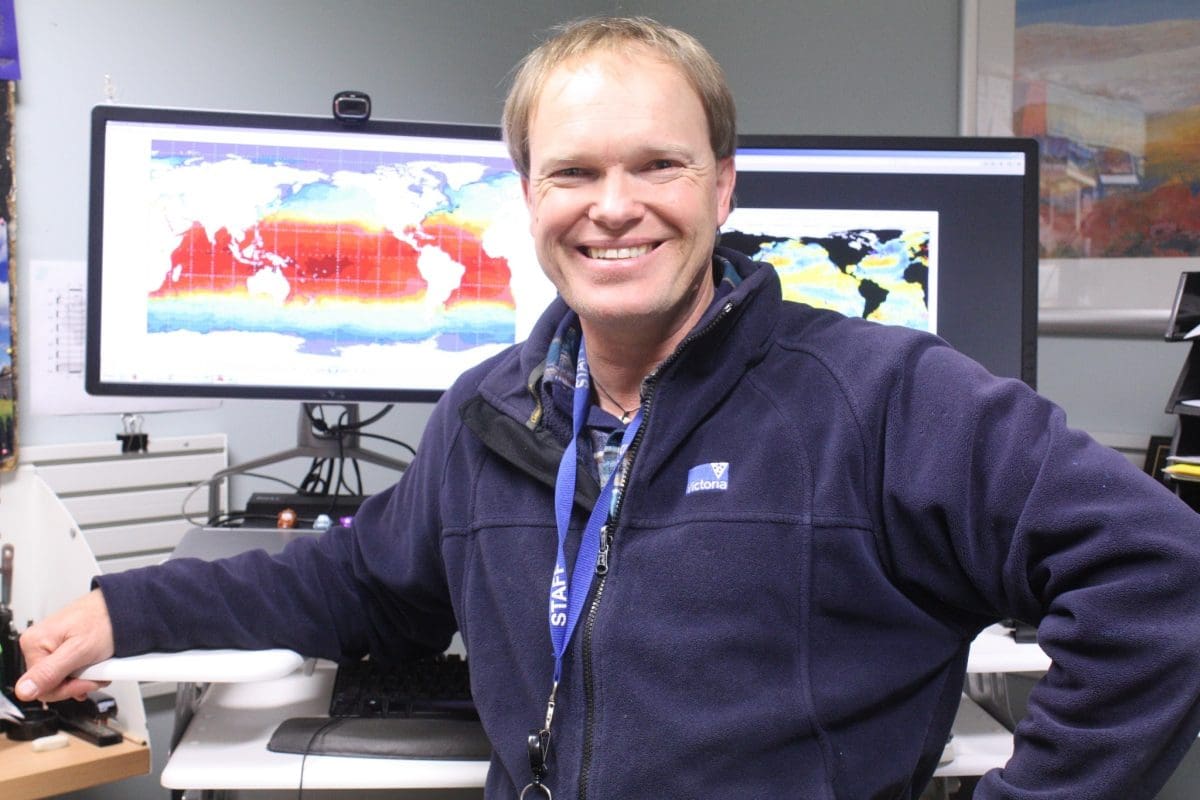 Agriculture Victoria researcher Dale Grey.
Vogel joins
RaboResearch
in Australia

Rabobank has announced the appointment of Stefan Vogel as general manager of its food and agribusiness research in Australia and New Zealand.

Mr Vogel takes on the role after over seven years with Rabobank in London, where he held concurrent global positions with the bank, head of agricommodity markets research, and global grains and oilseeds sector strategist. 
"It has been an incredible journey with Rabobank so far and I am very excited to take on this new opportunity with the bank in Sydney," Mr Vogel said. 
Rabobank Australia & New Zealand regional manager Peter Knoblanche said Mr Vogel brought a wealth of knowledge and experience in the global food and agricultural industries to his new role.
VFF elects councillors
Christine Plant of Northern Mallee and Ryan Milgate of the Wimmera will continue in in their roles as Victorian Farmers Federation (VFF) councillors following the organisation's Grains Council elections. 
VFF returning officer Jane Lovell said it was pleasing both Ms Plant and Mr Milgate will continue in their roles. 
"The impact that both Ryan and Christine have had during their time already in Council has been enormously positive. They've both done so much to represent growers from their respective regions, and I am sure will continue to do so," Ms Lovell said.  
"We extend our congratulations to our returning Council members and look forward to working with them to achieving better outcomes for grain growers across Victoria."  
Green gets AOF life membership
Allan Green has been awarded life membership of the Australian Oilseeds Federation (AOF) for his services to the oilseed industry.  
The award was conferred at the AOF AGM in October last year.
Dr Green has been involved with the Australian oilseeds industry for many decades in his various R&D roles with CSIRO. 
His specific area of focus has been the understanding of the genetic control of oil and fatty acid biosynthesis in plants, and using this knowledge to develop new and improved oil crop products for Australian and global agriculture. 
Dr Green recently retired from CSIRO and has established a new company, AGRENEW Pty Ltd, to assist the grains and oilseeds industry to capitalise on the latest genetic technologies for creating new high-value products.
GAL appoints Sheehy
Grains Australia Limited (GAL) has appointed Megan Sheehy in the new role of general manager classification. 
GAL chair Terry Enright said the role was a key executive position within GAL, and will be responsible for the coordination and delivery of Australia's grain variety-classification outcomes. 
"This role will ensure the framework for a robust, market-oriented classification system for all grains that is supported and understood by the entire grains value chain," Mr Enright said. 
"Megan comes into the role with 20 years' experience in the industry and has overseen Australia's barley-industry classification processes as executive chair and manager of Barley Australia for the past six years." 
Ms Sheehy said she was looking forward to the opportunity of ensuring the successful integration of the wheat classification system into GAL, along with the potential for other grains. 
GAL appoints Ackerman in GIMAF role

GAL has appointed international trade-facilitation specialist John Ackerman to its new role of general manager trade and market access. 
Mr Enright said the role will be responsible for the coordination of all grains industry market access issues and opportunities. 
"John comes to the role with extensive experience in agriculture, having represented the Australian government and industry interests overseas for the last 16 years, with significant accomplishments in research, policy development, and industry improvements, covering domestic and international issues, particularly trade and market access matters," he said. 
Dr Ackerman is taking over the role held by Tony Russell, who is retiring after 10 year as the executive manager of the Grains Industry Market Access Forum (GIMAF), which rolled into GAL last year. 

Panozzo wins Guthrie Medal

Horsham-based scientist Joe Panozzo has been awarded the FB Guthrie Medal acknowledging his long-term commitment to grains research in Victoria. 
Every three years the Australasian Grain Science Association (AGSA) awards the FB Guthrie Medal to honour cereal chemist Frederick Guthrie's contribution to wheat research in Australia. 
Dr Panozzo began his research career at the Victorian Wheat Research Institute in Horsham, now Grains Innovation Park, as a wheat scientist working with the breeding program and quickly developed an interest in creating high throughput tests to determine quality traits in wheat. 
He later applied these techniques to test malting barley, oilseeds and pulses. 
GRDC awards for Hollaway, Whish
Grant Hollaway and Jeremy Whish have been presented with the Grains Research and Development Corporation (GRDC) 2022 Recognising and Rewarding Excellence Awards. 
Dr Hollaway won the prize for the southern region award with Dr Whish taking the prize for the northern region. 
Voted upon by the respective GRDC regional panels, the Recognising and Rewarding Excellence Award acknowledges long-standing input and commitment to the nation's grains industry. 
Based in Horsham, Victoria, Dr Hollaway is a highly respected figure in the grains industry, especially in his chosen field of plant pathology. 
He has been a plant pathologist with Agriculture Victoria since 1992 and has been the Department's senior research scientist in plant pathology since October 2009. 
 Alongside leading national and state-based disease management projects, Dr Hollaway was instrumental in the development of the cereal disease screening nurseries in Horsham, which is now a huge operation with more than 100,000 rows sown annually for the major Australian breeding companies. 
As a CSIRO's Farming systems research scientist, Dr Whish's work focuses on developing modelling to understand the complexity of farming systems and identifying management strategies to reduce production risk across these systems.  
This includes building scenarios that could help predict a crop's response to changes in farm management practices.  
Dr Whish started his research career in the weeds sector, looking at crop weed competition which led him to explore APSIM simulation modelling to understand competition for resources. 
Mick Daw named COO at CBH
The CBH Group has announced the permanent appointment of Mick Daw as chief operations officer.  
Chief executive officer Ben Macnamara said Mr Daw's appointment is the outcome of an extensive recruitment process.  
"Since acting in the role from July 2021, Mick has led the operations team in planning and receiving a 21.3 million tonne-record harvest, in what has been one of our safest harvests on record, Mr Macnamara said.  
Mr Daw said he was honoured to continue to lead the operations team.  
"Right now the focus is on outturning the massive crop from sites to port, with the team working on all possible avenues to achieve this task. Longer term," Mr Daw said. 
Prior to his appointment as COO, Mr Daw was general manager Esperance zone for 15 years, and was previously a zone manager in Albany and Geraldton. 
New NAIF Board members
Northern Australia Infrastructure Facility (NAIF) Board has named new members Shirley In't Veld from Western Australia and Lisa Hewitt from Queensland. 
Ms In't Veld has had experience as a board director including APA Group, Alumina Ltd, Develop Global Ltd and Karora Resources and has held senior roles, such as, the managing director of Verve Energy. 
Ms Hewitt is a Regional Executive with ANZ for North Queensland and her experience includes managing a portfolio of high-risk agribusiness and commercial files including major agricultural and infrastructure projects. 
Minister for Agriculture and Northern Australia David Littleproud said members of the NAIF Board represent a wide range of experience, and bring skills in finance, accounting, economics and infrastructure.  
"Ms In't Veld's 30 years of experience across the mining, renewables and energy sectors, along with Ms Hewitt's extensive knowledge of agribusiness, will be invaluable to the NAIF," he said. 
Got some "People on the Move" news to share? Send submissions to
Grain Central: Get our free cropping news straight to your inbox – Click here