Who is on the move in the Australian grains and cropping industry? Catch up with our latest update of industry appointments, rewards, retirements and achievements.
New chief for Namoi Cotton
Hunt for new Birchip CEO
Re-appointment of AgriFutures chair
Recognition for seed stalwart
New leaders at Young Farmers
Lachstock southern appointment
New Grassland president
IGC appoints new chair
Young farmer heads business program
Young leaders evoke innovation
FluroSat appoints tech officer
…………………………………………………………………………………………………………………………………………………..
New chief for Namoi Cotton
NAMOI Cotton has appointed Michael Renehan as the new chief executive officer of the company.
The appointment follows the resignation of former CEO, Jeremy Callachor, in March and the position being filled in the interim by Namoi's chief financial officer, Stuart Greenwood.
Namoi chairman, Tim Watson, said Mr Renehan brought to the company a unique set of skills as an engineer and executive leader with first-hand experience in irrigated agriculture and working with growers.
"Michael brings with him 15 years of CEO management experience within world leading agricultural and manufacturing organisations. He has run companies with up to 1000 personnel, with turnover of $500 million," he said.
Mr Renehan's most recent role has been as the CEO of Murray Irrigation, with assets of $1.5 billion, which is one of Australia's largest private irrigation supply companies.
At Murray Irrigation he oversaw the modernisation of over 3000 kilometres of irrigated channels and infrastructure involving the implementation of a $350m water efficiency project in the Southern Riverina.
………………………………
Hunt for new Birchip CEO
BIRCHIP Cropping Group (BCG) chief executive officer, Chris Sounness, has resigned from the position after five and a half years with the Victorian farmer group to take up a new opportunity in the region.
BCG chairperson, John Ferrier, said under Mr Sounness' leadership BCG had expanded its involvement in a broader range of activities whilst continuing to deliver core field trials work to a high standard.
"Chris has worked diligently to expand BCG networks, which has led to our involvement in a range of technology, social and environmental projects and related activities," he said.
"In recent times Chris's influence has been important in expanding our soils-based work."
Mr Ferrier said the BCG Board had started the process of seeking a replacement.
………………………………..
Re-appointment of AgriFutures chair
MINISTER for Agriculture Bridget McKenzie has announced the re-appointment of Kay Hull as AgriFutures Australia chairperson for another three-year term.
"AgriFutures plays an important leadership role in planning, investing in and managing research and development (R&D) for some of Australia's emerging and niche agricultural industries," Minister McKenzie said.
"The organisation has a long history of strong leadership and industry collaboration that has been integral to advancing the corporation's R&D priorities and addressing national rural issues.
"Australia's agriculture sector has benefited greatly from AgriFutures' skilled and experienced leaders and its critical role in R&D to improve resource management and increase agricultural productivity."
………………………………..
Recognition for seed stalwart
LIFE membership of Grain Trade Australia (GTA) has been conferred on Terry Deacon in recognition of his contribution to the Australia-wide grains representative body.
Mr Deacon's service to GTA began when, in 1991, its predecessor, the National Agricultural Commodities Marketing Association (NACMA) was formed.
The genesis of NACMA was the Commonwealth engaging with private merchants on national issues and regulations such as quarantine, grain standards, contracts and arbitration.
It was the states' grain trade member organisations, including the Queensland Produce, Seed and Grain Merchants' Association (QPS&GMA) of which Mr Deacon later was president, that rallied most into NACMA.
Always a free-trade merchant, like many family small businesses of their time, the Dalby-based Deacon Seeds under Mr Deacon's leadership opened new trade with growers and customers when, from the 1990s, government progressively relinquished statutory control.
Mr Deacon retired in 2019 after Deacon Seeds was sold. Recently he was also made a life member of Queensland Agricultural Merchants Inc.
…………………………………
New leaders at Young Farmers
NSW Farmers has welcomed new young leaders to its Young Farmer Council.
Hampton egg, horticulture and cattle producer Rachel Nicoll takes on the role of Young Farmer chair, replacing Tim Carroll.
Armatree-based agronomist Martin Murray has become deputy chair.
Ms Nicholl said her priorities would be increased engagement with the wider association and increasing opportunities for training and development.
"Our key actions will be centred on developing the young farmers of the future. Young farmers have to be learning as much outside of the industry as they are in it. They need to be getting exposure and experience, doing internships and building relationships with people," she said.
"The second part to that is getting an understanding of real-world problems – skills to pick themselves back up when things don't work and setting them up for success."
Mr Murray said that access to finance and land was a policy priority for the Council.
"We're looking to bring New South Wales in line with other states in offering stamp duty exemptions on the purchase of a first farm. This was recommended in the Legislative Assembly's report on its Inquiry into Zonal Taxation last year," he said.
"You could go out now and buy your first home in town, and access that exemption – but if your first home is on a farm, you don't get the same help. If we want to get young people on the land and ensure succession in the agricultural industry, we need the right policy settings."
The Council comprises Rachel Nicoll, Martin Murray, Tim Carroll (Cudal), Meg Rice (Canberra), Tom Matthews (Grenfell), Brendan Murray (Coleambally), Hannah Cargill (Armidale), and Nathan Hatty (Matong).
………………………………
Lachstock southern appointment
JOCK Cameron has joined the Lachstock team as adviser to the southern region, working closely with Lachstock chief executive officer, Nick Carracher, in South Australia and Victoria to help southern clients manage risk in their agricultural enterprises.
Mr Cameron, who was raised on a mixed cropping and livestock enterprise near Mt Torrens in SA, completed both a Diploma of Agribusiness and an Associated degree in Agribusiness at Marcus Oldham College. He is also currently in the process of completing a Bachelor of Agribusiness.
In conjunction with his education, he commenced work with COFCO as a trade assistant in 2015 and after two years in this role was promoted to southern origination manager.
Mr Cameron will split his time between the company's new Adelaide office and Geelong/Melbourne offices.
…………………………………………
New Grassland president
NEW Grassland Society of Southern Australia (GSSA) president Meg Bell hopes to reinvigorate branches across three states to shore-up the society's future.
Ms Bell, from Kononwootong north of Coleraine in Victoria, said the GSSA's history over the past 60 years since its establishment provided a solid base for a positive future.
"I'd like to get all our branches across Victoria, South Australia and Tasmania functioning really well and ensure we shore-up the future of the society," she said.
"Being a society that relies on industry and project funding is hard work. We're constantly applying for projects and seeking funding sources and that's an ongoing challenge.
"But we're the only pasture and livestock-based society and with such a positive history in improving farming systems, we have a good base for the future. We've had a good reputation for such a long time and there's still a lot to offer."
Ms Bell replaces Matt Mahoney as president. Georgina Rees was elected vice-president.
The society was formed in 1959 and has branches in Albury-Wodonga, Central Ranges, Central West, Gippsland, East Gippsland, and Western District in Victoria, Limestone Coast in South Australia, and Tasmania. It provides a forum for the transfer of information, ideas and experiences in all aspects of grassland establishment, maintenance, utilisation, persistence and research.
……………………………………….
IGC appoints new chair
THE International Grains Council (IGC) has appointed High Commission of Canada Minister-Counsellor Nathalie Dubé, as chairperson for 2019/20, having been vice-chairperson the previous year.
"I look forward to promoting the organisation's role to foster cooperation in international trade to secure the freest possible trade in grains and oilseeds," Ms Dubé said.
Her appointment replaces the 2018/19 chairperson Embassy of Japan in London, Minister for Economic Affairs, Shuichi Akamatsu.
IGC members late last year agreed to incorporate improved monitoring of pulses into the Secretariat's 2018/19 work program as a new project. It would include establishing a supply and demand balance sheet on pulses along with regular market information.
"In the current global trade climate, Canada strongly supports the IGC's work, particularly as it relates to furthering work on pulse market information," Ms Dubé said.
IGC has appointed vice chairperson for 2019/20 Federal Office for Agriculture, trade relations unit policy advisor Corinne Roux.
……………………………………..
Young farmer heads business program
A YOUNG farmer from Mudgee in New South Wales with a background in law and business has stepped up to help lead the NSW Department of Primary Industries' (DPI) Young Farmer Business Program (YFBP).
Tim Flynn, whose family runs a sheep and cattle property at Mudgee and who has a double degree in law and business, has been appointed as YFBP program coordinator, based in Dubbo.
During his time as president of Robb College at the University of New England in Armidale, Mr Flynn helped coordinate many events for the rural students and had been closely following the Young Farmer Business Program.
"I went to one of the workshops in Dubbo and I thought what a great idea, this is exactly what young farmers need," Tim said.
"It's a big career change to step away from law, but I am really excited to be joining a program that is genuinely having an impact and helping young people.
"I'm 26 years old and have connections right across NSW that form part of the target market.
"I am keen to bring new ideas to the program and get on the road and hear the feedback from young farmers and fishers."
………………………………………..
Young leaders evoke innovation
EIGHT young innovative rural leaders with a passion for agriculture have been selected to take part in evokeAG.2020, the Asia Pacific's largest agrifood tech event.
Supported by the Council of Rural Research and Development Corporations, each successful evokeAG. Future Young Leaders finalist will present their ideas on how we need to shape, and shake-up, our industry.
Each winner will receive a five-minute presentation opportunity at the event, as well as return economy airfares, accommodation, airport transfers and a delegate pass to evokeAG..
Applicants were selected after submitting a video detailing why they wanted to be the voice of the future at evokeAG. 2020.
The eight finalists chosen by the Future Young Leaders selection panel are:
Dr Caitlin Vayro | 25 years old | Munruben, Qld
Genevieve Griffin-George | 28 years old | Brooklyn, New Zealand
George Chapman| 24 years old | Coraki, NSW
George Stacey | 25 years old | Cawarral, Qld
Leesa Chen | 25 years old | Melbourne, VIC
Maddison Clonan | 26 years old | Stuart Park, NT
Samuel Johnston| 24 years old | Forbes, NSW
The People's Choice finalist is:
Angela Hughes | 18 years old | Mittagong, NSW
EvokeAG. 2020 will take place in Melbourne at the iconic Royal Exhibition Building on 18-19 February 2020.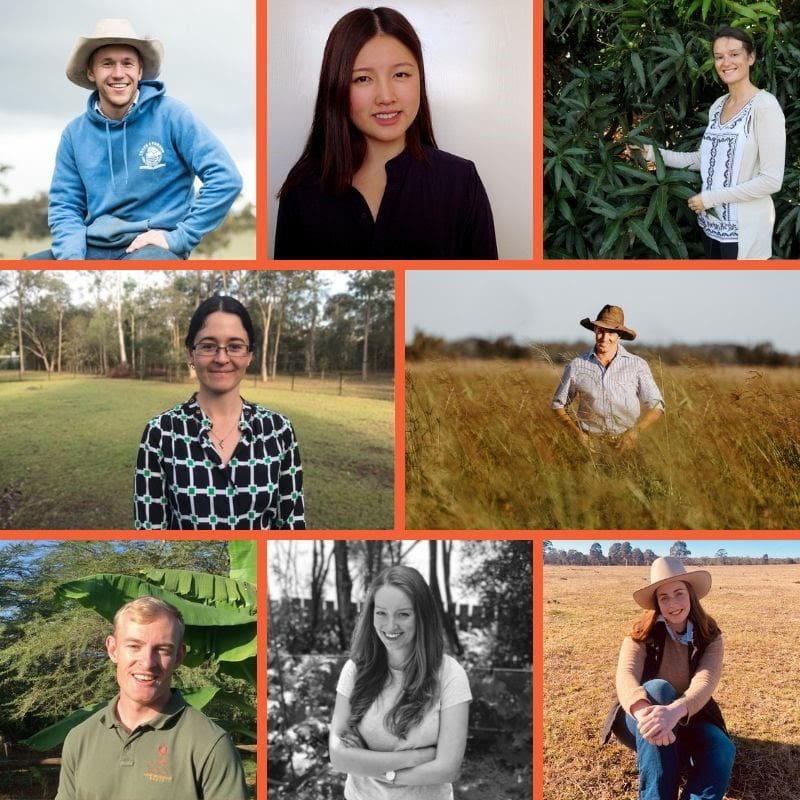 …………………………………………
FluroSat appoints tech officer
CROP health solutions provider, FluroSat, has appointed Juan Delard de Rigoulieres Mantelli as its chief technology officer based in its Australian office in Sydney.
Mr Delard de Rigoulieres Mantelli will be responsible for leading FluroSat's technology and data science teams across Canberra, Sydney and Kiev.
Prior to joining FluroSat, he held several chief technology officer and senior technology positions in companies such as Data Republic, Datalicious and Live Event Media.
He will drive the delivery of the next generation of FluroSat's analytics engine, FluroSense, to help agronomists, growers and farmers monitor crop health and optimise management and production.
…………………………………………………………………………………………………………………………………………………………..
Got some "People on the Move" news to share? Send submissions to [email protected]
Grain Central: Get our free cropping news straight to your inbox. Simply fill in and submit the 'sign up' box at the bottom right-hand corner of this page.