On a quarter-by-quarter basis, total return amounted to 8.82pc, driven mostly by capital growth at 7.16pc and income return contributing 1.66pc.
Established in 2015, the quarterly index tracks income and land appreciation performance of 40 different farmland properties operated by some of the major agricultural asset managers in Australia with a market value of more than A$1.2 billion. Businesses contributing farm data include Hancock Agricultural Investment Group, Rural Funds Management, Gunn Agri Partners, Argyle Capital Partners, Aware Super and goFARM Australia.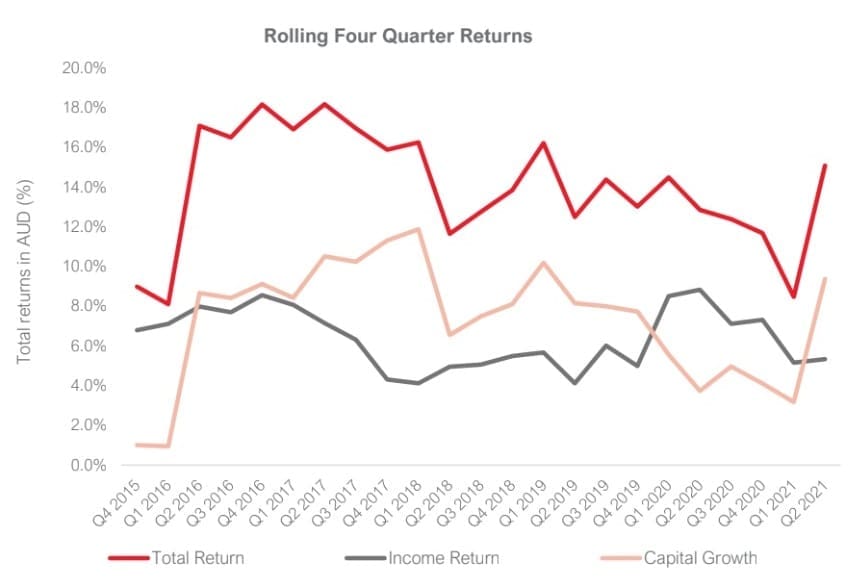 Cropping land
Annualised total returns for annual crop farmland rocketed for the quarter ending 30 June, totalling 46.27pc, which is the best performance recorded since the Index's inception in December 2015. This was largely driven by capital growth at 32.81pc, with income return standing at 10.91pc. The sector benefitted from good seasonal conditions and strong commodity prices, which all contributed to the strong returns.
Permanent farmland/grazing
Annualised returns for permanent farmland and grazing improved for the quarter ending 30 June, with a 7.93pc one-year total return. The annualised capital growth was 3.63pc, and the annualised income at 4.19pc.
Returns from Australian farmland enterprises continued to outperform in the quarter ended 30 June 2021, one of the Index's participants, Argyle Capital Partners said.
"Excellent farm-gate prices for livestock, grains, oilseeds, sugar and cotton and a surge in production following the breaking of drought conditions throughout calendar year 2020 contributed to widespread growth in Australian farm incomes to 30 June," it said.
"The gross value of Australia's agricultural production achieved a record $66 billion to 30 June, and is currently forecast to achieve $65 billion for 2021-22."
Australian mixed-farming districts and most pastoral regions benefited from excellent seasonal conditions throughout the 12-month period to 30 June, the report said.
"Above average rainfall accumulations across southern Australia have resulted in Murray-Darling Basin irrigation storages exceeding 80pc capacity this month – the most amount of water in storage since 2016/17."
However, eastern parts of central Queensland have continued to experience three consecutive years of below average rainfall. Ideal growing conditions through the June 2021 quarter and into early September have benefitted winter cereal crop production and livestock grazing prospects for the balance of the 2021 calendar year, the report said.
Australian winter crop production is expected to exceed 54 million tonnes, 32pc above the last 10-year average and the second consecutive year of more than 50mt production.
Beef cattle and sheep prices surged to record highs during the first half of 2021 supporting returns for graziers and the pastoral sector. Farm-gate dairy and sugar prices remain well supported for the 2021/22 season, while strong forward cotton and rice prices are likely to result in a major increase in annual summer crop plantings across the MDB for the 2021/22 season.
Tree nut enterprises have experienced improvements in farm-gate prices, with Australian almond export values improving as a consequence of California's current drought.
Record low interest rates and a weaker A$ /US$ exchange rate continued to benefit Australia's export focused agricultural commodity sector. The impacts of COVID had so far been relatively benign for the sector.
Isolated workforce shortages have led to increased labour costs and challenging logistics have impacted returns for some fresh horticultural exports. Punitive tariffs imposed by China have specifically impacted Australia's premium and bulk wine sector whilst red meat and other commodities have generally readily found replacement export markets across Asia.
Freight impact
Record ocean freight rates are also expected to marginally impinge on agricultural export prices.
"Reflecting continued optimism in the sector, the demand for Australian farmland and agribusiness enterprises remains very strong," the report said.
A number of notable transactions were concluded in the period including the sale of Australia's largest integrated cotton producer Auscott Ltd for more than $500m to Australian Food & Fibre (backed by a Canadian pension fund); the completion of a $350m 'take private' of citrus and berry producer Vitalharvest Freehold Trust Limited by Macquarie Agricultural Funds Management; and the $230m sale of central Queensland's largest citrus grower 2PH Farms to ASX-listed Costa Group Ltd.
About the Australian Farmland Index
The Australia Farmland Index, released quarterly, provides information on institutional grade assets so that professional investors can fully assess the sector from both an income and capital return basis, as compared to other investment classes. Established in 2015, the Index tracks income and land appreciation performance of some of the major agricultural asset managers in Australia. The Index tracks the income and capital appreciation performance of 40 different farmland properties managed by some of Australia's major agricultural asset managers with a market value over A$1.2 billion. Current businesses contributing farm data are Argyle Capital Partners, Aware Super, goFARM Australia, Gunn Agri Partners, Hancock Agricultural Investment Group, and Rural Funds Management. The external subscribers who have also supported the index are ANZ Bank, CBRE Agribusiness, Commonwealth Bank, and Rabobank.