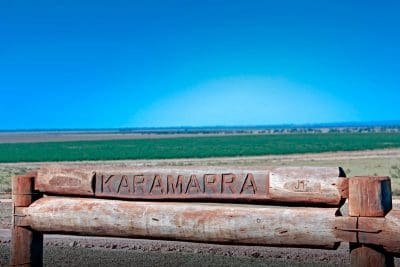 A LARGE-SCALE and well-developed property in Central Queensland offering irrigation, dryland and grazing options has come to the market with the listing of Charlie and Kaye Wilson's Karamarra.
Covering 7230 hectares, Karamarra is located 88 kilometres north of Dingo between Rockhampton and Emerald, and features a 7km frontage to the Mackenzie River.
It is being offered for sale at auction on 25 September with 200ha planted to cotton, and forward-sale contracts for 1500 bales.
Under the management of George and Kim Sypher, Karamarra has been highly productive, and has been developed to run as separate cattle, cotton and cropping businesses.
Handling the sale is Ray White Rural Rockhampton agent Richard Brosnan, who said this has been an efficient way of managing risk and resources while maximising productivity.
Mr Brosnan said Karamarra provided the new owners with an option to continue running the property along its current lines, or focus on irrigation, dryland cropping or cattle.
Karamarra has been well developed to utilise all its area, and its irrigation allocations from the Mackenzie River can be pumped to its 900-megalitre storage which also catches water from overland flow.
The property's pastured country is well fenced, and features a laneway system linked to a set of steel cattle yards.
Stock water is distributed via a network of troughs and dams.
Karamarra features high-quality alluvial brigalow and coolibah flats on its eastern boundary, running into developed brigalow scrub then on to ironbark ridges and an area of loamy red tableland.
The floodplain covers 4600ha, and includes 380ha of furrow irrigation and 1350ha of dryland cropping area, with the balance planted to leucaena, buffel, floren blue grass and bambatsi.
Approximately 800ha of developed brigalow scrub country also contributes to Karamarra's productivity, and features two 96ha Reinke centre pivots, with one watering leucaena and a mixture of improved pastures, and area under the second prepared to plant leucaena.
The balance of the scrub country is planted to improved pastures.
From the river flats, Karamarra rises to gentle slopes originally timbered with brigalow, box and bean tree on red to grey loams, which run on to undulating box, gum-top box and narrow-leaf ironbark forest areas interspersed with escarpments.
These rise to red tablelands on the western and northern boundary, timbered with lancewood and gum.
Karamarra's improvements include a large modern homestead, two houses and further single-person units, plus a separate workers' camp for casual or contract workers.
The property has a large steel 42m x 14m machinery shed with a workshop at one end, an additional machinery shed and a large bunded fuel tank.
Winter crops currently growing on Karamarra will be harvested prior to the auction, and are therefore not included in the sale.
Source: Ray White Rural