A CHANCE to buy into or expand in one of Australia's premium cropping regions has come up with the offering of Glencoe, a 2592-hectare aggregation at Bellata in north west NSW.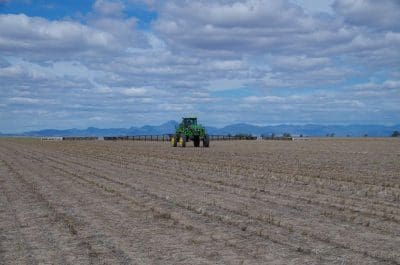 Glencoe is being offered for sale by private treaty by Landmark Harcourts Narrabri, with price on application.
Selling agent Paul Thomas said Glencoe receives an annual average rainfall of 600 millimetres, and features black and grey self-mulching soils.
"The Edgeroi/Bellata cropping belt is favoured by both private and corporate farming entities because of its soils, climate and suitability to summer and winter cropping," Mr Thomas said.
Under current ownership, Glencoe has successfully grown durum wheat, chickpeas, barley and sorghum in rotation, and dryland cotton is being grown on neighbouring properties.
More than 1200ha has been fallowed from chickpeas last year, and is ready for planting to this year's winter crop.
"Around 100mm of rain has fallen on the property so far this year, giving a good start to the soil moisture profile."
The property is 98 per cent arable, and has been set up for minimum tillage over four main fields featuring long straight east-west runs of three to four kilometres.
Improvements include a new 5000-tonne grain shed, three 250t silos, machinery and storage sheds, and two homes.
Glencoe's water comes from the Millie Bore Scheme and 16 tanks, plus a new 350,000-litre galvanised rainwater tank which can supply water for spraying.
The property is located approximately 48km north of Narrabri, and 73km south of Moree, adjoining the well-known Milton Downs/Boolcarrol Station aggregation.
"Grain and pulse receival centres are located on the Newell Highway at nearby Bellata and Edgeroi, and the major service towns of Narrabri and Moree are both hubs for road and rail freight."
For further details or to arrange an inspection, contact Paul or James Thomas.
Source: Landmark Harcourts Narrabri