HARCOURT, an irrigated and dryland property with single frontage to Central Queensland's Dawson River, is to be auctioned on August 30 by Moura agency, Hourn & Bishop Qld, and offers a foothold or the opportunity for expansion in this proven cotton and cropping district.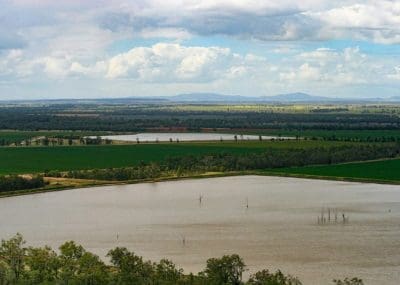 Located 39 kilometres north of Moura and 22km south of Baralaba, Harcourt covers 1587 hectares.
This includes 674ha of laser-levelled flood irrigation in six fields, as well as 455ha of dryland cultivation on its self-mulching dark clay and sandy loam soils.
The balance of Harcourt's area is grazing country, and features solid stands of buffel grass and seca stylo, as well as around 1000 trees planted in refuge areas.
Harcourt comes with a 2000 megalitre irrigation allocation, one 1800Ml and another 800Ml reservoir, two high-capacity centrifugal pumps, and three surge areas with a holding capacity of around 100Ml.
Between 1988 and June 2018, water harvesting was available for an average of 50 days per year, with total water availability capped at 3,432MI/year.
"The three Austin families formed a partnership and purchased Harcourt in 1988, and have developed it into a highly productive property with the main emphasis being on cotton, cereal crops and chickpeas," Hourn & Bishop Qld director, Gary Bishop, said.
"Water reliability is the biggest benefit with Harcourt.
"It is exciting when these really good properties come up for genuine sale."
Since 2014, cotton crops on Harcourt have mostly averaged 6.5-8.5 bales per hectare, with one block picked this year posting a new yield record of 9.91 bales/ha.
Harcourt has also been a reliable producer of wheat, chickpeas, corn and mungbeans.
Improvements aplenty
One set of circular steel yards with a holding capacity of 300 head, plus crush and loading facilities, are located close to the road, and put Harcourt two hours by road from the Gracemere saleyards and Rockhampton meatworks, and one hour to the meatworks at Biloela.
Harcourt's main residence is a spacious and fully restored 100-year-old Queenslander, with a 900-metre airstrip close by, and the property also has a second home, as well as workers' quarters.
Further improvements include two machinery sheds, a 12 x 6.7m fertiliser shed with sliding roof, and a chemical shed.
Inspections are invited, and can be arranged by phoning Gary Bishop on 0439 982 588 or Gary Hourn on 0407 971 140.