WHERE else but at Rob and Sally McCreath's clearing sale on Queensland's Darling Downs would you be able to buy a silage bin with NO CO₂AL written on it?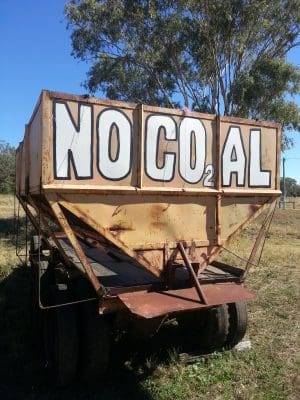 Taking place this Saturday on their Southbrook property, Prestbury, the sale will include close to 500 lots.
It will also wrap up a chapter in this couple's life which saw them, through the Friends of Felton group, help to spearhead a successful agricultural resistance to coal-mining.
And then came the Felton Food Festival, an annual event the McCreaths were involved in from the start.
It has proved a spectacularly successful vehicle for the region to back up what the Friends of Felton, and others, were saying about the value of the Darling Downs as an area of agricultural production worth preserving.
Started in 2012, the festival last year attracted 12,000 visitors.
Moving south
After 23 years at Prestbury, the McCreaths have made the decision to shift to a cattle and cropping property at Deloraine in Tasmania, where much of their gear will no longer be needed.
"They are into precision agriculture, they are best-practice farmers, and their gear reflects that," Ray White Pittsworth agent for the sale, Matt Cleary, said.
Mr Cleary said their 9m Excel Stubble Warrior planter was one of the lots which was likely to attract keen interest from bidders.
"We're expecting a big crowd on Saturday, and we've had plenty of interest so far from northern NSW, from as far away as North Queensland, and from the region."
The catalogue is available here.
Prestbury sold under the Ray White hammer in June for $6 million to Lindsay and Helen Ward, established grain and cattle producers from Goondiwindi.