AFTER about 70 years of ownership in two generations, David and Janine Quinane have listed their 3103-hectare mixed New South Wales property, Poon Boon.
Located on the NSW-Victorian border near the township of Koraleigh, Poon Boon, offers a versatile combination of organic-certified cropping and sheep grazing within a unique landscape featuring two large lakes and a connecting water course.
Mr Quinane's parents purchased the property, named after the original station, in the early 1950s and worked it as primarily a sheep-grazing operation.
"It was mainly sheep grazing and as they cleared the paddocks, they included cropping into their scenario and irrigation," Mr Quinane said.
The initial property was about 1900ha, with the second generation gradually adding on land and developing the cropping program.
Organic cropping opportunity
Alongside buying more country, the Quinanes pivoted the operation to organic cropping about six years ago.
After conventionally cropping for several decades, Mr Quinane said he saw the potential financial benefits of becoming organically certified as well as the suitability of his country to grow grain using those practices.
"Friends of mine were growing organic wheat on some big properties further north of us…and I knew that they were getting good money for it.
"So, we thought we'd give it a go."
The couple approached Australian Certified Organic to kick start the process, which included soil testing to prove the land had been without chemicals for three years.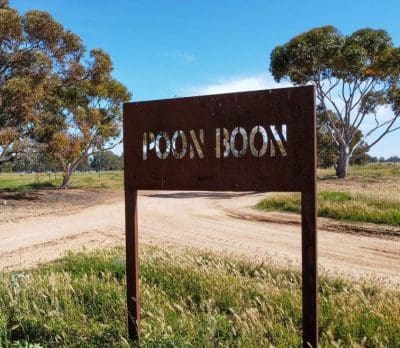 Mr Quinane said as much of the country didn't have a long cropping history, shifting to organic farming was not a hard task.
He said deep-ripping removed the hard pan created by years of grazing and allowed the crops to access nutrients lower in the soil profile.
This was combined with an in-and-out crop rotation including vetch, which Mr Quinane said provides added nutrients to the grain crops.
The couple also have relationships with companies who are experienced in trucking organic grain to ensure every step is traced and separate from other crops.
"The main part of being organic, no chemicals and making sure all your equipment is clean and free of weeds and even the trucks that come to pick up the grain."
This season the couple have cultivated over 1000ha, of which the majority is organic.
"Of the [810ha] of organic that we have sown, there is [325ha] of spelt wheat and [485ha] of organic oats."
Mr Quinane said the change is paying off with the spelt wheat making about two and half times that of conventional wheat and the organic oats commanding a price twice more than traditional oats.
He said both crops are contract-grown with the wheat going to a processor at Gunnedah and the oats to CBH Group-owned Blue Lake Milling.
While the organic certification won't be immediately transferred to the next owners, Mr Quinane said the process to "reactivate" the accreditation is quick and simple, meaning the new operators can capitalise on the price premiums.
Sheep grazing
In addition to the cropping program, the Quinanes currently run about 1000 ewes.
Mr Quinane said Poon Boon could handle a larger grazing operation if someone wanted to take the property in a different direction.
The operation comes with functional sheep and cattle yards and feed pens as well as a six-stand woolshed and hay shed.
It is also services by 130 megalitres of stock and domestic water and 32 water troughs.
Other improvements include four 80-tonne silos and five 40t silos and a four-bedroom residence.
Time to travel
Mr Quinane said he is certain the couple with miss Poon Boon when it sells, but that it is time to transition into a kind of retirement.
After working at the property since he was 17, the change won't be an easy one, although the Quinanes have a few plans for the future.
"My wife wants to do more travelling.
"While we have gone overseas a bit, we haven't done much travelling in our own country with having the farm, which will be nice to do."
Joe O'Reilly from Nutrien Harcourts BR & C Agents Swan Hill is handling the listing on behalf of the Quinanes.
He said that Poon Boon is unique and a highly versatile operation.
"Not too often a property like this hits the market," Mr O'Reilly said in a statement.
"Situated only 40-kilometres from Swan Hill, this very versatile property would suit a fattening or breeding program, with the benefit to produce organic/conventional crops.
"The opportunities are endless."
Poon Boon is being offered via Expressions of Interest closing on November 11.
Grain Central: Get our free news straight to your inbox – Click here