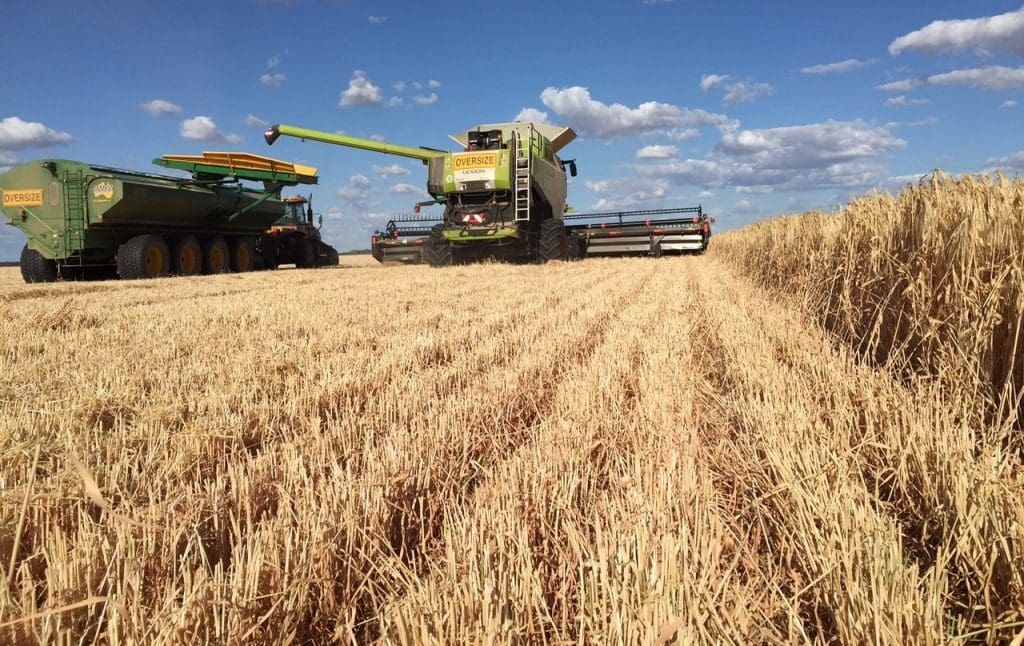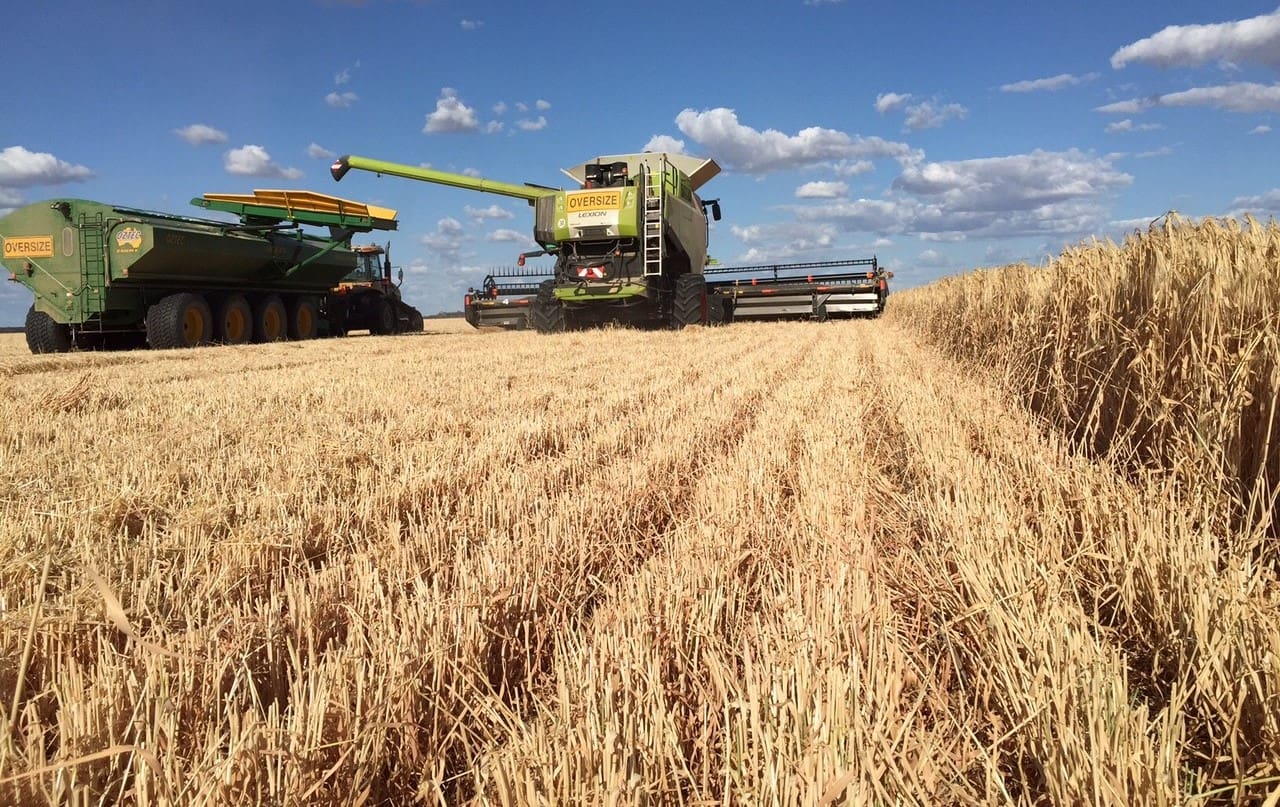 Harvesting at Beefwood via Moree.
INVESTORS seeking to gain a foothold in prime grain, pulse and dryland cotton areas, or expand existing holdings, are driving demand for carefully managed country in southern Queensland and northern NSW.
They are meeting some heady competition from family farming operations which are also seeking to expand, and have not been put off by relatively low wheat prices.
Colliers International valuer Shaun Hendy said this showed a maturity in the market, and confidence that reliable rainfall and good soils would provide an attractive return on investment through the production of high-value grains, pulses, oilseeds, fibre or meat.
"Markets for cropping land used to be driven by the price of wheat. We've moved beyond that now because it is seen as being a producer of a range of crops with a rotation being a driver of value," Mr Hendy said.
"Institutional investors like pension and superannuation funds want 5-6 per cent net return — cash excluding capital gain — for a passive investment, and good farming land can provide that."
Buoyed by this benchmark, Australian institutional investor the Sustainable Agriculture Fund (SAF), and Westchester, owned by US investment giant Teachers Insurance and Annuity Assurance (TIAA), have bought up big in the Moree and adjacent Golden Triangle districts in northern NSW.
Both have enjoyed capital gain from investing in these areas early.
"Their models are based on regional hubs, and once they establish in an area by purchasing a large parcel of land, they will buy smaller properties to put with it," Mr Hendy said.
However, aggregations of prime cropping country which warrant fund-spends of US$20 million or more are rarely offered, and joint ventures with existing farming operations are allowing some off-farm investors to take equity in sought-after cropping regions.
"Joint ventures will make more sense to farmers who don't want to sell out completely, and investors who want to work alongside established locals who can demonstrate high management standards," he said.
Consistent performance
Ray White Rural International principal Bruce Gunning said well-developed farming country which received average annual rainfall of 550-600mm was so attractive because it could consistently turn a profit, despite flat spots or dips in commodity markets.
"That's the situation we have at the moment: wheat, barley and sorghum prices are low, but prices for chickpeas, dryland cotton and mungbeans are good," he said.
Mr Gunning said lacklustre wheat prices had had no downward effect on land values in Australia's premium cropping region, the Golden Triangle, which included the Croppa Creek and North Star districts.
Values firming
He estimates the value of the best farming country in north-west NSW and southern Queensland has doubled in the past 12 years as its scarcity and proven ability to produce have become more widely recognised.
"In those areas, when you need a shower of rain, you get it. You have fairly deep and heavy clay-based soils to work with, and that's what neighbours, local investors and people from overseas want to buy — quality soils."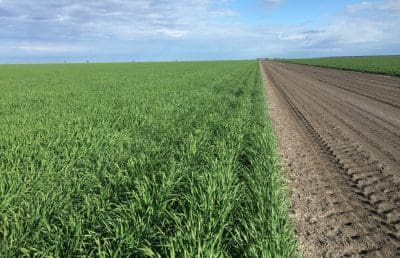 Mr Gunning said premium cropping country in areas like the Golden Triangle, Edgeroi and Breeza further south, and Queensland's Darling Downs, could all attract more than $7000 per hectare.
In the Moree, Boggabilla and Goondiwindi districts, properties with good improvements and sound farming practices behind them could fetch around $4500-$5000/ha.
"The established farming community wants to expand, funds want to buy good agricultural land, and overseas investors want food-producing land," he said.
"It's the overseas buyers that take the longer-term view; the local market is looking more for an instant return."
Mr Gunning said values for prime farming land had continued to rise steadily, partly because banks were willing to lend money to purchasers, or owners who wished to develop farms for complementary uses like lotfeeding.
"It's the easiest land to sell, but it has to be economic in size. If it's just small parcels, they will sell to the neighbours."
Funds pick safest areas
Mr Gunning said purchases made by funds point to the regions that offered some of the best agricultural land to invest in, and that included areas around Dubbo, the Riverina, the Liverpool Plains and Wee Waa.
Get our free daily cropping news straight to your inbox – Click here
Rabobank head of relationship management for southern Queensland and northern NSW, Nick Pearce, said prices were rising largely as a function of demand outstripping supply.
"Around Moree particularly, the funds and corporates are looking for scale; they want multiple thousands of hectares of quality cropping land," Mr Pearce said.
He said funds were sometimes interested in entering into a leaseback arrangement.
"Some funds are buying with the aim of leasing it back to the people they bought it from; that approach definitely greases the wheels if a family farm isn't interested in selling out completely."
Mr Pearce said the market had risen in the past two or three years, and farming properties as far north as Dalby and as far south as the Liverpool Plains were attracting plenty of interest from funds and family farming operations alike.
"If places aren't quite the article and need some work, they won't get those top prices. Buyers are still discerning about the quality of the country they buy.
"Funds, especially, will put money into due diligence, so they are doing their homework on what returns a place can generate."
Colliers International agent Rawdon Briggs said the Moree Plains Shire was "Grand Central Station" for most corporate agriculture operators focused on row cropping and controlled-traffic grain production.
"No other district has the density of corporate ownership and track record of consistent land appreciation in Australia," he said.
Coming up in the grains property market:
Two large Moree district grain properties are coming up for auction in March. The Brigalows and Alamby, totalling 5534ha and including around 4000ha of cultivation, will be offered by Pitman Deakin at the Moree Max Centre on 23 March. Mostly fertile black self-mulching soils. Contact David Orr 0427 522 214.
Part of Carlingford, a 1289ha dryland cropping block near Garah, north of Moree, goes to auction on 24 February, also at Moree's Max Centre. Agents are Moree Real Estate and Pitman Deakin. Country is all level black self-mulching clays. Contact Paul Kelly 0428 281 428