A RUN of vessels arriving to load new-season Victorian barley has prompted a temporary halt in wheat deliveries to GrainCorp's Port of Geelong facility.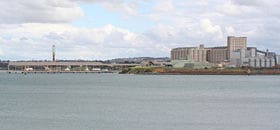 The squeeze is likely to clear in two to three weeks to allow road deliveries to reopen to wheat, but for now the Geelong focus is on getting bulk vessels loaded with feed and malting barley for Asian markets including China and the Middle East.
In a letter to growers last Friday, GrainCorp said its Geelong terminal had received a record 250,000 tonnes of new-crop harvest deliveries, and eight mostly barley vessels were booked to load at Geelong this month.
"Loading of these vessels was originally scheduled to be evenly spread through January, however circumstances outside our control mean that they have been compressed toward the end of January," the letter said.
The wheat allocation at GrainCorp's Geelong facility is currently full, and wheat deliveries are not likely to resume until some wheat can be out-turned on to the first wheat vessel of the season which is scheduled to arrive early next month.
"We can confirm the Geelong Port is currently not receiving deliveries of wheat. The record harvest combined with a barley-focused export program has resulted in the wheat storage allocation being exhausted," a GrainCorp spokesman said.
"This constraint will not be relieved for two to three weeks pending the scheduling of a wheat export vessel."
While GrainCorp's Geelong terminal has continued to receive barley and canola, its suspension of wheat receivals has inconvenienced growers who choose to deliver direct to port because of proximity, reduced charges or both.
"We are currently making alternate arrangements at our neighbouring sites including longer operating hours. We sincerely apologise for the inconvenience caused to local growers," the spokesman said.
"Specifically in regards to growers on the Bellarine Peninsula, we understand the inconvenience caused by the closure however in line with other site closures, we are unable to offer any dispensation."
Last week's letter to growers advised that alternative GrainCorp sites in the Western Districts, including Berrybank, Westmere and Willaura were receiving wheat.
GrainCorp in recent years has been Victoria's biggest exporter of bulk grain, followed by Cargill, Glencore, ADM and Emerald.