THE overwhelming benefits of the Trans Pacific Partnership (TPP-11) for the Australian grains industry meant its ratification by the Australian Parliament would be warmly welcomed by the industry, according to GrainGrowers' trade and economics manager, Luke Mathews.
Mr Mathews has welcomed the current Joint Standing Committee on Treaties (JSCT) enquiry into the trade agreement, saying the TPP-11 was a positive step and would help boost prices for Australian grain growers.
"The average value of Australian grain exports to TPP-11 members over the past five years is A$1.6 billion, contributing some 15-20 per cent of all Australian grains exports," Mr Mathews said.
"Several TPP-11 countries are individually critically important for the Australian grains industry. The TPP-11 includes three of Australia's most important grain export markets, being Vietnam (1.6 million tonnes), Japan (1.5 million tonnes) and Malaysia (940 thousand tonnes)."
Mr Mathews said Australia's grain trade to the region was dominated by wheat (4 million tonnes), followed by barley (382,000 tonnes), and canola (216,000 tonnes).
He said it was important to realise that the global trade liberalisation process was both a difficult and ongoing process.
"The various FTAs that the Australian government negotiates must be complementary and deliver improved market access compared to the agreements that preceded them. For this we welcome the fact that TPP-11 builds upon the market access gains delivered by the existing trade preferential trade agreements Australia already has with a number of TPP-11 countries, including ASEAN-ANZFTA and JAEPA," he said.
Mr Mathews said improved market access resulting from TPP-11 was most apparent in the Japanese market, where the TPP-11 promised reduced mark-ups (tariffs) and additional quota access for wheat, barley, malt and canola oil.
"In addition to the market access outcomes, the TPP-11 will play an important role in encouraging mutual recognition of standards and reducing non-tariff barriers in the region," Mr Mathews said.
"TPP-11 includes improved processes for rules of origin, self-certification and increased transparency on import licensing, export arrangements and food security claims.
"Similarly, TPP-11 includes a Technical Barriers to Trade Committee, which it is hoped will assist with the management of increasingly prevalent technical barriers to trade internationally.
"In short, we encourage the Australian parliament to ratify TPP-11 in its current form as quickly as possible."
Mr Mathews said if the United States re-entered the TPP, Australia would lose its competitive edge for a number of agricultural commodities in TPP markets, including grains.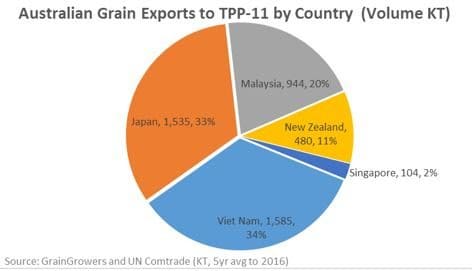 The Joint Standing Committee on Treaties (JSCOT) inquiry into the Comprehensive and Progressive Agreement for Trans-Pacific Partnership (TPP-11):
https://www.aph.gov.au/Parliamentary_Business/Committees/Joint/Treaties/TPP-11
GrainGrowers' submission: http://www.graingrowers.com.au/policy/submissions