TO COINCIDE with Mother's Day this Sunday, the Country Women's Association (CWA) of Victoria is calling for a farm safety mindset change as women and families continue to bear the burden of deaths and injuries in agriculture.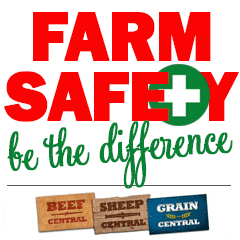 They have called on farms and agribusinesses to completely rethink their approach to safety, as farming women continue to count the cost – and pick up the pieces – of incidents in agricultural settings.
Agriculture remains one of Victoria's most dangerous industries, particularly for men, who make up 95 per cent of on-farm deaths and 70 per cent of injuries. This reflects the experience of CWA members, with nearly all feeling the impact of a farm incident or knowing someone affected.
CWA Victoria state president Marion Dewar is familiar with the impact of farm deaths and injuries on women and their children.
"Parents who work on farms are the backbone of this industry, but they're also responsible for caring for children while running the farming business and often even working in other jobs," Ms Dewar said.
"Incidents on farms overwhelmingly injure and kill men, which places an enormous strain on women and families, who must cope with loss of income, loss of support and disruption to succession planning.
"When a Victorian dairy farmer was killed in a tractor rollover some years ago, his wife and their two young children were left with an immeasurable burden. I can't imagine what would have happened to the farming business if CWA members had not stepped in to help the farmer's wife, their in-laws and young family continue daily operations.
"Immediately after the tragedy, CWA members milked the cows and provided meals for the family in order to ease the burden of daily work that inevitably fell on their shoulders.
"For many years that farmer's wife was responsible for the farm business and her family, showing incredible resilience in her ability to adapt to the devastating shift in circumstances, but she needed her children to help on the farm after school and on weekends to make ends meet.
"Before all this, she thought a farm incident would never happen to them."
Ms Dewar said she knew many families had experienced similar circumstances following an on-farm death and that without adequate support they could struggle to keep their farm businesses afloat.
"On a day like Mother's Day, where we reflect on the sacrifices mothers make to keep us safe, it's the perfect opportunity for Victorian farmers to re-think their approach to safety and consider the impact on their families if they were to be killed or unable to work," she said.
WorkSafe executive director of Health and Safety Julie Nielsen said the farm workplace presents increased pressure on families compared to other industries.
"A farm is a house, home, and a playground, but it is also a workplace. As a result, agriculture remains a unique environment for prioritising safety," Ms Nielsen said.
"WorkSafe stands alongside the CWA to share this important message – all mothers deserve their families to return home safe at the end of the day."
Source: CWA Victoria, WorkSafe