THE search is on for the next round of biosecurity champions, with nominations now open for round two of the 2020 Australian Biosecurity Awards (ABAs).
Head of biosecurity, Andrew Tongue, said round two included new categories that demonstrate the diversity of biosecurity and the different roles we can all play.
"Australia has faced some tough challenges this year, but maintaining the nation's biosecurity system has remained a priority," Mr Tongue said.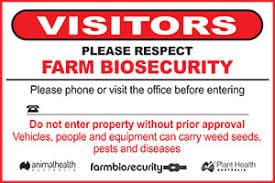 "Our biosecurity system strengthens our country's long-term resilience by safeguarding our economy, food sources, unique environment and way of life.
"It is important to recognise individuals and groups who support our biosecurity and are committed to safeguarding Australia from pests and diseases.
"It is a shared responsibility and we all have a role to play.
"We will be presenting four new award categories for round two—Environmental Biosecurity, Community, Education and the Dr Kim Ritman Award for Science and Innovation.
"The Dr Kim Ritman Award for Science and Innovation was created in honour of Dr Kim Ritman's contributions as Australia's Chief Plant Protection Officer.
"The new categories recognise a wider range of stakeholders and the diverse parts of our biosecurity system, as well as emphasise the importance of biosecurity education.
"If you know a group, individual or organisation that deserves to be recognised for their biosecurity work, nominate them today."
The first round of 2020 ABAs were presented in March, with a range of winners from industry and government.
Round two of the ABAs will be presented at the National Biosecurity Forum in November.
Nominations close on Friday, 2 October.
For more information and to put in a nomination, visit agriculture.gov.au/aba.