STAY safe on Australian farms this Christmas.
It's a great opportunity to enjoy a well-earned break with family and friends, but it's also a time when preventable farm accidents typically spike.
No one really wants to think about stats like this at what should be a happy time of year but it's worth remembering that about 20 children die on Australian farms each year – and about 30 percent of on-farm child deaths are visitors.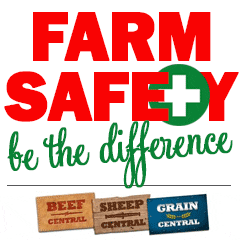 For that reason workplace safety officials are urging rural families not to be complacent when it comes ensuring equipment is used safely, and inexperienced people are not placed in dangerous situations.
Quad bike safety advocate Jodie Cocco said there were approximately 3000 quad bike-related emergency department presentations and more than 1000 ambulance attendances in just the past five years in Queensland alone.
In a positive sign, Workplace Health and Safety research shows attitudes towards quad bike safety are improving, with quad bike users now more likely to wear a helmet and less likely to let others get away with not wearing one, and less likely to carry passengers on quads designed for a single rider, or attach heavy equipment to their quad.
Over-confidence 'one of the biggest risks'
But a key concern is that "some very deep-seated attitudes" remain, Mr Cocco said.
"It scares me that the majority of quad bike users are confident they are riding safely and consider themselves 'ride-ready'.
"Clearly the injury and fatality stats show that's not really the case.
"Sadly, overconfidence presents a significant risk – people falsely believing that nothing bad will happen to them because they have been riding responsibly for years and their bike and equipment are safe.
"If this was in fact the case, there'd be far fewer incidents and my family wouldn't have gone through what we've had to face.
"All we ask is for everyone to remember the basic safety tips before venturing out this holiday period – always wear a helmet, never let kids ride adult-sized quad bikes, and get some training before hopping on a quad bike."
While it is hard for people to imagine an on-farm tragedy will occur on their property, it's worth taking a moment to consider the number of real-life farming accidents that have occurred around Australia in the past month alone, proving that a safe environment can and should never be taken for granted.
Linked below are just some of the agricultural-related accidents that have been reported around Australia in the past month alone, and some of the penalties that have been handed down in relation to on-farm accidents.
A common theme is the number of incidents that involve inexperienced workers – an important message to consider when planning jobs with kids or hosting inexperienced visitors these Christmas holidays.
We wish all of our readers a very happy – but most importantly safe – Christmas and New Year.
(Click on each link to read more details)
Worker fatally run over by tractor he was operating
Farm worker sustains crush injuries while hand-feeding stock
Agriculture farm fined $200,000 for powerline death
Worker fatally crushed by grader
Quad bike fatality while backburning
Worker fatally crushed by hay bale accumulator
Motorbike rider uses makeshift tourniquet after crash
Man injured fighting fires on rural property
Multiple fines issued over teenager's workplace death in 2016
Musterer bitten by snake while asleep in swag